KARACHI: On Saturday night, Canvas Gallery transformed into a space for artists to perform their pain, their anxieties, their memories and their resilience as they brought to life 'Mixtape [1]'. Curated by Sara Pagganwala, the performance art exhibit was open to the public. Even though the show did not have a theme around which the performances were arranged, there seemed to be consistencies and similarities in the ways in which the participating artists pushed boundaries and challenged societal norms.
Perhaps the most jarring aspect of the show was watching artists perform anxiety and trauma with their bodies. Their physical selves became mediums of expressions that evoked pain, and at times even horror from the audiences. For instance, Fatima Zara Malick performed self harm and self mutilation during her fitness themed exhibit through which she attempted to make a larger statement about women's bodies and the expectations imposed on them. Anushe Khalid's performance appeared to explore themes of sexual and physical abuse as she was repeatedly pushed to the floor by a man who she kept walking back to. Watching both women endanger their bodies for their art, for our consumption, as a societal challenge, was nothing short of remarkable. However, certain members of the audience were left wanting some sort of trigger warning for the visceral reactions provoked by the performances.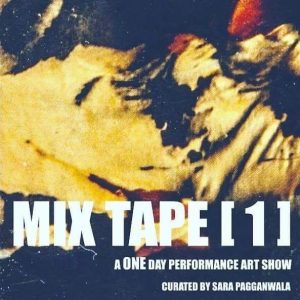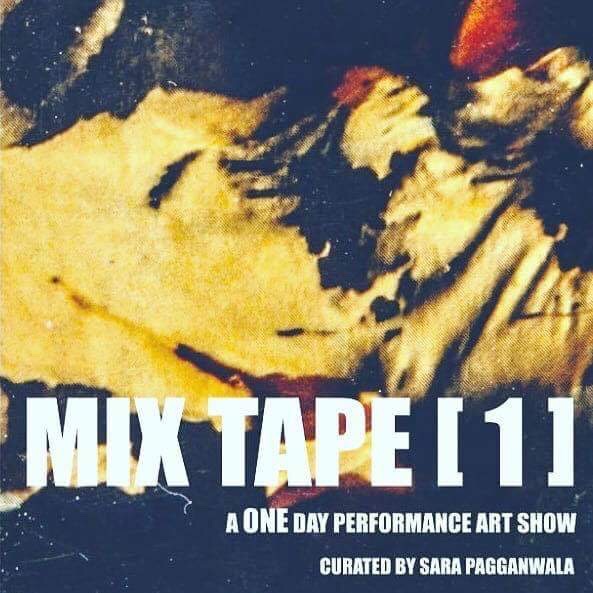 In a city where performance art is a rarity, 'Mixtape [1]' caused a much needed buzz. There was lots to unpack, deconstruct and process. And so, it was exciting to hear that Canvas Gallery was hosting a 'Post Show talk.' The event description for the talk stated: "The talk aims to initiate discourse around performance art to investigate, unpack and repack notions surrounding it and for all the artists/audience to come together for a collective sharing of their experiences from the day of the exhibit." Collective sharing, however, was a far cry from how the conversation unfolded, as it only ended up being a display of Mohsin Sayeed's toxic masculinity.
The 'Post Show Talk' started with artists taking the stage, to deconstruct their process and their performances. Noor Ahmed talked about her piece 'Burnt/unburnt' and how it was shaped by her experiences at university abroad, where she was subject to racial profiling. "As a creative person, it's important to heal from an experience and get to a place where you can be productive about it," she shared.  Zoya Currimbhoy and Maha Minhaj talked about their postcolonial reality and their performance, in which they, as two South Asian women, took on the personas of two colonial era, British soldiers as an act of erasure. Noreen Ali discussed the "rule book" created by society, how that was imposed on her growing up, and how she used her satirical performance piece to address the body image issues she experienced as a result of societal policing. And then, things took a turn for the worse.
Read: Opinion: When hyper-masculinity and hyper-nationalism meet
The talk was led by artist and curator Amin Gulgee, and fashion designer, Mohsin Sayeed. While Amin's presence on the panel made sense given his important contributions to performance art in Karachi, Mohsin Sayeed's name was surprising, and not only because his qualifications did not make him particularly relevant to the conversation at hand, but also because he is notorious for making problematic statements on social media, such as: "The patriarchy has no gender", or my personal favorite: "Women at times turn out to be more patriarchal than men. Coupled with jealousy their venom becomes far more lethal" (see image below). Sayeed has done us the favor of exposing exactly how tone deaf, problematic, sexist and removed from reality he can be and so making him an initiator of discourse surrounding an event in which multiple women performed their pain and allowed us to step into personal histories, was not only surprising, it was also upsetting.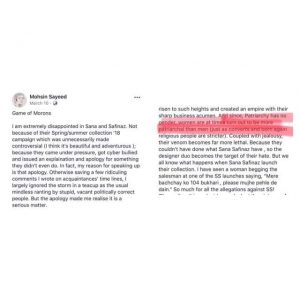 Gulgee's reasoning for including Sayeed on the panel was that he wanted another perspective on the discussion table. Sayeed's perspective was that he hated performance art as it made no sense to him. And so he proceeded to question, speak over and ridicule a room full of performance artists as he refused to give them the space to engage with him. He even went as far as to ask why all the performance artists, who looked very presentable and attractive to him, decided to look so "ugly" while they were performing. Different artists attempted to reason with him, but he was beyond reason, and his form engagement was rude and defensive as he consistently spoke over and cut across explanations he demanded.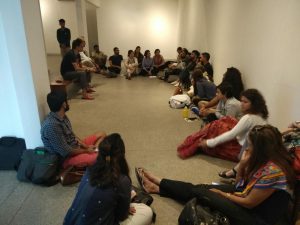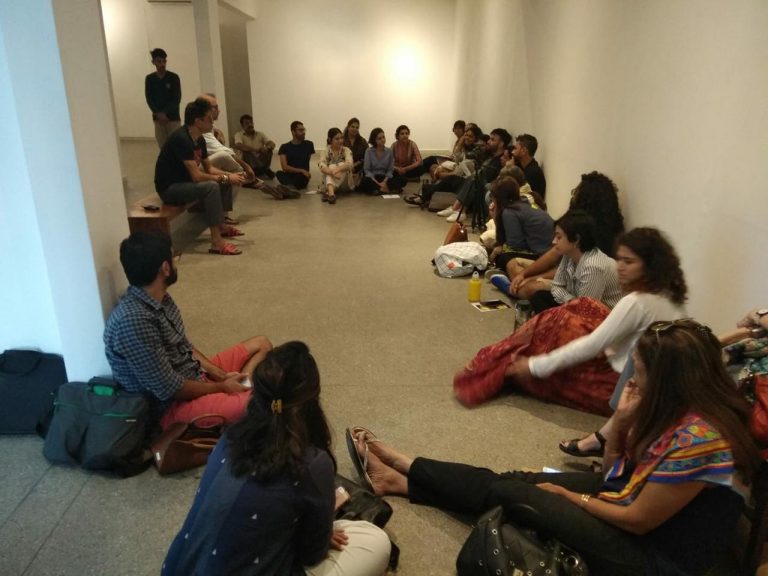 An audience member spoke up asking for the "uninformed man to be ignored" as he was distracting from important discourse. However, that did not deter Sayeed who continued telling people that performance art must have a singular definition. Eventually, a few members of the audience walked out of Canvas Gallery, refusing to entertain a man who was taking up space he was not entitled to. 
Curator Sara Pagganwala stood by the decision to give Sayeed an important voice in the conversation, "Mohsin is a journalist, he's a fashion designer, he's a critic; I knew he'd be honest. He forced the artists to really figure out how they're supposed to explain what they do." While it is important to initiate discourse between those who create and those who consume, Sayeed reduced that discourse to childish gimmicks and toxic masculinity, and that is not funny or entertaining – it's disruptive and disrespectful.
Mixtape [1] was an important inclusion to the Karachi art scene, it was well received and widely attended. Pagganwala aptly stated, "Performance art is a powerful tool because it gives you the space to step away from social stigmas and put yourself out there." The performances at Mixtape [1] were powerful, and that made it important for us to talk about them and unpack them. Sayeed was perhaps not the person to do it.