KARACHI: The world was breathing a sigh of relief on Tuesday, as reports came in that all 12 boys of a football team and their coach trapped in a flooded cave in Thailand were rescued after over two weeks.
It took an army of experts, swimmers and navy men to rescue all 13 people who got trapped after heavily rains causing flood in the area. The Thai boys, aged between about 11 and 17, and had to undergo to a crash course in diving and were accompanied by two divers on their way out, according to the BBC. The path was dangerous even for skilled navy men, one of whom lost his life during the operation and is being hailed a hero.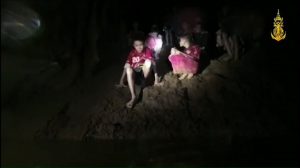 Here, we try to trace the whole story, which had the world on the edge of their seats, through numbers:
13
is the number of people (12 boys and their coach) that were trapped in the cave
17
is the number of days the boys and their coach were trapped inside the cave
11
is the age of the youngest member of the football team
90
is the number of experts, including 40 from Thailand and 50 from other countries, that took part in the rescue operation
15%
is the amount the level of oxygen had fallen in the space where the boys were trapped. The usual level is 21%.
100
is the number of oxygen tanks delivered to the cave to help improve the air supply
1
is the number of casualty during the operation. Former Thai Navy diver Saman Gunan died on his way back from delivering oxygen tanks to the trapped boys
Source: BBC (www.bbc.com)