KARACHI: Sabeena Parveen has the brightest smile in the room. The kind of wider-than-the-sky and larger-than-life smile that only someone who has grown up far away from the glittering lights of a metropolis would have. It was only two weeks ago that she was beaming with excitement over leaving her hometown, Hunza Valley in the Gilgit-Baltistan region, for the first time in her life. She traveled almost 2,000km south to Karachi so she could enroll in the Special Olympics Pakistan (SOP) training camp for the Special Olympics (SO) World Games taking place next year in Abu Dhabi.
"I am a runner," she says with pride in her voice. Her eyes open wider as she acts out the running posture in front of me. Not once does she blink when asked about whether she misses home. "I just want to stay in Karachi," she says. "You know, they have the best sunblocks here."
When I ask Sabeena about her age, she appears puzzled. "I don't really remember it," she tells me. And then almost as if to remind me to come to the point, out of nowhere, she proclaims how she can't wait to win a gold medal in World Games for the 100-200m race. After all, that's all that an athlete cares about: medals and sunblock. Who cares about age any way?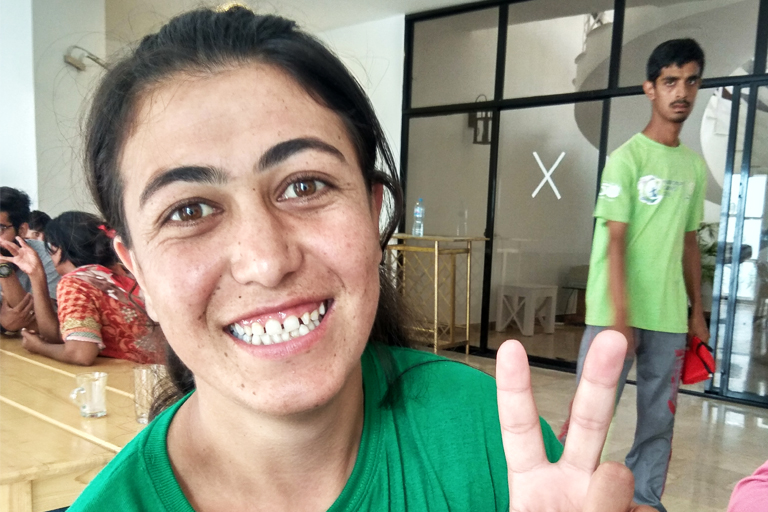 Now, as she sits alongside her fellow competitors moments before they leave the camp, the only thing connecting her to the lush green valleys of Hunza is her bottle green t-shirt.
"Sabeena is intellectually challenged but she's a brilliant athlete," says athletics coach Surraiya Arman, who accompanied Parveen and three other athletes from her district, to Karachi. "She was in prep school when one day she suddenly dropped unconscious and never went to school again," she explains. "It was only after she started playing sports that her mind became alert again and that's what the goal of SOP really is: to encourage children to fight mental disabilities with physical abilities."
Since 1989, SOP has provided Pakistani children with intellectual disabilities a chance to lead more fulfilled lives through sports. It is part of the Special Olympics International founded in 1968 in the United States and is the world's largest sports organisation that arranges trainings and competitions for five million special athletes in 172 countries.
"This particular training camp is hosting 79 special athletes from all over the country to prep them for World Games 2019," says SOP Chairperson Ronak Lakhani. It started on June 25 and will  provide training in four sports – football (girls only), basketball (girls only), cycling (boys and girls) and athletics (boys and girls) until July 10. Lakhani, who has been affiliated with SOP for 28 years and is also the vice president of the Network of Organisations Working for People with Disabilities, Pakistan (NOWPDP), was awarded the Sitar-e-Imtiaz in 2016 for her services to people with disabilities.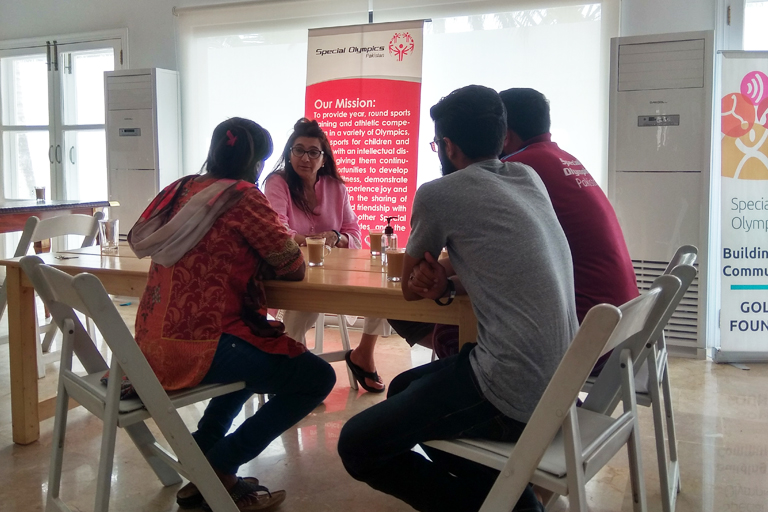 "The next lot will come in on July 15 and will be trained till July 30," she adds. Through these camps SOP will train over 150 athletes, of which the best ones will be shortlisted and taken to participate in the World Games. "Majority of the athletes who are here right now have left their homes for the first time, without any companions whatsoever, and that is a huge milestone for them," says Lakhani.
From behind Lakhani emerges Hamaira Kazim, 18, who is born and raised in Karachi and appears eager to chat. She seems to be the favourite athlete among the lot given her vast knowledge of the city. When I ask her about the places in Karachi she wants to show off to her peers, she gives me a long list. "Quaid-e-Azam's mazaar, the beach, and of course KFC," she says amid giggles.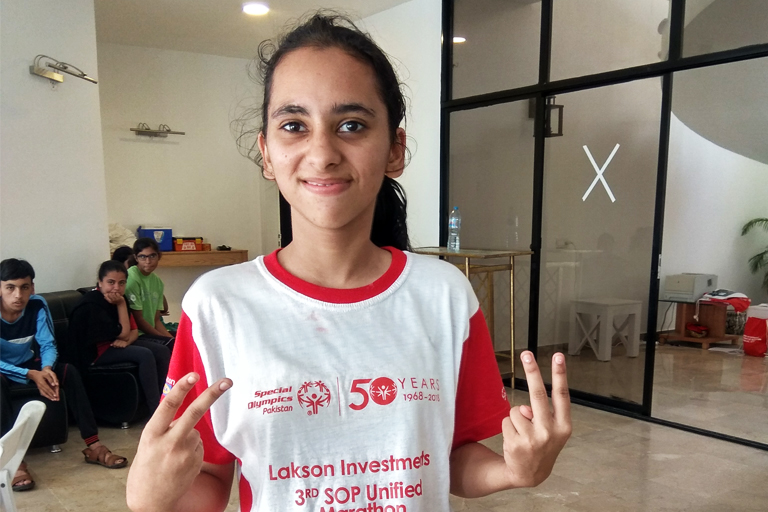 As she goes on to talk about her love for mathematics, athlete Hur Mushtaq interrupts her. "I moved here from Hong Kong and can't wait to participate in the World Games," he tells me. Mushtaq, 29, recounts the time he won gold, silver as well as a bronze medal in the 100 and 200m race in the Peshawar National Games. He is very proud of himself for it.
The clock strikes 4 pm and the guesthouse starts buzzing with people. From athletes to coaches, everyone is gearing up for practice which is set to start in about an hour. Amid the hustle and bustle, cycling high coach Ishrat Zehra takes out a few minutes to talk. "The idea of therapy through sports is that children with intellectual disabilities get to learn about character building, socialising, and empathy," she explains. "We teach them to be independent by making them do small tasks such as packing their own belongings," she goes on to say. Just as she's about to say more, she gets occupied with lining up the athletes who are just waking up from their naps.
Meanwhile, Lakhani sheds light on the limited government support for SOP. "All the funds we get are raised by us. Sometimes people donate generously but even that's not enough," she urges. "In order for SOP to grow, we need heavy support from the government which so far we only get from the Punjab provincial government as they make it a point to sponsor their athletes."
Despite the setbacks highlighted by Lakhani, the energy in the camp is palpable. Almost all athletes love to chat but only about the sport they play and the medals they've won or want to win. As they line up to leave, they are intrigued by the cannula in my hand. "What happened to you," they all ask me in unison. On hearing how I have to get drips, they urge me to go home, rest and interview them when I'm better. And just as I am about to leave, Parveen comes running to hug me goodbye. "Get well soon," she says to me, "And pray that I get selected and win!" she exclaims.