KARACHI: For the past few years, Karachi has been experiencing extremely high temperatures during summer, courtesy climate change. As a result of long spells of heatwaves, there are a number of casualties recorded every year. And while steps are taken towards educating people on how to protect themselves and those around them from the heat, there is little said and done for animals who also bear the brunt of the heat.
The impact of such a weather on animals is no different than that on humans. "Animals suffer equally," Mustafa Ahmad, founder of volunteer group SOS Animals Pakistan, told Cutacut. According to him, about 1,400 animals died in the heatwave in Karachi last year; this year's count hasn't been concluded but so far the number has reached somewhere between 70 and 76. "Humans go through a process where their bodies start absorbing the heat around them. As the body's temperature rises, it results in a fever. The same process happens in animals as well," elaborated Ahmad.
To identify when an animal might be suffering from a heatstroke, Wajiha Ahmed, a volunteer from Ayesha Chundrigar Foundation (ACF), shared some of the most prominent symptoms. These include excessive panting, tongues sticking out and mouths constantly staying open.
"About 1,400 animals died in the heatwave in Karachi last year"
Animal rights enthusiast Anita Sattar said that the most affected among all animals are kites, because they fly higher in altitude than any other bird and hence are in close proximity to the sun.
On the other hand, Ahmad highlighted that while birds are affected by the heat, it's still easy for them to rescue themselves because they can conveniently fly off far distances and fetch water for themselves. Moreover, cows don't get dehydrated that easily because they retain water in their bodies through their humps. Even goats aren't as prone to suffering from a heatstroke. Since rats stay underground and hide in sewage lines, they aren't as exposed to heat as other mammals. On the other hand, reptiles don't get dehydrated as much either because of their tough skin.
"The real problem is for animals whose mobility is restricted beyond a certain point," Ahmad stated. Both dogs and cats suffer in the heat and may even get nosebleeds. However, cats suffer more as they aren't able to cover long distances in comparison to dogs. "A seven to eight kilometer distance is nothing for a dog, but cats get tired sooner," he added.
While animals experience heat differently, the truth is that they all are prone to suffering in extreme weather. "Given how hot it is, almost all these animals are prone to risk, be it birds or stray animals" added Wajiha.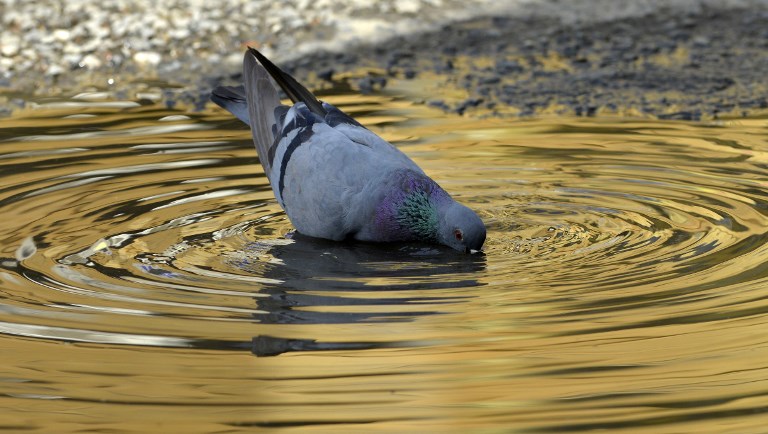 When asked about the steps that can be taken to ensure animals stay protected and hydrated during a heatwave, Ahmad, Sattar and Wajiha all shared some simple steps that will go a long way in protecting animals:
1. Leave cold water containers and pearl millet (bajra) bowls in your balconies for birds
2. For stray animals who are friendly, you can sprinkle water under their paws or on their chest so their skin remains cool
3. For cats and dogs, a mixture of yogurt, roti, cold water and a pinch of sugar provides them with all essential nutrients
4. Oral Rehydration Solution (ORS) is a life saver for animals during heatwave
5. Provide them with shade: put umbrellas in your balcony
6. In case an animal has fallen prey to the heatwave, ice blocks, mist fans, sprinklers and yogurt smoothies can all be useful
7. You can also trim extremely furry animals
Word of Caution: Sattar urged that if cats and dogs vomit or get diahorrea during the heatwave, they should be taken to a veterinary facility immediately.
This story is part of a series, which is updated weekly. You can read the previous entry here.