KARACHI: Justice Ayesha Malik made history when she became the first female Supreme Court Judge in Pakistan. Her journey to the role was not an easy one, riddled with gender based discrimination and opposition. However, despite the hurdles in her way, she still managed to pull through and now serves as an inspiration, not just at home but abroad as well. Justice Ayesha Malik is now one of the BBC 100 most influential women of 2022.
The BBC's list of influential women is said to, "Reflect the role of women at the heart of conflict around the world in 2022 – from the protesters bravely demanding change in Iran, to the female faces of conflict and resistance in Ukraine and Russia. For the first time this year, we have also asked previous 100 Women to nominate others who they felt deserved a place on the 2022 list."
As per the description provided by the BBC of Justice Ayesha Malik, she was being honored for authoring "Judgements protecting the rights of women. This includes her landmark judgement which banned the so-called two-finger test of rape victims. These 'virginity tests' used to be performed during the examinations of sexual assault cases until they were outlawed in 2021."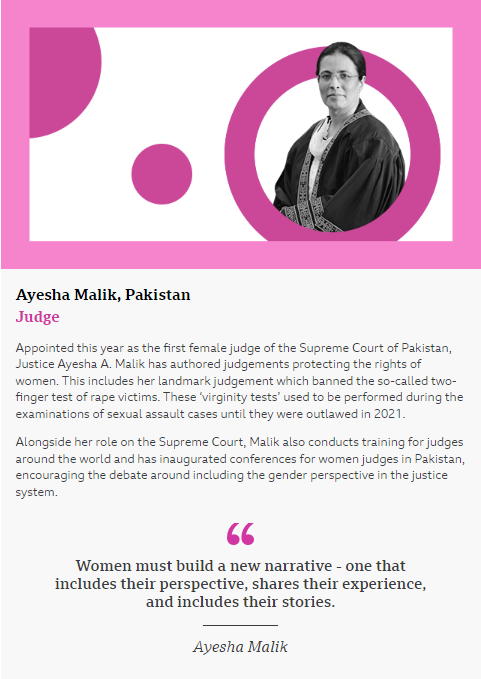 She is also being honored for her efforts to train other judges as well, especially female judges. "Alongside her role on the Supreme Court, Malik also conducts training for judges around the world and has inaugurated conferences for women judges in Pakistan, encouraging the debate around including the gender perspective in the justice system."
Justice Ayesha Malik is honored on the BBC list alongside human rights activists, reproductive rights advocates, lawyers and journalists. Some prominent names on the list include singer Billie Eilish, actor Selma Blair and Ukraine's First Lady Olena Zelenska.