KARACHI: There are some people who need to have their social media privileges taken away from them and first and foremost is Kanye West. The rapper has a history of problematic behavior including harassing his ex wife Kim Kardashian and her (now ex) boyfriend online. More recently, Kanye took to Instagram to mock the Fashion Editor of Vogue because she criticized his White Lives Matter shirts which he debuted at his Yeezy fashion show in Paris. Here is all that happened.
Kanye is known to opt for a more controversial path and so it should not come as a surprise that he, a black man, called the Black Lives Matter movement a scam on Instagram, "Everyone knows that Black Lives Matter was a scam now it's over you're welcome." The rapper-turned-designer debuted his knew collection of White Lives Matter shirts which had the pope's face on the front, alongside just-as-controversial political commentator Candace Owens at Monday's Paris Fashion Week presentation.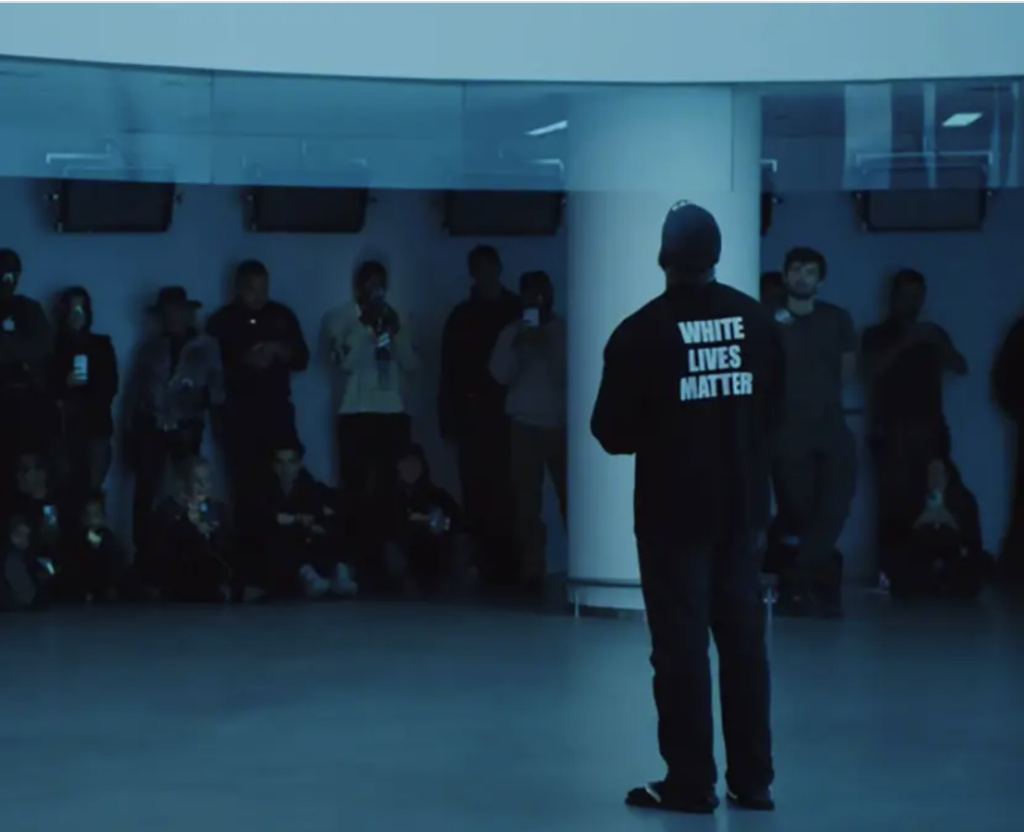 Naturally, this angered a lot of people including Gabriella Karefa-Johnson, the Fashion Editor at Vogue who called Kanye out on social media. On her Instagram story, Karefa-Johnson called the design "indefensible behavior." She also wrote, "I guess I get what he tried to do– he thought it was duchampian. It wasn't, It didn't land and it was deeply offensive, violent and dangerous."
View this post on Instagram
Turns out, Kanye does not respond well to criticism and decided to lash out at the Vogue editor and shared a picture of Karefa Johnson to mock her fashion sense. "This is not a fashion person," West captioned a photo on Instagram, which has since been deleted, adding, "You speak on Ye Ima speak on you Ask Trevor Noah," he said referencing his feud with the late-night host. In another post, he continued his tirade and wrote, ""I KNOOOOOW ANNA HAAAATES THESE BOOTS," referring to Vogue's Editor-In-Chief, Anna Wintour.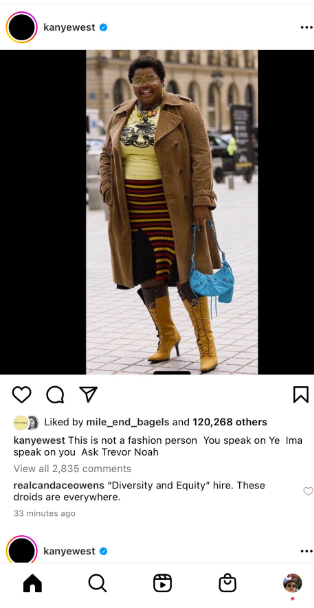 Weighing in on the Kanye vs Vogue drama was model Gigi Hadid who called out the rapper for his comments about Karefa Johnson and wrote, "You wish u had a percentage of her intellect. You have no idea haha…. If there's actually a point to any of your shit she might be the only person that could save u. As if the "honor" of being invited to your show should keep someone from giving their opinion ..? Lol. You're a bully and a joke."
View this post on Instagram
Vogue also released a statement of their own calling out Kanye for his comments and in support of their fashion editor and wrote, "Vogue stands with Gabriella Karefa-Johnson, our global fashion editor at large and longtime contributor. She was personally targeted and bullied. It is unacceptable."
View this post on Instagram