KARACHI: With ongoing tensions in Palestine ongoing and Israel's apartheid against the Palestinians raging on, it has become clear that no one is safe, including journalists. It was reported earlier today that an Al Jazeera reporter was killed in a raid carried out by the Israelis.
51-year-old Shireen Abu Akleh was covering an Israeli army raid on the Jenin refugee camp when she was shot in the face despite the fact that she wearing a press vest. In a statement, Al Jazeera stated that Abu Akleh was "assassinated in cold blood" and called on the international community to hold Israeli forces responsible.
View this post on Instagram
However, Israel denies all responsibility and instead, their Prime Minister said it was "likely" that the reporters were shot by Palestinian gunmen during an exchange of fire. "During the activity, tens of Palestinian gunmen fired at and hurled explosive devices toward the soldiers. The soldiers responded with fire toward the gunmen and hits were identified," stated Naftali Bennett.
This is the moment a Palestinian gunman—one of dozens—recklessly opened fire during IDF counterterrorism activity in the Jenin Refugee Camp this morning. They falsely claimed to have hit an IDF soldier. pic.twitter.com/rMZs896hdc

— Israel Defense Forces (@IDF) May 11, 2022
Al Jazeera producer Ali Samoudi was with Abu Akleh and was shot in the back during the attack. He recalled the ordeal and said, "We were going to film the Israeli army operation and suddenly they shot us without asking us to leave or stop filming. The first bullet hit me and the second bullet hit Shireen." He also made a point to add, "There was no Palestinian military resistance at all at the scene."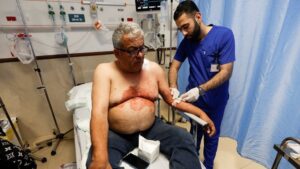 Shireen Abu Akleh was a well loved reporter and a familiar face being at the forefront of breaking news in the region. A generation of Palestinians grew up watching her cover the conflicts on screen. Her death has sent a ripple of shock especially within the community of reporters.