KARACHI: In 2020 alone, almost 3000 cases of child sexual abuse were reported in Pakistan. The number is only representative of the cases that have been reported. The unreported cases are likely more in number. To add to the harrowing statistics, in 90% of sexual abuse cases, the offender is somebody close to the child. And so many parents question: how do we keep our children safe at home and safe outside?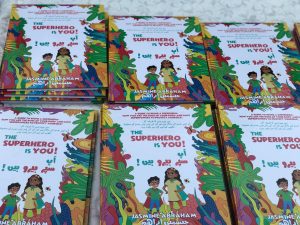 The answer comes in the most unlikely of places. The rescue comes in the form of a children's book called, "The Superhero is You" which was launched on 7th October in Karachi. The book is authored by Jasmine Abraham and has specifically been written to battle the stigma of speaking to children about body safety, and safe and unsafe touch in particular. "As Pakistanis, we shy away from difficult conversations. We've labeled important topics too taboo to be spoken about. Sex education is something educational institutions even run away from, but teaching body safety isn't about teaching safe sex," Jasmine Abraham explained. "People get confused, but this is about teaching consent. It is necessary that children understand that when a touch feels unsafe, it is wrong while making children feel autonomy over their bodies by learning to say 'no' when something does not feel good."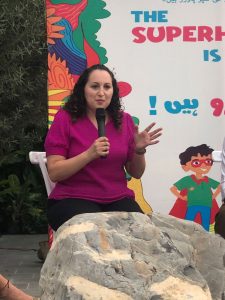 The book launch event included a panel discussion with experts hailing from backgrounds that deal with child safety in one way or the other. Shehzad Roy, a popular musician and humanitarian known for his work in child education with his foundation, Zindagi Trust was on the panel. Along with him was Aamna Latif, Manager Communications of Aahung and Areej Jaffrani, Child and Adolescent Psychologist. The talk was moderated by the publisher of the book, Safinah Danish Elahi, author and founder of Reverie Publishers.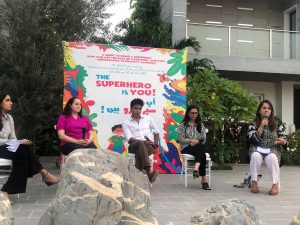 The discussion shed light on many issues that the book centers around. "How can we protect our children?" was a question of major concern among the audience including friends, family, press members, mommy bloggers, and teachers in attendance. Aamna Latif gave her answer with reference to the phrase "mera jism, meri marzi (my body, my choice)" and highlighted that this needs to be a concept we educate our children with from a young age. Moreover, she emphasized that it's not only for girls but for boys as well. To this, Areej Jaffrani added, that a percentage of sexually abused children are also boys, making sexual abuse, not a gender problem, but a social one that needs to be tackled at the root.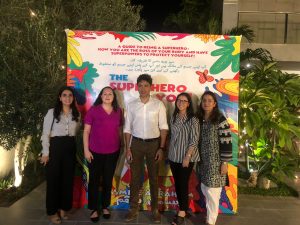 Shehzad Roy's foundation, Zindagi Trust, has also been addressing sexual abuse, but not without their struggles. "While the state is willing to bring change, society is not accepting of it. Parents often withdraw their children when they become aware of any such thing being taught, which pushes the entire process backward," Shehzad Roy reiterated. He went on to highlight the importance of books such as The Superhero is You, "This is why events like these are important and books like 'The Superhero is You' need to be read and introduced in schools. We hope what people listen to and learn can be taken home, to their children, to their domestic help, and further on to their children. As a society, we need to depend on each other like this."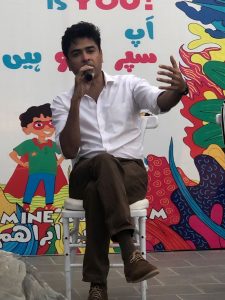 The Superhero is You is an illustrative Children's book that is bilingual, written for the mass audience and the author hopes that it can one day be added to the school curriculum. The dominant message carried through the book is the concept of "my body, my rules," creating a safe circle (of people a child trusts to talk to and can confide in, and people who the child feels okay having safe physical contact with) and the power of "No". The book, written in easily interpreted language, also includes a guide for parents on how to recognize if a child has gone through sexual abuse, or is facing any form of abuse.
I was sexually abused in my own house and my family does not know
The parental guide section in the book also contains stats, organizations, and resources in place, if such an instance of child sexual abuse occurs in one's home. It details out what a parent, guardian, or teacher can do if they notice such signs in a child or student. Jasmine hopes that reading the book out to children can make them understand the rules of their body better, give them a better understanding of safe and unsafe touch and give them the ability to communicate in case any such instance does take place.
The Superhero is You can be bought from Reverie Publisher's website :https://reveriepublishers.com/product/the-superhero-is-you/