KARACHI: Shaniera Akram recently took to social media and clapped back at trolls who have questioned her activism on the basis of her skin color and nationality.
View this post on Instagram
Akram took to Instgram stories to address a few statements that have been made about her in the past in regards to her activism in Pakistan. She wrote that she is, "Sick of being called a "random white women", "rich gori", "privileged white person", "someone who occasionally lives in Pakistan", "celebrity's wife."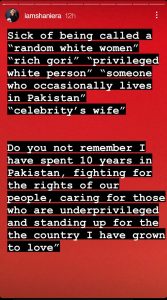 Instead she reminded her critics that she has, "Spent 10 years in Pakistan, fighting for the rights of our people, caring for those who are underprivileged and standing up for the country I have grown to love."
Shaniera Akram went on to tell the trolls, "Yes I am white. Yes I am an Australian woman. I can't help that and I don't want to be ashamed of it, I am proud of my heritage and of who I am."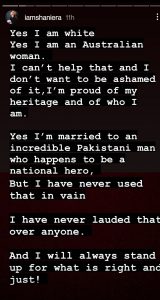 She went on to appreciate her husband, the former cricketer Wasim Akram, and called him an "incredible Pakistani man" and "a national hero" but also made a point to make it clear that, "I have never used that in vain. I have never lauded that over anyone." She talked about how she devoted her time to her family, and then spent the rest running a charity, volunteering in hospitals, orphanages and schools and fighting for rights.
View this post on Instagram
Shaniera Akram was also open with her struggles with moving to Pakistan and said, "I left everything I knew and loved for the last ten years to contribute to the peace and growth of our country." She was candid how the move meant missing "wedding, birthdays, funerals, seeing my friends and family grow, I have missed time with my loved ones that I will never get back!" To those who think she has it easy, she clarified, "Yes, I have been scared. Yes, I have faced indecencies, hurt and pain." Irrespective of her struggles, Shaniera Akram reminded the trolls that she is determined and that all that she does is for the good of the country and not for selfish reasons.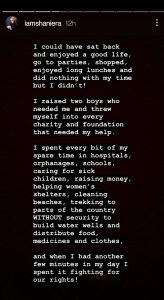 Shaniera Akram ended the conversation with her trolls by telling them that she's here to stay and they might as well work together for a common goal.