KARACHI: Pakistanis were all hyped up to welcome cricket back home after a long break given the pandemic. The country was set to play against New Zealand in an ODI series starting from today when they were met with bad news. Hours before the first match was set to kick off in Rawalpindi, New Zealand backed out of the series due to security concerns.
"Earlier today, the New Zealand cricket board informed us that they had been alerted to some security alert and have unilaterally decided to postpone the series," tweeted PCB soon after the opponent's decision was announced. "PCB and Govt of Pakistan made fool proof security arrangements for all visiting teams. "We have assured the NZ cricket board of the same. The Prime Minister spoke personally to the Prime Minister of New Zealand and informed her that we have one of the best Intelligence systems in the world and that no security threat of any kind exists for the visiting team."
"The security officials with the NZ team have been satisfied with security arrangements made by the Govt of Pakistan throughout their stay here," assured PCB. Like the Board, fans and cricketers alike have been shocked by the news and the decision by New Zealand seems to make little sense to the masses. Cricketers Ramiz Raja, Shahid Afridi and Babar Azam also expressed their disappointment with the news.
6 Iconic moments from India-Pakistan cricket matches
Daren Sammy, a cricketer from West Indies also tweeted in solidarity with Pakistan. "Over the last 6 years playing and visiting Pakistan has been one of the most enjoyable experiences. I've always felt safe. This is a massive blow to Pakistan," he wrote.
Other than sports persons, filmmaker Sharmeen Obaid Chinoy raised her voice against New Zealand's decision.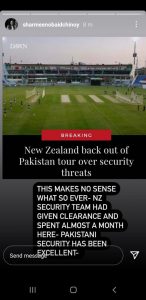 Numerous others have taken to Twitter to testify for Pakistan's security levels and the measures the country took  while preparing for the series. New Zealand's decision is yet to make sense to cricket lovers. Till then, Pakistanis can only wait to welcome cricket home once again.