KARACHI: Censorship reigns and intimidation through arrests and silencing via genocide has been the norm for most Palestinians for the past 73 years. The Palestinian community has for decades been silenced into a submission they won't give. However, it is only now that the world is finally getting to know of the atrocities that have happened for more than half a century. Leading the forefront of informing the world about what happens in Palestinian neighborhoods have been Mohammed El-Kurd and Muna El-Kurd. Both of them have been documenting the ground realities of the situation and using their social media platform to bring attention to the cause. However, recently the duo was arrested by the Israeli Occupation Forces.
View this post on Instagram
According to Reuters, an Israeli police spokeswoman, who did not explicitly name Muna El-Kurd, said that a 23-year-old resident of East Jerusalem was arrested under court order, on grounds that the police were suspicious of her participation in the "riots" that took place in Sheikh Jarrah recently.
While there was no immediate comment on Mohammed El-Kurd, videos of him arriving at the station and then leaving, accompanied by his father Nabil El-Kurd, have been making rounds on social media.
The activists have growing support from all over the world due to their bravery. Many of their supporters said that their arrest was an Israeli effort to halt opposition to the evictions in Sheikh Jarrah, where Jewish settlers want to move into the El-Kurd's ancestors' home under court order.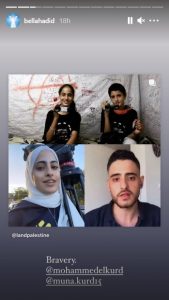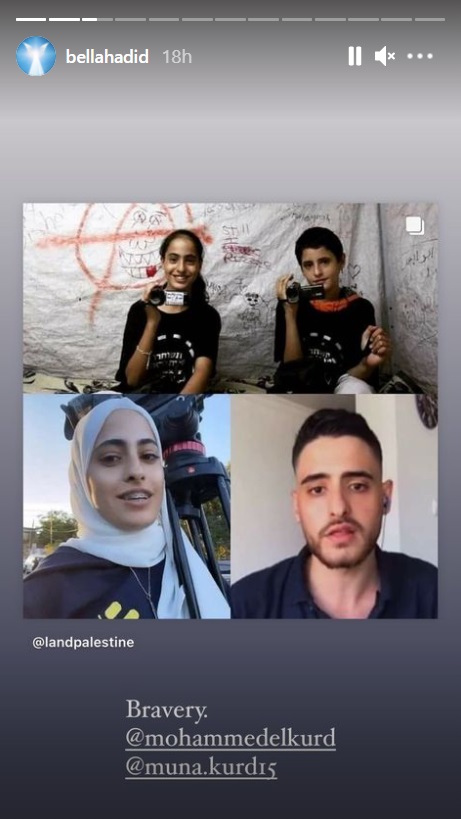 While the twins have been released, according to another Palestinian American activist, Subhi Taha, there had been reports that Muna was to be transferred to an unknown detention center later on.
View this post on Instagram
"The ElKurd twins have been released. They tried to transfer Muna to an unknown detention center, but they were met with Palestinian protestors outside the jail. They eventually released her. Soon after, Mohammed was released as well. Please note, this isn't the end of it. The government still has harsh & aggressive accusations against the two. So it's a temporary win—but a win nonetheless," he stated in his Instagram post.
However, what is the larger sense of things we can make out of this? Here are a few things that have come to light.
Agenda-setting and gate-keeping of the media
View this post on Instagram
With New York Times publishing a full-page advertisement that accused Dua Lipa, Gigi, and Bella Hadid of anti-semitism, one can really see how mainstream media figures out loopholes to propagate a certain idea, and get away with it. Words like "Conflict" and "both sides" cojoined with active voices such as the word "killed" are being used while reporting on the fatalities in Israel. On the other hand, passive words such as "death" are being used for Palestinians giving a fair idea of how dehumanized that side is.
Speaking to the Foreign Minister of Pakistan, Shah Mahmood Qureshi, CNN talk show host Bianna Golodryga was quick to label his claim of Israel having "Deep pockets" as antisemitic. While he meant Israel as a country manipulates what is reported in the media and what is not, his claim was seen as something lacking empirical value, and not fully backed up by proof at that moment. Soon afterward, her entire Twitter was a flood of justifications to her accusation, removing attention from Palestinian lives onto anti-semitism. Trends on Twitter soon changed, with many justifying both sides.
Golodryga then spoke with Mariam Barghouti, another Palestinian activist who hopefully gave her another perspective with harsh on-ground realities. However, it is surprising to see outlets like CNN question Palestinian activists in the most suggestive ways.
While the gate-keeping itself has been suffocating for the Palestinians, the arrest of reporters and activists simply documenting the atrocities that occur on a daily basis, shows a clear agenda of the Israeli government, that perhaps wants to suppress Palestinians' right to free speech.
Citizen journalism
Fighting the algorithm and the propagandist notion, that the perpetrators have all this time been victims and the victims have been culprits for firing rockets, have already made justice difficult to achieve. During this time, the only thing shifting paradigms for Palestine are on-ground reportages making it to the internet. Mohammed El-Kurd himself has been one of the fore-fronters of the movement in recent times.
Although the reportage itself has come with consequences such as gun violence (Israeli citizens are allowed to shoot at Arabs they feel threatened by, while Palestinians have no right to ownership of arms), police brutality, arrests, and detention – citizen journalism is the only way for Palestinians.
Celebrity activism
In recent times, another major thing to have shown its importance is informed celebrities and how they choose to speak up for the cause from their platforms. It may require courage to see your follower count decrease, but it is imperative that celebrities stick by their word when lives are at stake.
Mark Ruffalo actively tweeted and commented on the Palestinian issues, presenting some very well-informed and versed arguments to support the cause, however, soon enough he backed off.
While it was necessary to condemn antisemitism, it was also important for Ruffalo to not conflate Jews with Israel. Redacting his statement was not only problematic in the sense that it removed the urgency the situation once held, but it also gave a false idea that Palestinian lives are not being lost. Calling a spade a spade is important when mainstream sources of information are either mulled with an anti-Palestinian sentiment or choose to stay neutral in the face of brutality and oppression.
After the El-Kurds' arrest, one celebrity who has been actively talking about the cause is Bella Hadid extending her support through Instagram stories for Mohammed El-Kurd – who she called her friend in one of her stories, and for his sister.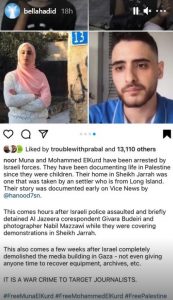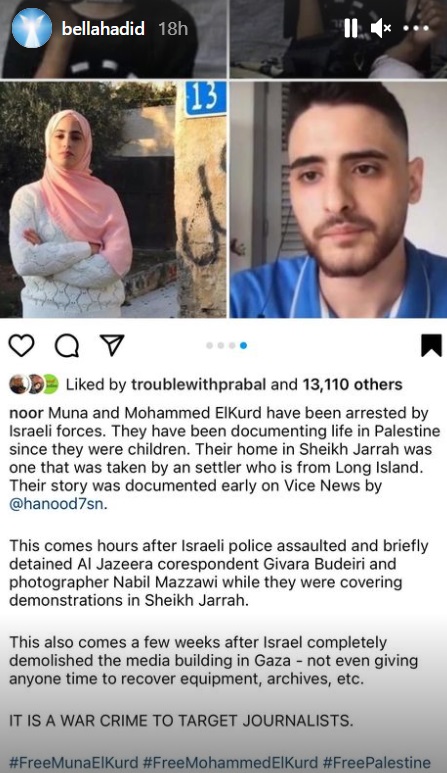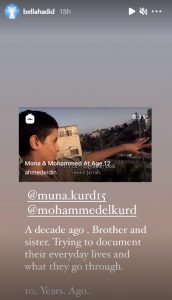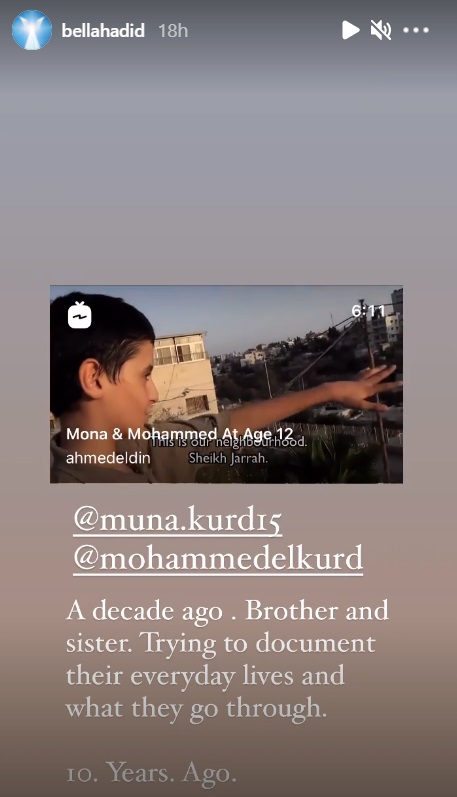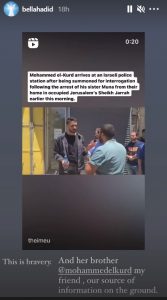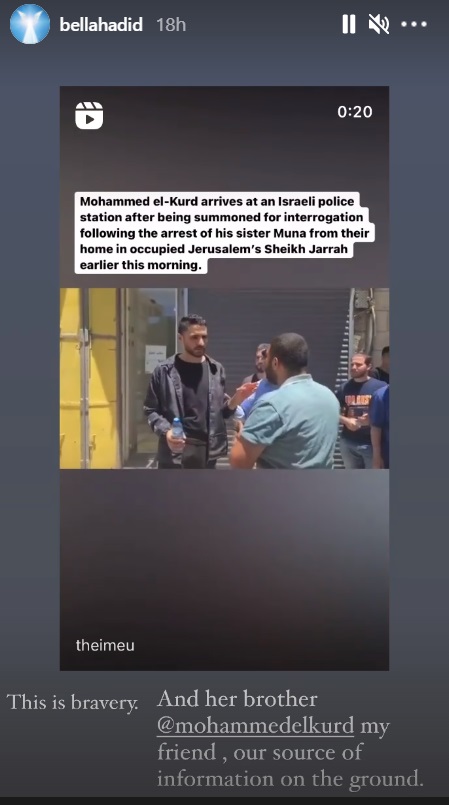 A celebrity reporting on the matter reaches a wider audience. As opinion leaders, they can influence the way people look at things. Bella Hadid stands with about 43 million followers on Instagram. If she is able to bring this to the attention of even about 1 percent of her followers, one can only imagine the kind of impact she has.
Talking about Mohammed El-Kurd and his sister Muna, Bella Hadid actually shows how censored the entire reportage surrounding the issue has been so far. As a model from America, whose own ancestors were expelled following the Nakba of 1948, much of her sentiment comes from personal experience. America, where people are advocates for freedom of speech, seeing people arrested for merely documenting criminal occupation should serve as a mirror to the ongoing situation in the war-torn region. Unless the very Americans who built their foundation on freedom support settler colonialism when no one is looking.
In conclusion, the Palestinian cause has thrived to such an extent also because it is majorly backed up, and spoken about by celebrities who choose to stay informed and dedicated to the cause.