KARACHI: Ramadan is that one month of the year when the devil is locked up and Muslims are told to focus their energies on fasting and praying. However, over the last few years, a new phenomenon has shaped the way we spend our days of Ramadan and as time passes by, this phenomenon has become increasingly and alarmingly against the very spirit of the Holy Month. I'm talking about nothing other than the Ramadan transmissions that plague our screens each year and 2021 has been no different.
View this post on Instagram
I recently came across a quote which said "they took away the prophet's dream for a profit on the street" and it hit me just how well it summarized the whole concept of these Ramadan transmissions. Rather than focusing on what the month is actually about, the channels and shows have joined a rat race to get the highest ratings and will go above and beyond to ensure that they do. Whether it's Aamir Liaquat slithering on the floor doing his naagin dance or the fact that celebrities who have little to no expertise in hosting religious segments doing just that or if it's Fahad Mustafa parading celebrities out every day getting audience members to do demeaning tasks to win free stuff, here is all that is wrong with Ramadan transmissions.
The Celebrity Hosts
Common sense dictates that if you want to air a show about a particular theme, you call in someone who has expertise in that field to host. Just like you wouldn't have Kylie Jenner come and host a political talk show or have Bernie Sanders be a judge on a modelling show, it doesn't make sense for our celebrities to host religious segments. With their limited knowledge about religion, all that they really have to offer is their star power.
View this post on Instagram
The celebrities who are seen dancing across the stage during award shows suddenly spend 30 days donning on a pious persona and begin preaching what they don't outwardly follow the rest of the year round. And as soon as Ramadan ends, they drop the persona like a snake sheds its skin. All of this happens as opposed to having proper religious folk come and teach us about the essence of Ramadan.
Perhaps the most infuriating part of having celebrity hosts is how the female hosts are presented. They come on screen decked and glammed up in designer wear and with the exception of a flimsy dupatta on their head, which honestly is as good as useless, no one could guess that they're hosting a religious show.
View this post on Instagram

Back in 2017, actor Ushna Shah wrote a scathing Facebook post calling out celebrities for the same reason. In fact, she went one step further to call out the celebrity hosts for getting into hosting, just to mint money from religion. And she wasn't the only one who had these sentiments. From Osman Kahlid Butt praising her for being a "straight talking BS repellant Barbells" to Ayaz Samoo and Rabia Butt, Shah was appreciated for speaking up.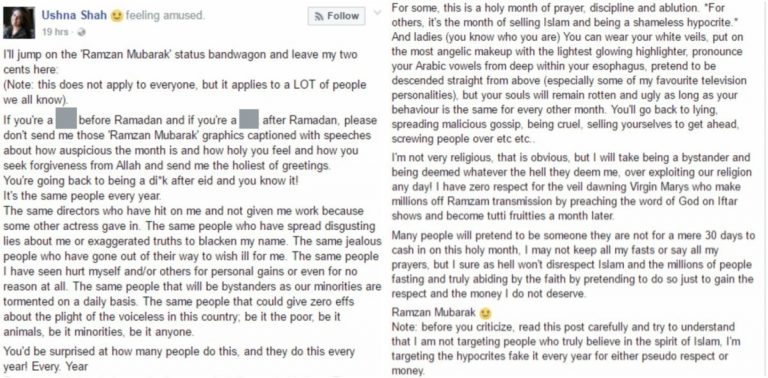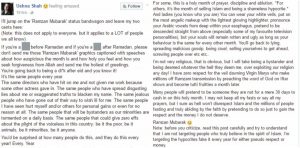 Aamir Liaquat and all his stunts
How Aamir Liaquat is still allowed to come on TV and host Ramadan segments is beyond us. From reenacting a girls suicide to force feeding guests mangoes to giving babies up for adoption on live television, there isn't anything that the host hasn't done for ratings. Each year we think it can't get worse than this but much to our dismay, he comes back worse the next year.
It seems as though our favorite Aalim Online needs to touch base with religion as he comes up with his own rules. On his Ramadan show on Express TV, he has sung provocative Bollywood songs:
He's done a Naagin dance:
And he's flirted with his guests:
And he justifies all of this by claiming that Ramadan ends after Iftaar:
Now we're not aalims but we all know that that's not how Ramadan works.
But why hasn't that been conveyed to Liaquat? How has PEMRA still not put a complete ban on him? How much more of a mockery of religion and Ramadan will be make before it's too much?
Jeeto Pakistan but what about Coronavirus?
Perhaps one of the most popular Ramadan segments is Jeeto Pakistan with Fahad Mustafa. Mustafa upped his game this year by inviting a parade of celebrities every single day. However, the celebrities are just a smoke screen for all that is wrong with the show.
View this post on Instagram
It's bad enough that we have Fahad Mustafa screaming his self hoarse everyday on the show but he does so whilst encouraging the audience members to make a fool out of themselves for freebies. They'll play demeaning games and  listen to taunts just for the keys to a car or a motorcycle. If they're told to jump, they'll jump just to be rewarded with a menial prize dangled in front of them.
But that's not the only problem with the show. With the pandemic raging on in its third wave and the country being on high alert for another lockdown, it seems as though that threat doesn't exist on the show. Sure, the audience capacity has been reduced but that's just about it. From the host to the audience, no one is wearing masks. Mustafa is seen walking through the audience asking tongue twisters while guests are seen cozying up to Pakistan's favorite child Ahmed Shah.
View this post on Instagram
And beyond the criticism of the goings on of the show, is the criticism of the show itself. Jeeto Pakistan airs at a time when people should be getting ready for their nightly worship. But instead of gathering for prayer, viewers are gathered around for the show which has nothing to do with Ramadan.
And so with all that has been said, we're left with the pressing question: what should we expect next year? To be honest, I dread the answer to that question. With each passing year, Ramadan transmission become more brazen and deviate further from the spirit of the Holy Month and I shudder to think of what more our channels will come up with next year in order to stand out.