KARACHI: Deepika Padukone started 2021 with a clean slate. That included her removing all of her posts from social media. In 2021, the actor revamped her Instagram and turned it into a personal diary of sorts where she shares her thoughts and experiences with her fans. In more recent news, Deepika Padukone has decided to give her followers an even more personalized experience and has launched her own website.
View this post on Instagram
"It's been in the works for several months now and it did get delayed because of the pandemic, but it's finally here and it's ready. I do believe it has elements that are an extension of my personality," she revealed in an audio note on Instagram. On the website, one can find all there is to know about Deepika Padukone and her journey as an actor and producer.
"Deepika Padukone is an internationally acclaimed actor, fashion and youth icon and mental health ambassador from India. She was a national-level badminton player until she gave up the sport at the age of 16 to pursue her love for acting. And the rest as they say, is history!" reads her biography. The biographical section also reads a few testimonials from Padukone's friends and colleagues, including her husband and actor Ranveer Singh. Other tabs take the visitor down memory lane with a list of Padukone's films and trailers.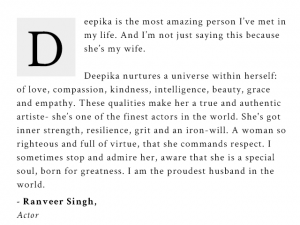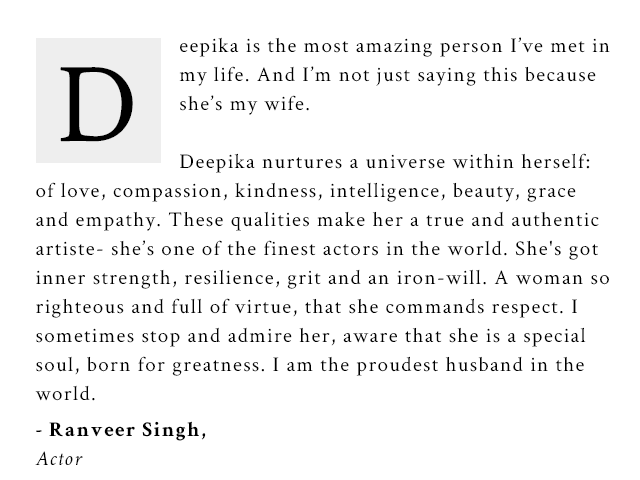 The homepage of the website keeps us up to date with the latest news regarding the actor, such as her upcoming film The Intern, in which she will be starring alongside Amitabh Bachchan. Padukone also has a separate section for all of her magazine covers and ad campaigns, including the one she recently did for Levis.
The website also allows visitors to shop through the actor's closet. For an even more wholistic experience, fans can sign up to receive news, exclusive merchandise and more from Deepika Padukone.