KARACHI: The 18th edition of the Pantene HUM Bridal Couture Week (BCW) took place in the first week of February 2021. The show allowed for some amazing collections and concepts to be displayed to the audience, especially with Ali Xeeshan's Numaish. However, not every designer was able to impress the attendees. Taking to his Instagram to talk about the 'mockery and fun' that was targeted towards the debut designers, couturier Mohsin Naveed Ranjha promised to help out fellow members of the industry.
"The fashion fraternity in Pakistan and internationally at large faces heavy discrimination. There is no debut designer that does not get hate for the art they produce," he wrote. "I cannot talk about the international market much but having gone through a time where I have struggled to make a name and a repute for myself, the hardships that paved the way and the challenges that brought me to the point I am in today make me promise myself in the past, that whatever is destined to happen and if by the will of God I ever get to make a name, I'd help and promote local art and artisanship, I will help everyone that is struggling at any front of the business, I'll do everything to help them out."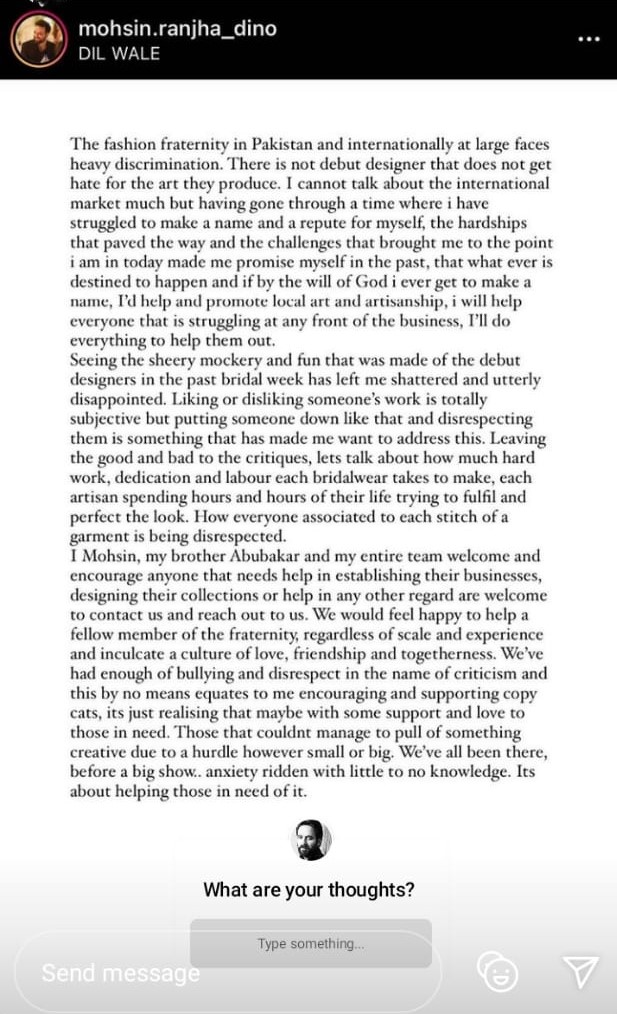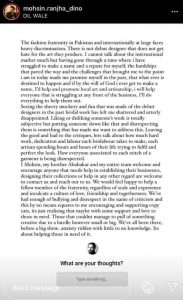 Addressing the disrespect that was targeted towards the designers who struggled at the show, Ranjha urged critics to appreciate the effort that goes into every piece of clothing. "Leaving the good and bad to the critiques, let's talk about how much hard work, dedication and labour each bridalwear takes to make, each artisan spending hours and hours of their life trying to fulfil and perfect the look."
Consequently, Mohsin Naveed Ranjha announced on his Instagram that his team will be available for any kind of moral or professional support that emerging designers may need. "I Mohsin, my brother Abubakar, and my entire team welcome and encourage anyone that needs help in establishing their businesses, designing their collections or help in any other regard are welcome to contact and reach out to us. We would feel happy to help a fellow member of the fraternity, regardless of scale and experience and inculcate a culture of love, friendship and togetherness," read his note.
View this post on Instagram
"We've all been there; before a big show, anxiety ridden with little to no knowledge. It's about helping those in need of it," Ranjha concluded. The gesture has been appreciated by many. Here is to hoping that our artists follow Ranjha's example and aim towards building successful industries and connections, rather than focusing on an individual's success.