KARACHI: Jameela Jamil has been a vocal force against misogyny and a number of sexist elements that crossed paths with her. She has often taken to her social media to speak up about various subjects such as women empowerment, feminism, cancel culture, misogyny, unhealthy standards of beauty that do more damage than repair, and much more. However, she recently admitted being a misogynist herself. Don't worry, Jameela Jamil talked about how she learned to let go of the toxic trait and became the wholesome activist she is today.
View this post on Instagram
Recently, the outspoken actress was a guest on the Red Table Talk where she spoke about how she was once a misogynist. "I was bullied at school by girls and I didn't always have a great relationship with all of the women in my family. And so I didn't have a good vibe of women growing up. I would speak disparagingly about women, and I thought women were just always in drama. I had all this rage and would project it at women, at the nearest easiest target."
Speaking about an instance from her life that was misogynistic, the Good Place actress added, "And so, there is documented proof of me slut-shaming loads of female celebrities like Miley, Beyonce, Rihanna, like Kim, all these different people, Iggy Azalea."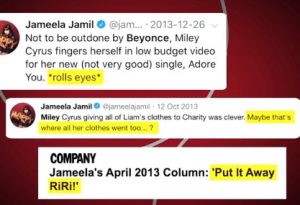 Explaining her misogynist tendencies, Jameela Jamil said, "I was doing it because I was in pain. Like I was a troll. I thought I was doing feminism." She explained how her understanding of feminism back then made her hostile and a bully. "I was a slut-shaming, woman-hating arsehole."
Asked about how her vibe is so different today, she replied, "Because people can change. People can grow." She jokingly continued how her pursuit of growth has stopped her from removing herself from society, in spite of a number of people on Twitter telling her to.
View this post on Instagram
"The biggest act of rebellion is to love yourself", she said. True to her statement, she talked about the lessons she learned in her journey. "Practise self-defense of the mind. You don't have to follow every single celebrity if they trigger you about your lifestyle, about your clothing, about the way you look, about your skin. If you feel bad thoughts from looking at someone's page, it is okay to block, mute, delete, repeat."
Jameela Jamil's journey is similar to the kind of journey most of us have had growing up, unlearning things along the way, letting go of hostility, and allowing ourselves to accept women the way they are. This too without feeling lesser about ourselves. The insecurities that lead us to question other people can often turn us into bullies and holier than thou, but it is always okay to outgrow the shell that prevented us from being more than who we were at that moment.