KARACHI: Ayesha Omar is definitely a style icon when it comes to effortless yet chic looks. From desi looks to her glamourous red carpet dresses, Omar manages to pull off anything and everything. With more and more celebrities endorsing sustainable fashion in Pakistan, Omar has proven that sustainable fashion is not always about reusing a single outfit or recreating a look. Experimenting with a white shirt in her latest vlog, Ayesha Omar shows us how to style a single piece in ways that it looks new each time.
Here are 5 ways in which Omar styled a white shirt by Pinx by Pinky:
With flared jeans
For her first look, Ayesha Omar chose a basic flared jeans to go with the white top. With a knot tied to elevate the shirt, Omar accessorized the look with a layered necklace, bangles, and white shoes. Paired with different shoulder bags, the look made for a perfect casual outfit!
With front slit trousers
For her next look, Omar paired the shirt with front slit black trousers. Using a black belt to go with the trousers, Omar created a party look by wearing pencil heels and bold red lips.
With ripped jeans
Ripped jeans are a popular choice when it comes to denim. Ayesha Omar's third look featured the white shirt as a layer for a plain black crop top. Paired with red heels and earrings of the same colour, the look came together brilliantly.
With a shalwar
To no one's surprise, two of the five looks created by Omar were desi. For her first eastern look, Omar wore a shalwar from Generations under the white shirt. With her hair parted and clipped from the sides, khussay and a silver necklace around her neck, Omar definitely proved how a collared top does not always have to be worn over pants.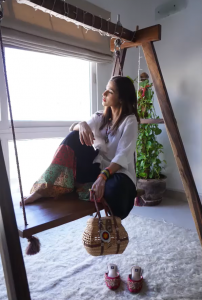 With a lehenga
For her final look, Ayesha Omar chose a lehenga by Tena Durrani to go with the shirt. The white shirt was tucked in and complemented by a ponytail and jewellery.