KARACHI: Known for her unique storytelling technique and attention to detail, director Mehreen Jabbar does not need any introduction. She has been enthralling artists and viewers alike with her work. With multiple films and dramas to her name, her last project on TV was Dil Kiya Karey (2019). Since then, Mehreen has been working on a couple of web series, as the digital world offers more creative liberty than the small screen ever can. One of them is called, Ek Jhooti Love Story that is all set to launch on Zee5 tomorrow. In this interview with Cutacut, Mehreen Jabbar talks about the series, penned by Umera Ahmed, and important details around it.
"Initially, I thought this is not Umera's style since it is very lighthearted," Mehreen began to share how it all started. "But as I started reading it, I realized this is going to be very interesting since the two of us have never explored a similar subject or genre before. We have worked more on serious, social issues. It will be a unique outcome for audiences, coming from Umera and I. There was an interesting pressure from the producers Zee5 and Motion Content Group, but I agreed."
The series features an ensemble cast including Bilal Abbas, Madiha Imam, Beo Zafar, Mohammad Ahmed, Kinza Razzak, Kiran Haq, Mariam Saleem, Furqan Qureshi and others. The trailer of Ek Jhooti Love Story that released earlier this month is a treat to watch. It created a lot of hype, making fans eager to watch the series that brings back Mehreen and Umera Ahmed together after a decade.
"Ek Jhooti Love Story is a very interesting blend. It's not the kind of comedy that will leave you in fits of laughter. However, characters and situations are such that there will be a smile on your face throughout. The characters are layered and built up so well. Every character has something to say and Umera has done justice with all of them. Even if one of them was weak, Ek Jhooti Love Story would've been weak."
The reason why Mehreen thinks it works is that every actor fits well in the cast. She added, "I think there should be such stories on TV that offer variety to viewers – whether it's comedy, thriller, mystery or narratives around domestic issues. We have formed this trend of dark, toxic relationships on the small screen and are not going beyond that." One major difference between television and digital Mehreen sees as a director is the creative liberty the latter allows. Not just in terms of execution but also casting. "I could look at the entire canvas of talent in Pakistan," Mehreen reflected. "There is an incredible mix of ensemble we've got in the team. We had a workshop and training for three days before going to the set and that allowed us to gel well."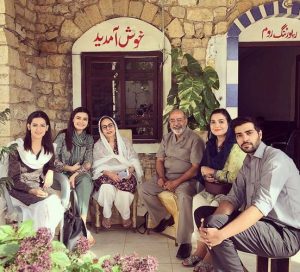 Mehreen also spoke about the treatment of the series that highlights modern love and the role of Internet in our lives. "This theme was never explored on our screens even though it isn't a new concept," Mehreen pointed out. "The series also explores the rishta culture and the expectations people have when it comes to finding a partner. And they are not always right and often based on superficial aspects. Besides, Ek Jhooti Love Story talks about troubles educated people face in finding a match. I find the story universally accessible."
On a parting note, Mehreen Jabbar shared that the future of digital in Pakistan depends on the number of subscribers we manage to get and how well we penetrate into the market. "There has to be a model people have to invest in, knowing that there could be losses initially before we start generating money. But, there is future in digital because the world is going there. There are a few platforms like Nashpati Prime, See Prime and Pakistan's own streaming app, RINSTRA coming out in November. These will eventually lead to a proper local platform once they succeed hopefully. TV has become a major monopoly where you are dictated and can't tell stories you want to. Particularly, young filmmakers have a lot to say and they need a platform that TV cannot provide them."