KARACHI: Karachi has a new, much-needed hangout space for women and it is called Pinky Gul. Since the concept behind the place is to create safer and more comfortable spaces for women of all age groups and backgrounds, there are certain characteristics that make the place stand out, and really maintain the idea behind its conception.
It supports women-led businesses
Pinky Gul's entrance opens to an aesthetically pleasing display of craft in the form of jewelry, dresses, pins, fridge magnets, greeting cards that will make you smile, feminist tote bags, clutches, wallets, showpieces, quirky must-have paintings and so much more.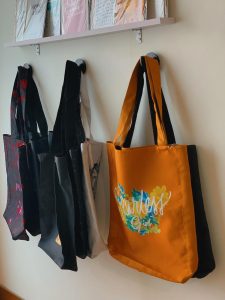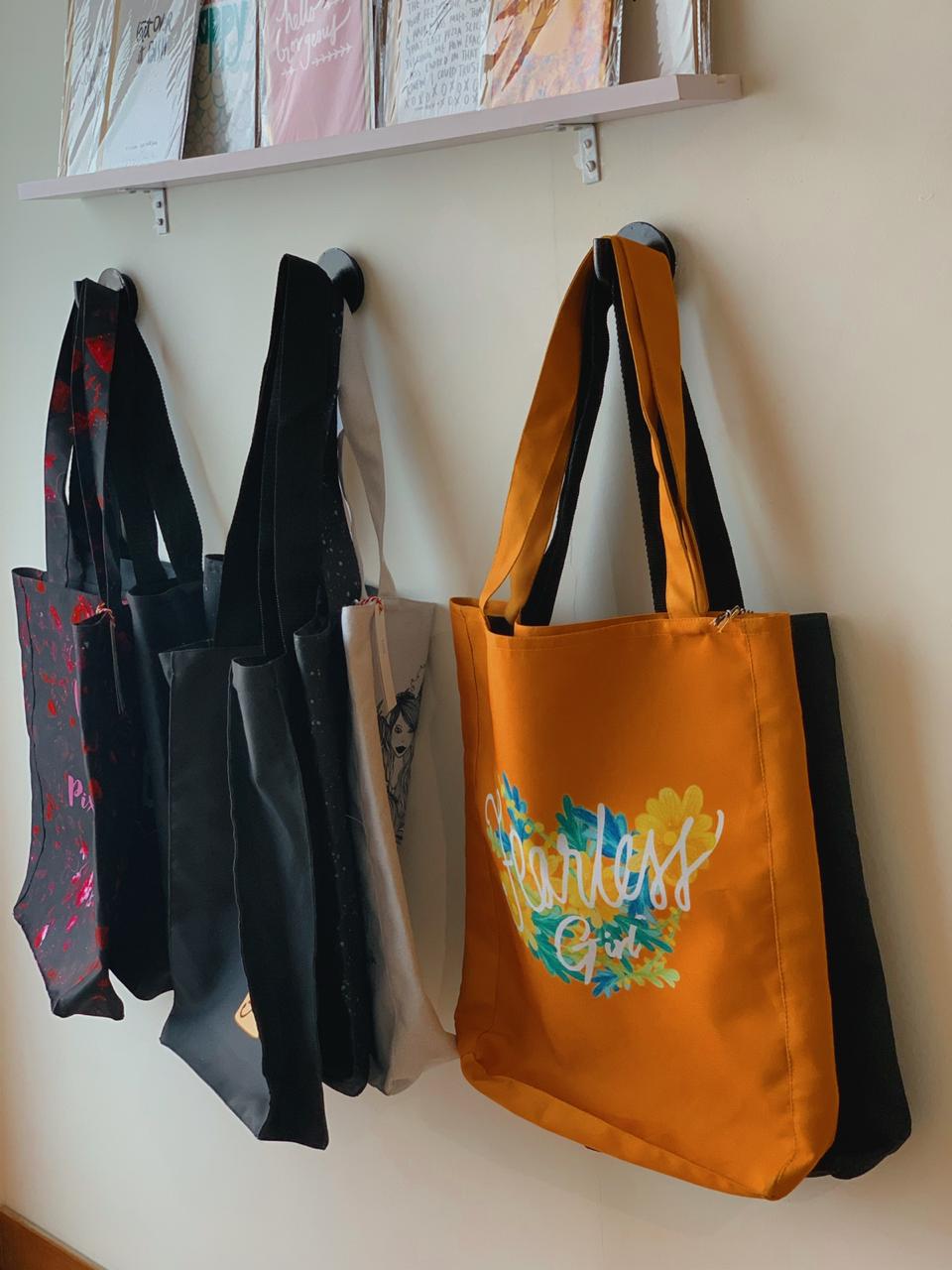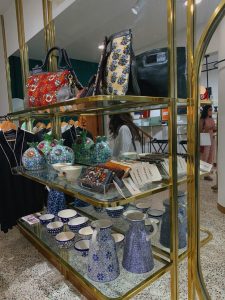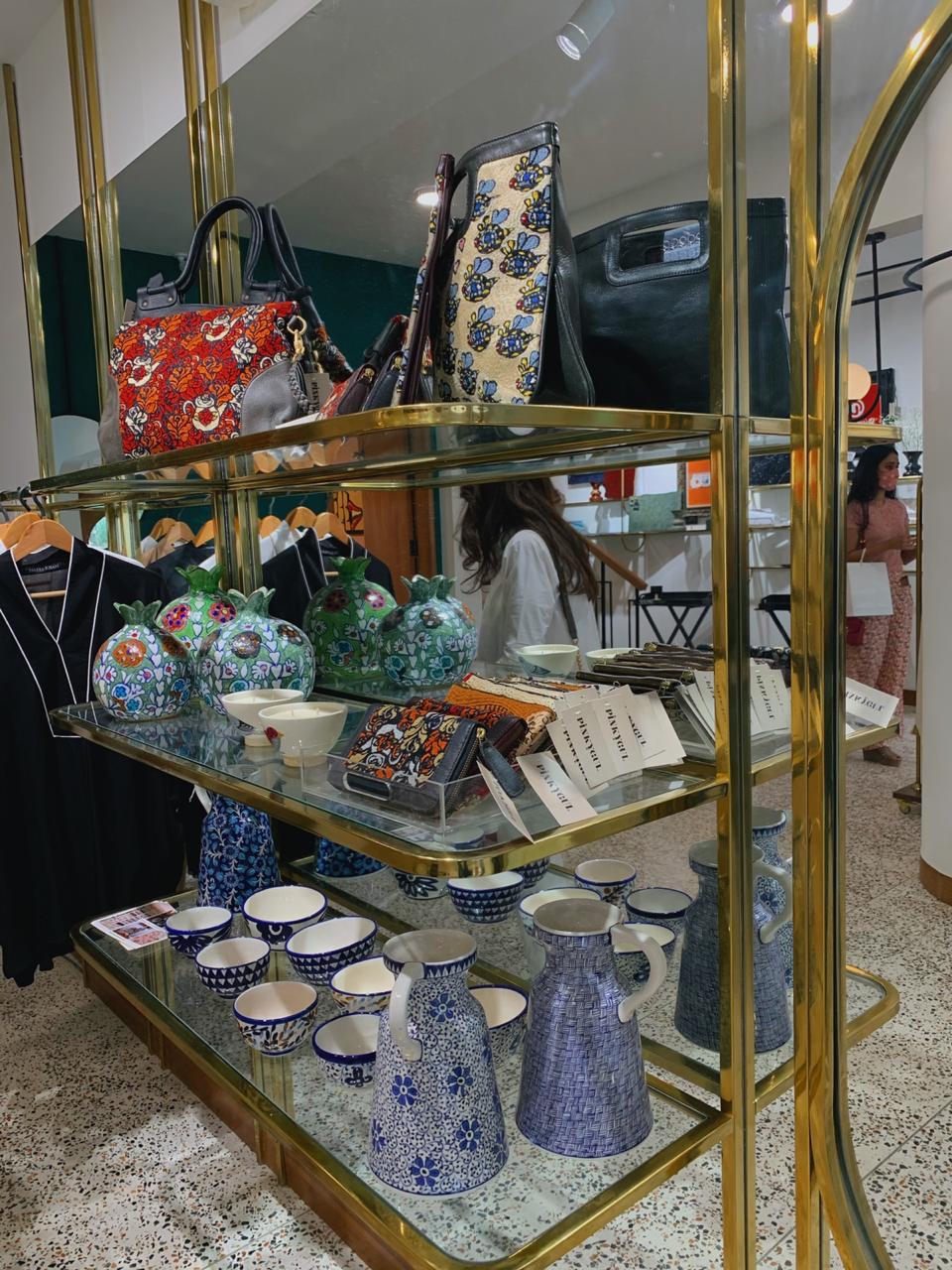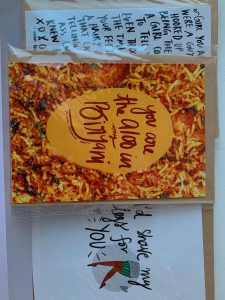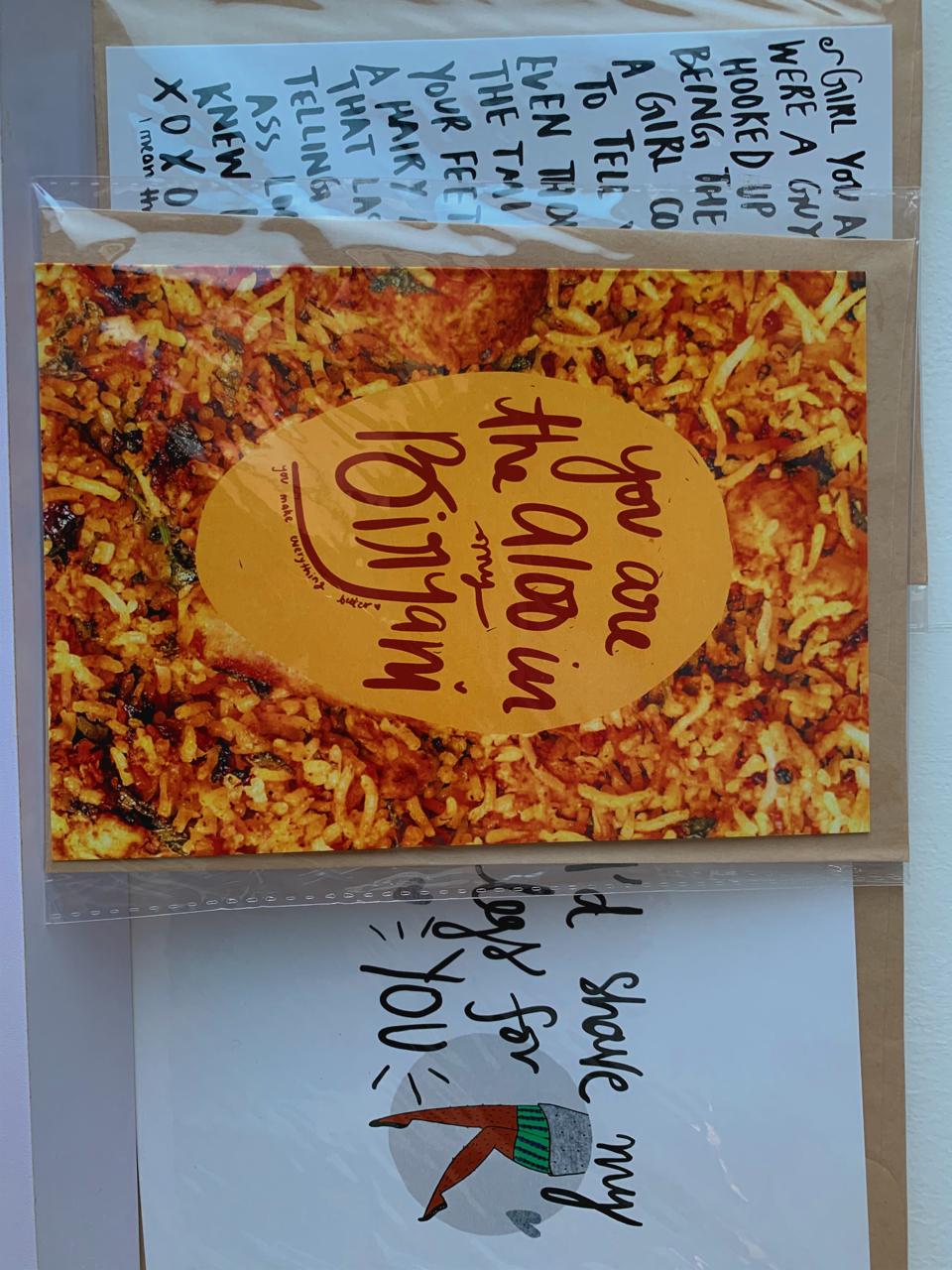 There will always be something you'd want out of everything on display. The dresses on display on the ground floor were from female designers – a prominent name being Nadia Khan – with a friendly all-female staff of retailers ready to help.
Upstairs, a dynamic range of skincare products await you along with either a steaming or an ice-cold cup of FLOC's coffee freshly brewed on spot.

It has a welcoming decor
As you walk up the stairs, the first thing you see is a neon light greeting you with a "Hello gorgeous!" and right underneath stands a whole range of local skincare products. A small coffee bar awaits by the seating area between itself and the skincare stand. One will find comfortable sofas and coffee tables. This area serves as a good spot to sit in and read a book.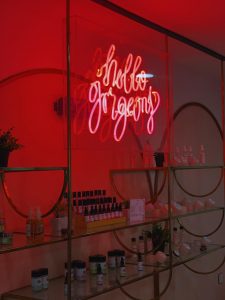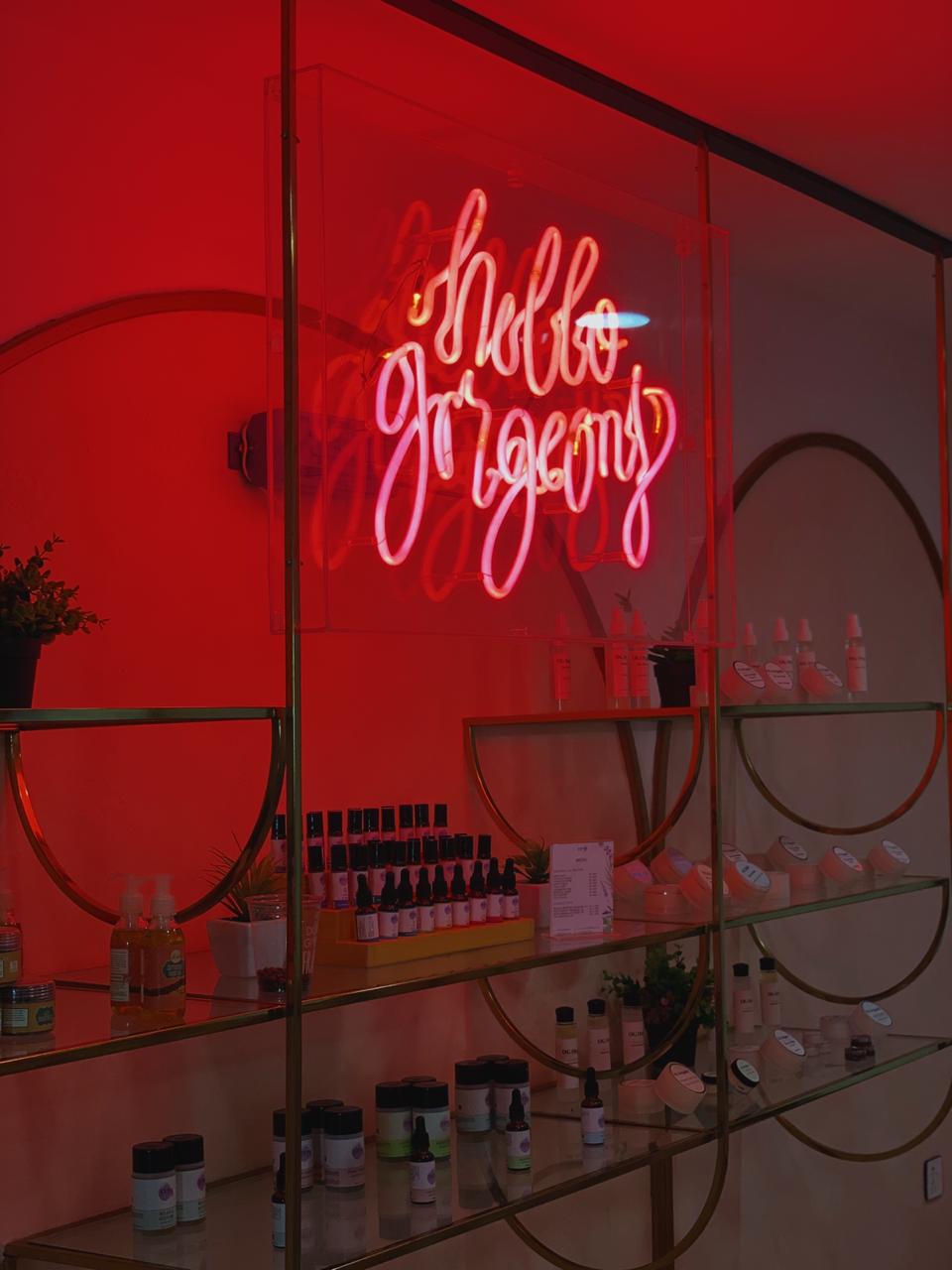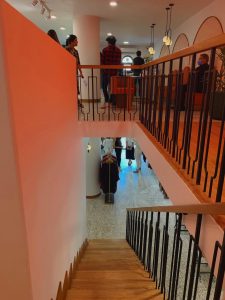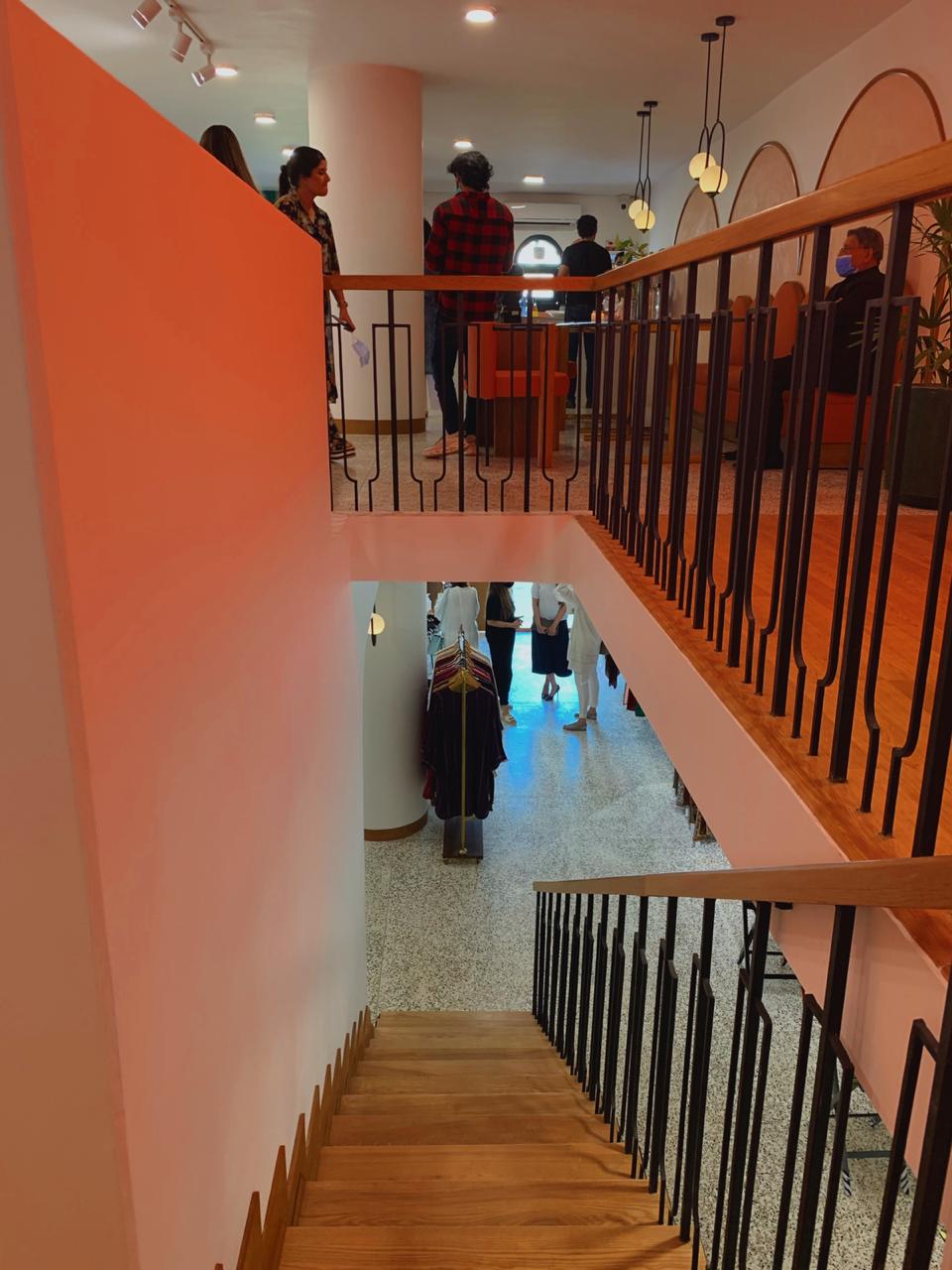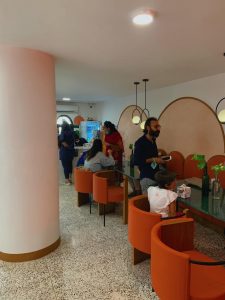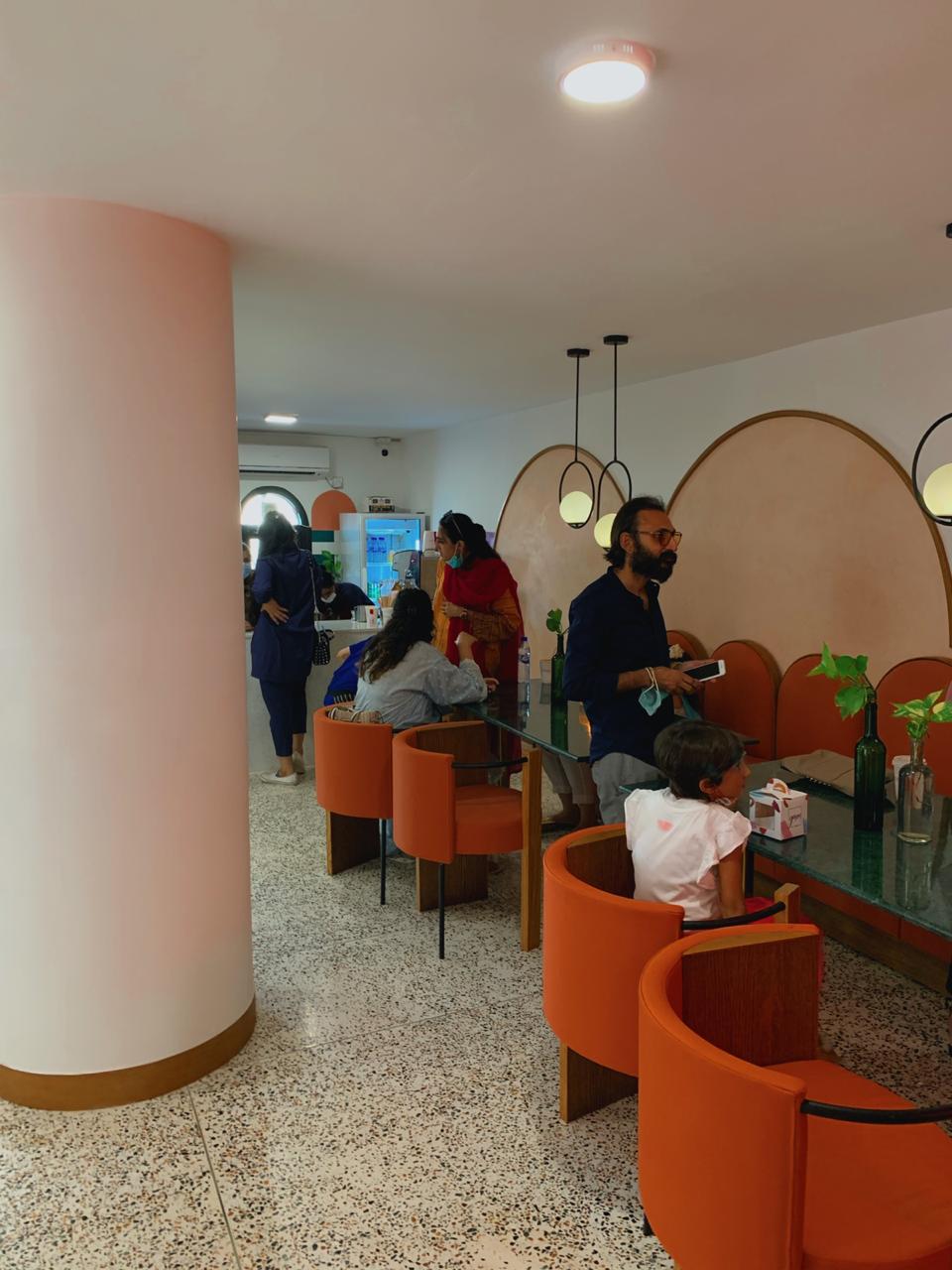 There is a conference room, decorated with illustrations of iconic Pakistani women that defied the stereotypical norms of society and paved their own paths as strong female forces, such as late singers Madam Noor Jehan and Nazia Hassan.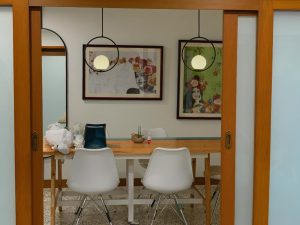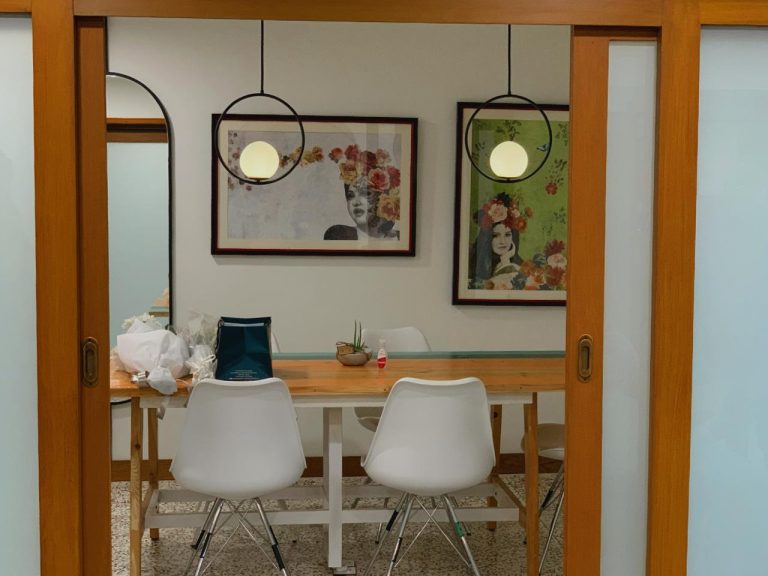 The whole space fills itself with warm hues that feel homely. Wall paintings of flowers by the staircase explore the beautiful side of femininity. The most noteworthy feature was that all the flowers depicted in wall paintings are all local flowers that grow in Pakistan. Hussain Ahmed Khan and Samia Ali Khan are the talents behind the entire orchestration of Pinky Gul's ambiance.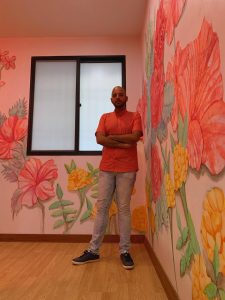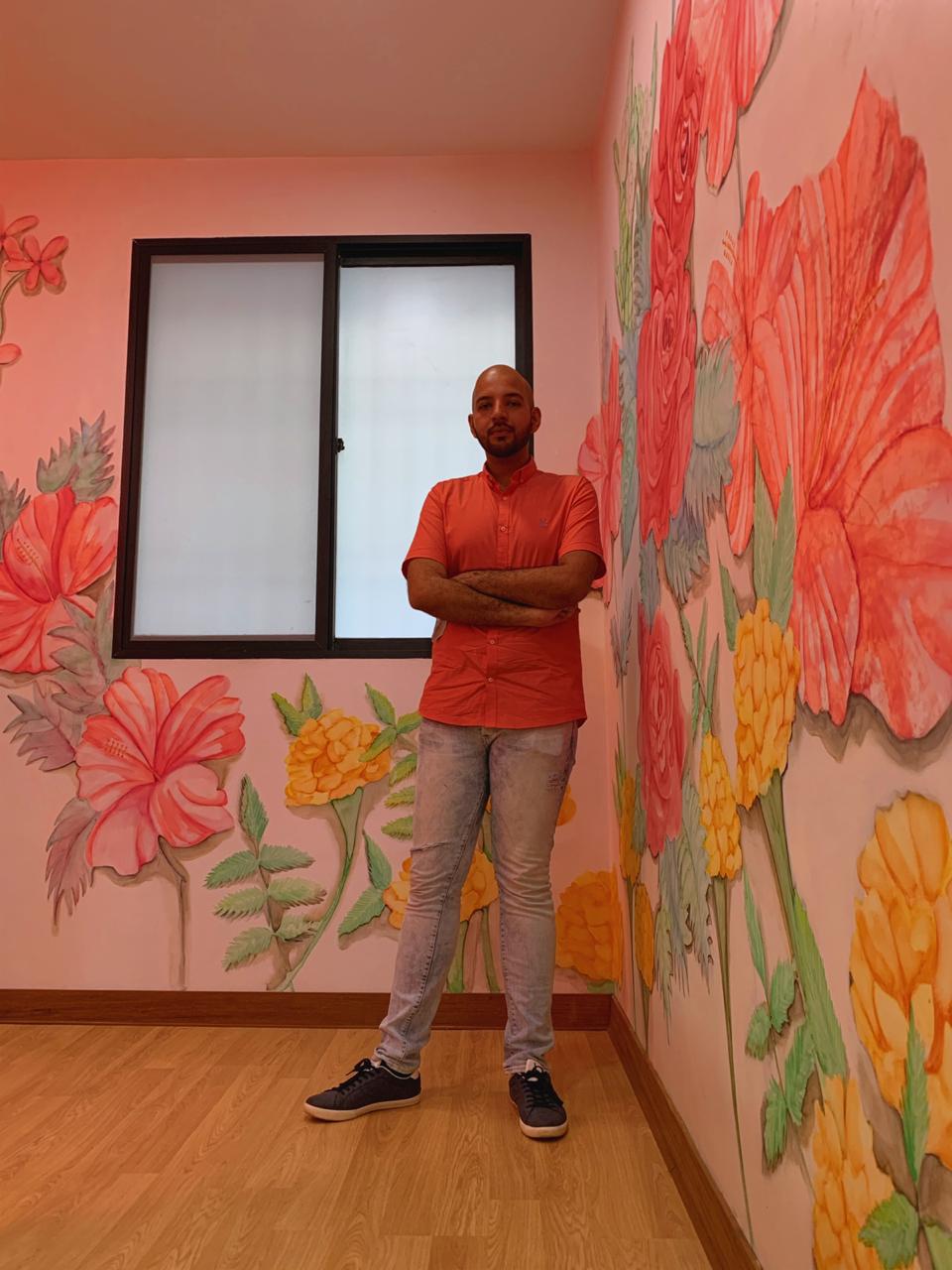 "I want people to come here and feel like they are in their nani's house, a second home. That was the pitch I was given by my client," said Hussain Ahmed Khan, an architect and the curator of the space. Art can mean different things for different people, but for Hussain, it apparently means creating something that is inspired by your own life. "A lot of architectural spaces depict masculinity, but hardly any space depicts femininity. The inspiration behind the mural was the way our nanis pamper their flowers and gardens."
One thing that really stands out is this piece of writing from Hussain: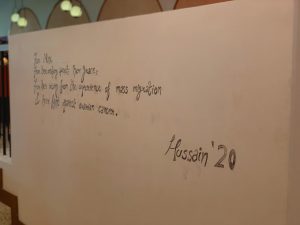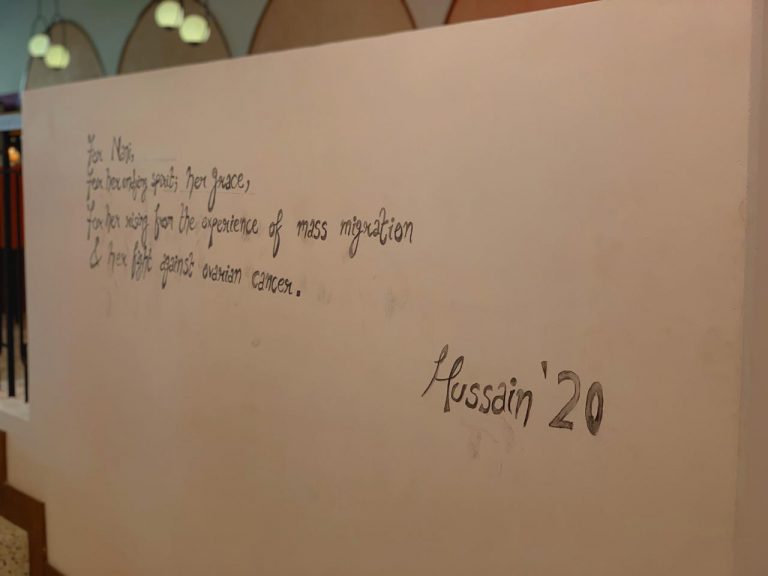 "For Nani,
For her undying spirit; her grace,
For her rising from the experience of mass migration
& her fight against ovarian cancer.
– Hussain"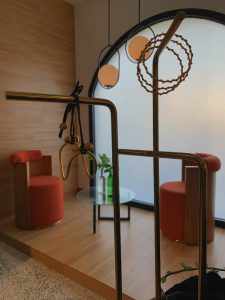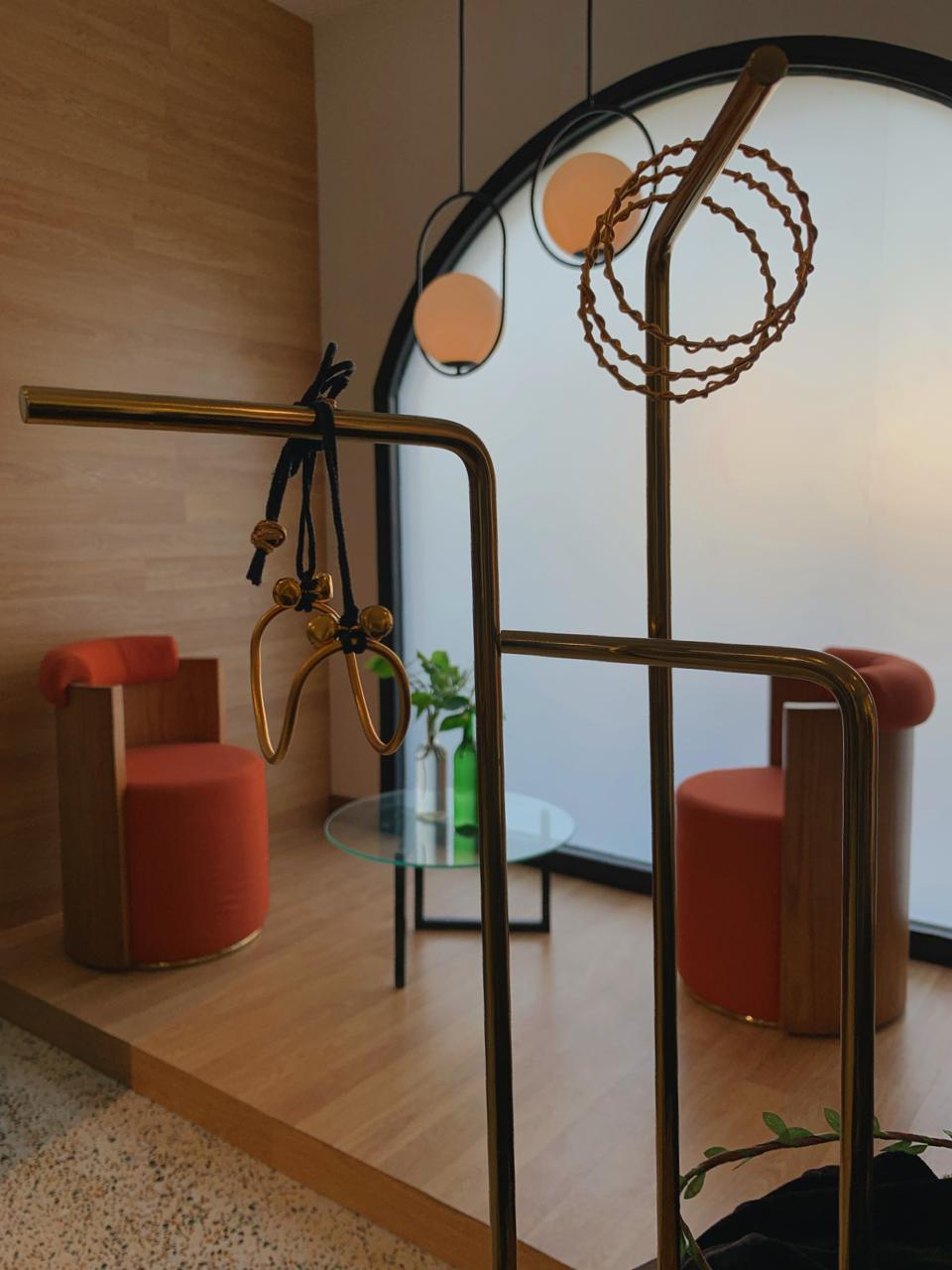 It feels safe and convenient
Mishayl Naek is the force behind this initiative. Naek is a development economist who worked with a former governor of Pakistan's State Bank, Shamshad Akhtar for her Financial Inclusion Program for Women.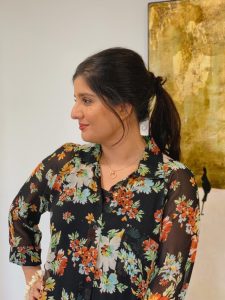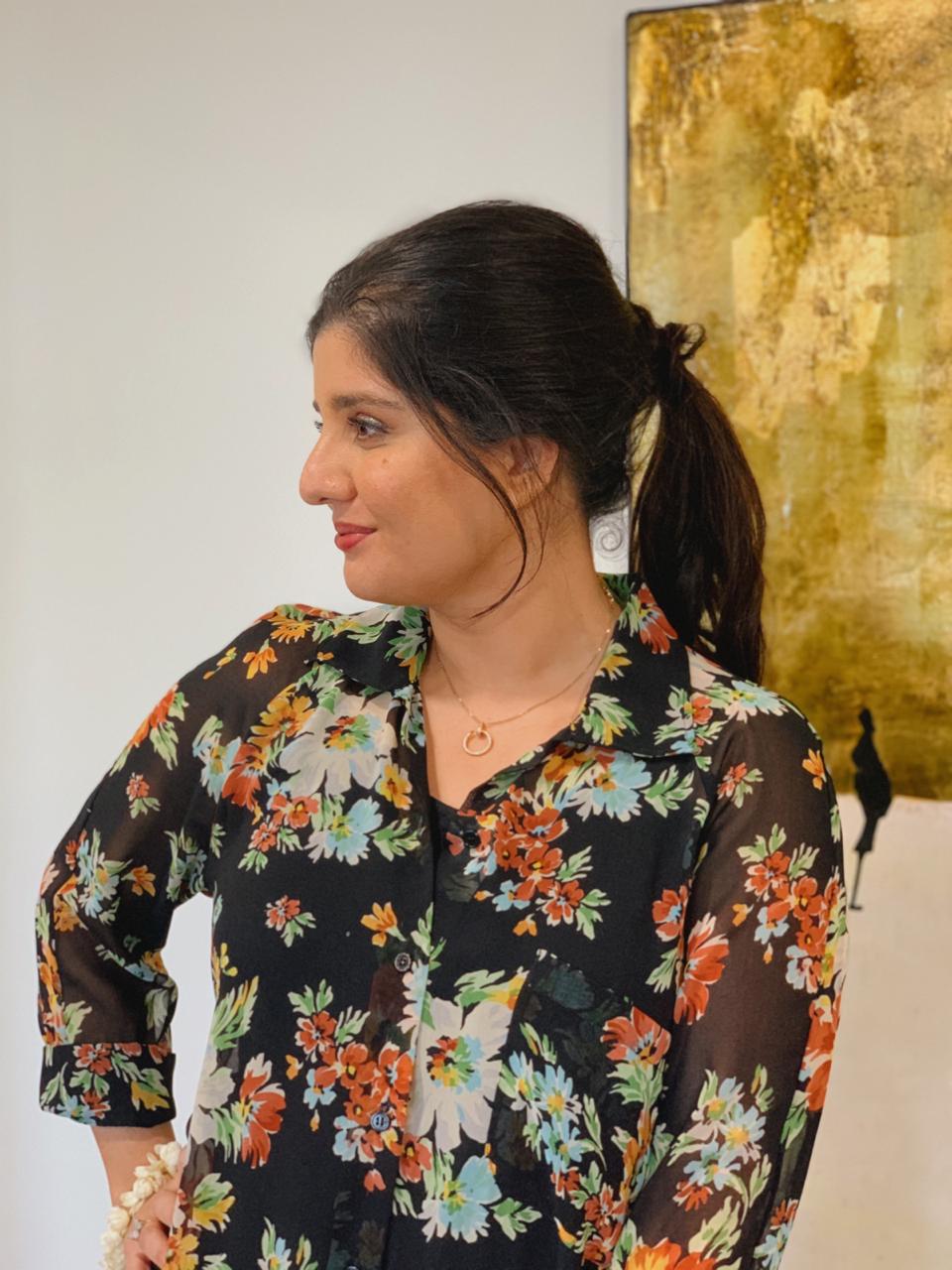 "The names Pinky and Gul are my parents' nicknames. My mother is Pinky and my father is Gul. They have been my inspiration and are absolute feminists and pushed me way harder than they pushed my brother," she informed Cutacut.
Speaking about the place, she said it is a multifunctional woman-centric space, although not restricted to women. It is inclusive. "There is a meeting room for private meetings or any sessions you'd want to hold and it can be booked on an hourly basis on prior notice. Everything upstairs is an exhibition pop-up space. You can rent the whole thing out. I will be holding events myself as well. The coronavirus pandemic sort of delayed my plans, but the whole space will be used for various purposes such as holding women-centric talks like women's health, businesses and the issues they face on a daily basis. So the whole point behind this is to create safe, women-centric spaces. There aren't enough of them and we need them."
Naek stressed the need for a more flexible space for women, which is how the whole place came into being. "Women can often not do a 9-5 job here. So this place allows you to just come and work here. There is no charge. Just buy a coffee and sit and work, and form a network. Unless it is booked out, you can come in and sit for as long as you like, there is no minimum order limit." Throughout our conversation with her, Mishayl Naek stresses on the fact that her space aims to serve as a safe space for women, and although it is inclusive to men as well, any incident that makes women feel unsafe might result in the male attendee being asked to leave.
Read: Things Pakistani men need to stop saying to women
Team Pinky Gul will have their website updated for any upcoming events and people coming in can always check what's happening from there. Also, the space will be generating its profit from the retailers, the booking fee for the conference room, and pop-up exhibition space.