KARACHI: With good quality content, now confirmed by the staggering number of Emmy nominations, Netflix's future looks brighter. Earlier this year, Netflix had revisited the debt market to fuel its investments. However, as Netflix dominates the 72nd Emmy Award with 160 nominations, we hope Netflix might generate a wider audience and attract more consumers to finally start to settle its debts.
While this might sadden heavy consumers of Netflix, it is nothing out of the ordinary. As reported by Variety, media companies like Disney and Apple are in debts twice as heavy as Netflix's.
Come what may, this does not stop Netflix from showcasing quality content. Shows such as Ozark and Schitt's Creek have picked up many nominations but here is our list of the best Netflix shows that have been recognized at the Emmy's this year:
Stranger Things


Here is our favourite bunch of trouble makers and problem-solving geniuses, who bravely (and sometimes under adult supervision) stand against forces more than twice their sizes. Wholesome, funny, heartbreaking and at times extremely relatable, this series is an escape into a parallel dimension full of unpredictable twists, turns and emotions.
The Good Place


So what really happens after death? Does your journey really come to an end, or is it when it actually starts? A whole bunch of misfits nobody could have imagined putting together on Earth come together in the afterlife and become each other's support system. Packed with drama, emotions and heartwarming friendships, this is a real tear-jerker and we recommend you keep a tissue box close.
The Crown


This drama encompasses major events in the life of Queen Elizabeth II. The series begins with the young queen ascending to the throne at the time of her father's death, aged only 25. The series follows several events that help its audiences get in touch with the events of the world in present and how they unraveled gradually. While the Queen's character has sparked multiple responses regarding how feminist it is, it is an important watch for those who love a period drama.
Hollywood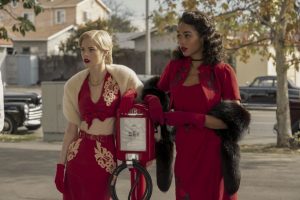 This is a show that chronicles the golden age of Hollywood, the racial and gender discrimination of the time and how history could have been written differently back in that time to really set up a benchmark for films of today to follow. It presents a fictional version of renowned actors such as Vivian Leigh and Anna May Wong and hints at how film businesses are more about what goes "behind the curtains" than what is projected on them. Really addictive to watch – one only wishes that this was actually the way events unfolded back in the day.
Dead to Me


A story of an unlikely friendship between two women with opposite personalities. There are not many films and TV shows that effectively portray female friendships and their importance. Well, this show does it perfectly. Two women coming together because of their traumas embark upon a journey exploring the more positive sides of grief, sadness and loss.
Here is to hoping we get to see more content produced for Netflix locally and more openness in our audiences to accept and experiment with newer content. May the best shows and talents win!