KARACHI: #BlackLivesMatter has been a subject of conversation, and rightly so, these days as riots and protests rage on in America, as well as other parts of the world, following another case of police brutality. From celebrities to politicians to social media users, everyone is focusing on how racism is rampant everywhere and it's time for a change.
Cricketer Daren Sammy, who has played for West Indies but is more popularly known in Pakistan for his Pakistan Super League (PSL) performance, (playing for Peshawar Zalmi), has been vocal about it as well. Sammy is immensely popular in Pakistan, with some calling him an honorary Pakistani.
However, recently, he happened to stumble upon Hasan Minhaj's video for Patriot Act, in which the comedian delivered a 12-minute scathing monologue on how Asians need to acknowledge their anti-black sentiments. "You know what we call black people? We call them kaala, which means black but not in a good way. If someone is dark-skinned in your family, we clown them. We call them kallu," he said in the video.
Read: How we talk about black people is f***ked up: Hasan Minhaj
Daren Sammy took to his Instagram to reveal that he now knows what the word 'kallu' means and isn't happy that he was being addressed with that slang when he was in India. He claims that him and Sri Lankan cricketer Thesara Perera were called kallu when they played for Sunrisers in the Indian Premier League.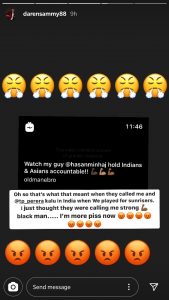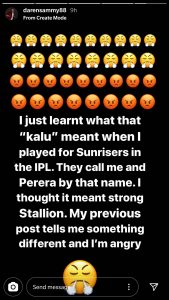 A few days ago, he took to Twitter to address the International Cricket Council: