KARACHI: Dua Nisar Mangi was abducted from a popular tea spot in DHA on Saturday. According to The Express Tribune, the incident took place at 8 pm. Dua was walking on the street with her friend, Haris Fatah, when unknown men in a grey Honda Civic shot at him, critically wounding him, before driving off with Dua in the car.
The incident started circulating on the Internet when Dua's sister shared a Facebook post informing people of the incident and requesting help in case anyone could offer any.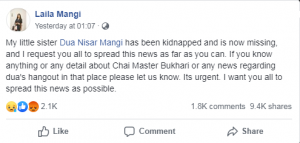 Unsurprisingly, people have started victim-blaming instead of trying to help. Several comments on social media have emerged in which people are asking what she was wearing at the time, with many claiming that Dua was "asking for it," and saying things like "aur bano feminist," "ye toh hona hee tha" and "women should dress modestly to prevent this from happening." One even went to the extent of writing, "wese, kidnappers ne haath acha marlia." Mostly, these comments came from men.
According to The Express Tribune, a close associate of Mangi's family said that Dua Mangi had recently returned from the US, where she had befriended a man and due to some differences, she had stopped talking to him. He had made several attempts to talk to her in the past couple of months but she had refused. Police isn't confirming the details right now but have claimed that they are investigating the case from all angles.
In a world where unconscious women in hospitals, eight-year-old girls and boys as well as dead corpses of women aren't safe from being sexually violated, it becomes a little redundant to keep talking about how the clothes of a victim don't matter. In fact, an exhibition held in Brussels showcased the outfits victims wore during their assault. The disturbing similarity is that the clothes show that  victims weren't dressed provocatively. One could even see a child's school uniform in the exhibit.
The larger issue seems to be the way women are looked at and that's why it's important to see all the crimes committed against women in context to one another. Kidnapping, rape, sexual assault and harassment, domestic violence, acid-throwing, honour killings – one can go on. Just last week, it was reported that a minor girl was stoned to death in Dadu and while the girl's parents are claiming that she got killed due to landsliding, "area residents said a jirga was held before the incident, and the leader had issued a ruling to stone the girl to death," according to Express Tribune. The case is currently under investigation.
Therefore it seems ridiculous to blame a woman for her clothes, for choosing to be out in a public place, for being a feminist – because they only thing common between all victims of assault and violence is that the victims are raped/kidnapped/violated by men. Therefore the blame lies in the one who commits crimes, not the one who is already victim to it. And it has a lot to do with the way women are seen, as mere objects, instead of autonomous citizens with equal rights and a right to their bodies and their lives.