KARACHI: The Saudi Arabia's crown prince visit to Pakistan is in progress, and it's all everyone is talking about. The previous week's news cycle has been filled with details about the lavish visit. From the booking and rental of 300 luxury cars to being escorted by the Air Force, Pakistan did it go out of its way to welcome the prince and commemorate the occasion.
Crown Prince Mohammad Bin Salman is the first Saudi leader to visit Pakistan in 15 years.  He arrived in Islamabad on Sunday for a two-day visit, and will be heading to India and China after. According to CNN, the Asian tour is widely seen as "an attempt to bolster ties and improve the kingdom's image after a troubling year."
If you're not clued in though, here's everything you need to know to keep up-to-date:
1. A grand welcome
The capital was blanketed with posters of the prince who arrived in Islamabad as fights jets from the Pakistan Air Force escorted his plane through Pakistani airspace. The crown prince was welcomed with a  21-gun salute. The prince was personally driven by Prime Minister Imran Khan to his official residence, where a banquet and cultural show was performed. Front pages of newspapers were plastered with his photo and almost all newspapers lead with the story of his arrival to the country.
According to Al Jazeera, "Pakistan has shown appreciation by treating Prince Mohammed's trip as the biggest state visit since one by Chinese President Xi Jinping in 2015, soon after Beijing announced plans to invest tens of billions of dollars on infrastructure in Pakistan as part of China's Belt and Road initiative."
2. $20b investment
Seven MoUs have been signed, covering $20 billion worth of Saudi investment in categories of agriculture, food processing, tourism, petrochemical and minerals. There is also been an invitation to Saudi Arabia to make use of opportunities in China-Pakistan Economic Corridor (CPEC).
"We believe that Pakistan is going to be a very, very important country in the coming future and we want to be sure that we are part of that," the crown prince said on Sunday during a joint press conference.
The deals are expected to provide a much-needed relief for Pakistan's ailing economy, as the country negotiates a bailout with IMF.
3. Prisoners' release
As of now, Crown Prince Mohammad Bin Salman has ordered the release of over 2,000 Pakistani prisoners in Saudi jails. In his meeting with Prime Minister Imran Khan yesterday, Crown Prince had promised to deliver "whatever we can do" for Pakistanis in Saudi Arabia when the PM mentioned the suffering of Pakistani migrant workers in the Kingdom. "There are some 3,000 Pakistani prisoners there and we just would like you to bear in mind that they are poor who have left their families behind," said Prime Minister Khan, according to Dawn.
This is being rendered as a huge move by human rights activists and journalists. These were prisoners who had been taken into custody mostly on petty crimes, with no lawyer representations and language barriers making their ordeal worse.
4. Highest civilian award
The crown prince was conferred the Pakistan's highest civil award, Nishan-i-Pakistan, at an investiture ceremony on Monday. He arrived at the President's house in horse carriage.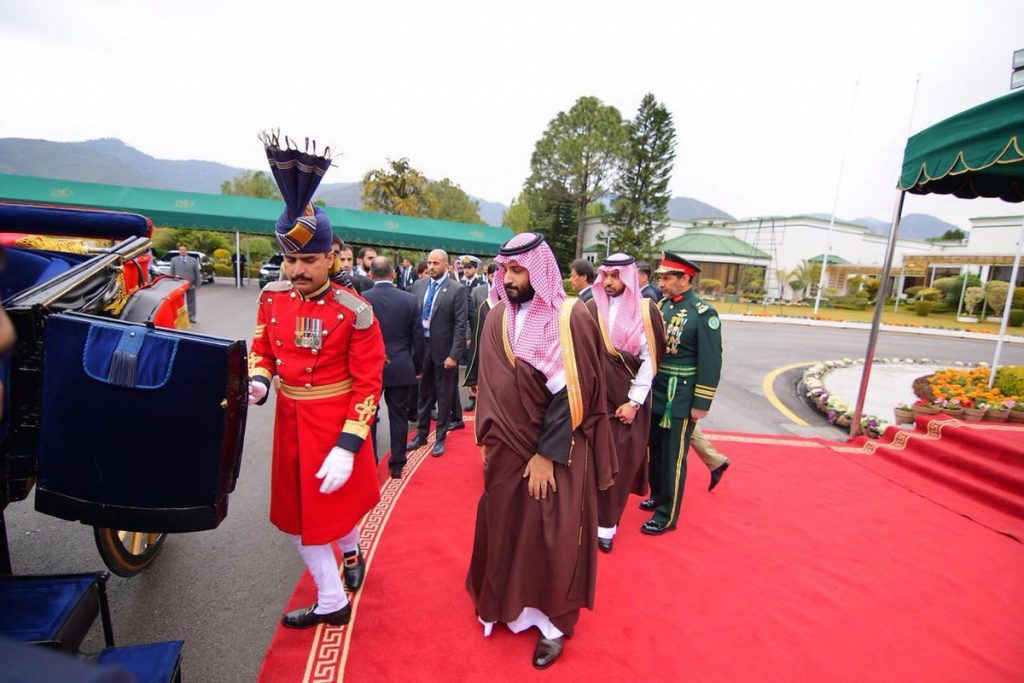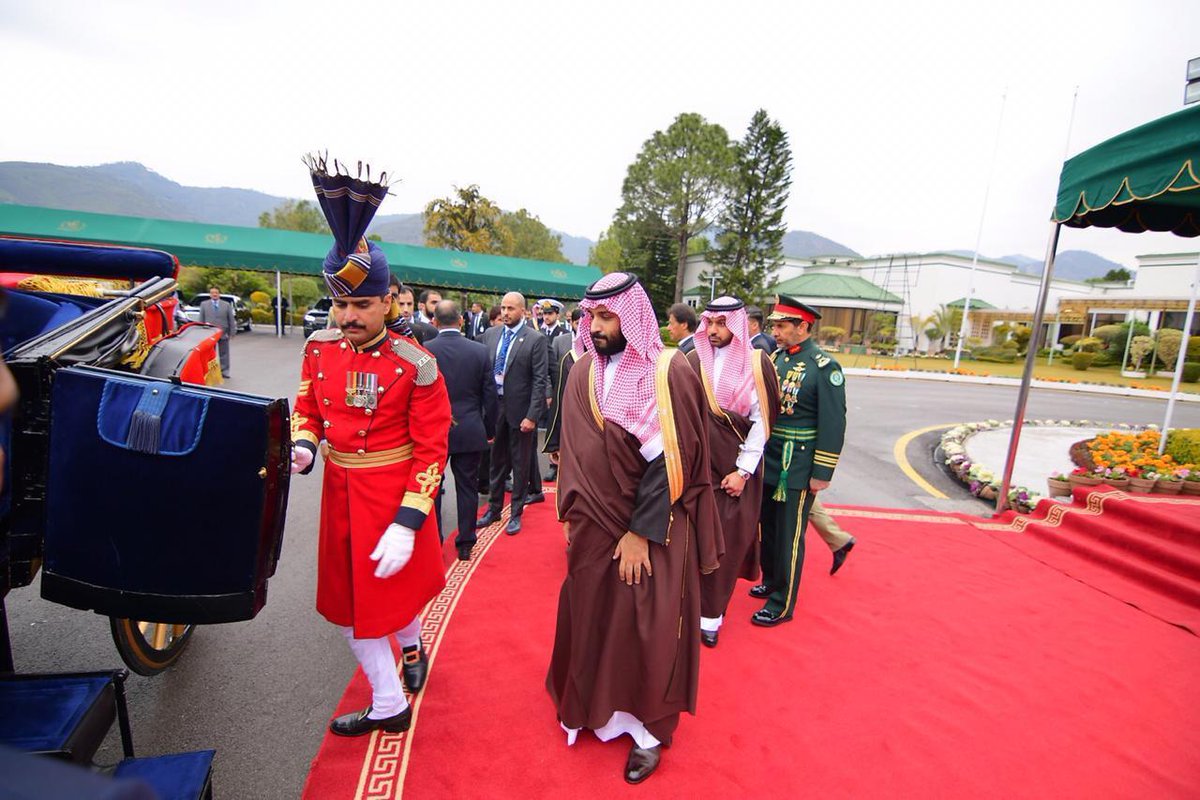 5. Opposition not welcomed
Opposition parties, mainly the Pakistan's Peoples Party (PPP) and Pakistan Muslim League (PML-N), were not sent any invites to be part of what is being rendered a historical occasion, according to media reports. Some criticised the PTI government for not keeping their differences at home and stretching it to the extent of when a foreign dignitary is on a state visit to Pakistan.