The introduction to a recipe will be different this week. This isn't a fictional story, but a call to women. I've watched over the past year as the #MeToo movement has spread from the US to other countries (including Pakistan), outside of the entertainment industry and into all factions of life. No longer a matter of addressing this solely in the work place, but in everyday life.
This isn't a forceful accusation to men to be better – that has and is being done. This is a desperate plea to women to recognise they are just as important as men. With the latest confirmation of Brett Kavanaugh to the Supreme Court in the United States, I've been baffled to see women in support of his confirmation despite what he has done in the past and his atrocious behavior throughout.
Being faced with this confusion before; for example, seeing women actively support Trump as President, I tried to understand why. Post Brexit and Trump, it was key for me to understand the "other side." It is the first way to begin to bridge a gap between these two widening groups. I understood, in some regards, why men voted for Trump. I didn't agree with it, but I understood.
After Kavanaugh, I simply could not understand women who came out in full support of him. I did some digging and it seems as if, on a very basic level, women do not think themselves equal to men.
This must stop.
The rise of the patriarchal society has been theorised in relation to strength, women need time for childcare and several other reasons that do not necessarily make sense. As written by Yuval Noah Harari, the question remains unanswered and is "one of the biggest riddles in human society."
Now regardless of why this has evolved, one thing is for sure – women have every right to be equal to men.  The idea that some women do not recognise this as a truth hurts and astounds me. This is prevalent in both western and eastern countries, which is why women in the US support and stand behind men who consider women below them.
Just consider this for a minute. The idea that there are women, many women, who believe they are not as worthy as a man. This comes from years and years of being put down, and being told they are not strong enough, smart enough or deserving enough.
One of the saddest truths to come from this issue is that often this comes from the mother because she herself doesn't believe she is worthwhile. Understanding this makes me feel despondent at times. This is an issue that has permeated society and sometimes I find it difficult to see a world where men and women are truly equal. It can be very easy to feel helpless during these tested times.
But then I do think of the changes that have happened within a generation and that gives me some semblance of hope. In a world where at times we feel as if we are going backwards, we should highlight the positive and continue forwards with whatever little contribution we can make as individuals. For example, let's just take a quick look at the US Midterm Elections – there will now be more than 100 women in the House in 2019 for the first time in history. Women saw the opportunity, jumped at the chance to run and have been successful. This is a huge win.
It may take another 100 years, but to all the women out there – let's celebrate each other, and not compete. Let's teach our daughters and our sons that every person is worth the same. To all the men, we aren't looking to take away your power; we just want to be able to share it. We want to be able to work together professionally and be accepted, and feel supported personally by our partners, family members and friends.
A very simple message for a very complicated issue. We are important, and we do matter. Now on a happier note, a recipe to lift all our moods. Something hearty and delicious, and made family style. Have your family and friends over, tell them you love and appreciate them, eat a good meal and discuss the importance of raising the next generation to support equality for everyone.

Classic Spaghetti and Meatballs
This recipe is one of my favorite classics – nothing fancy or adding in a twist – just a classic recipe for spaghetti and meatballs. It's instantly comforting and delicious, and a great dish to share. It also is incredibly easy as it is best when it's made as its most simple.

500 grams mincemeat (beef)
1 onion – diced
¼ cup breadcrumbs
1 egg
1 teaspoon salt
1 teaspoon garlic powder
1 teaspoon chili flakes
1 kilo of tomato passata
Olive oil
2 tablespoons tomato paste
3 garlic cloves – sliced or minced
¼ cup parmesan (shredded, with more for the topping)
Salt to taste for the pasta sauce

1.Turn the oven on to 200 Celsius and combine the following ingredients in a bowl for the meatballs: mincemeat, ¼ cup of the diced onions, breadcrumbs, egg, salt, garlic powder and chili flakes. Shape into balls (size is your preference) and put on a baking tray.
2.On the stove, get a deep pot and put a healthy dose of olive oil in (a few tablespoons) on medium heat. Add the onions and cook these for a few minutes until translucent and soft.*
3.The oven should be warm by now, so put your meatballs in the oven for 10-15 minutes.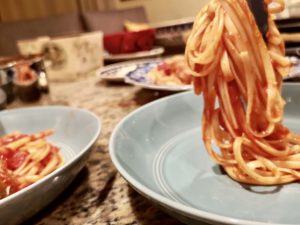 4.Go back to the pot for the pasta sauce – add in the garlic, cooking for a couple minutes and then add the tomato paste, stirring until all combined. After a minute or so, add the tomato passata and let this simmer on a medium-low heat.
5.When the meatballs have finished in the oven, take them out and place them in the sauce and let everything simmer for the next 15-20 minutes. Add in the ¼ cup of parmesan and mix everything up, and then add salt to your liking (usually another 1-2 teaspoons) as you go along.
6.If you are looking to eat this immediately, get your water boiling for the pasta!
7.This makes a lot of sauce, and around 15 meatballs. You'll likely have more sauce than meatballs, so either make more meatballs, or freeze the remaining sauce for another time.
8.Once the pasta is done, drain and then spoon the sauce all over to combine. Twirl on your fork and eat.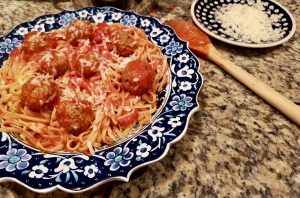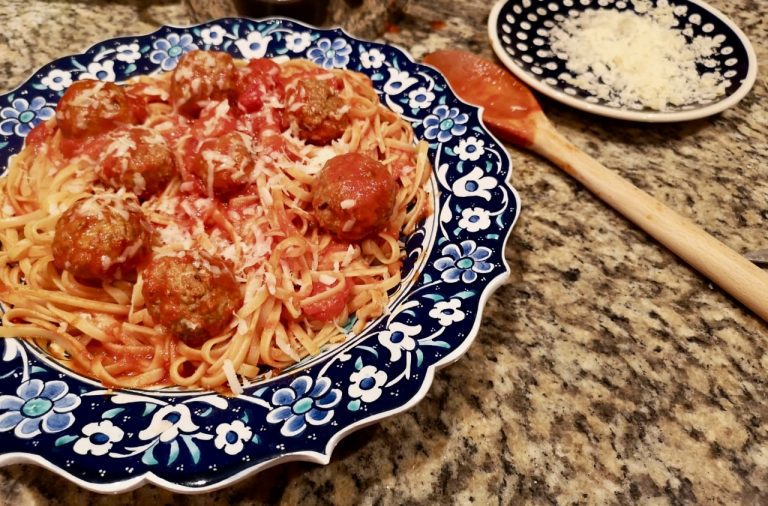 *Once you add the onions, sprinkle some salt over these as they cook.  In fact, the best method for cooking is to salt as you go.  In each step, add a bit of salt.  This will give everything a balanced taste.

This is part of a series that is updated weekly. Read the previous entry here
For the full story, you can visit the author's personal website here