KARACHI: On this day in 2012, 259 factory workers were burnt alive in what was perhaps the deadliest incident in Pakistan's industrial history. The fire – believe to be an arson attack – took place in a garment factory, called Ali Entreprises, in Karachi's Baldia Town.
Survivors and families of the victims did not let the sacrifices go in vain and took those responsible head on.
The Baldia factory fire case is still ongoing in an anti-terrorism court after law enforcement agencies alleged that the factory was set on fire after the owner failed to give extortion to a political party – the Muttahida Qaumi Movement.
However, the ATC case overshadowed the illegality with which the factory was being run: thousands of workers toiling for the production of international brands without safety equipment to extinguish a fire – in clear violation of international worker safety laws.
Following the incident, victims' families and survivors united under the banner of Ali Enterprises Factory Fire Affectees Association to file a case in the Sindh High Court (SHC). Saeeda Bibi, the mother of a young laborer who died in the fire, told BBC Urdu that since the incident happened, she has not even had the courage to light her stove. She added that the fight in court continues. "We have won the cases filed in SHC and received compensation money and pension grants," she said.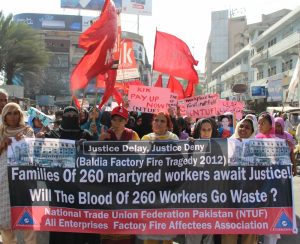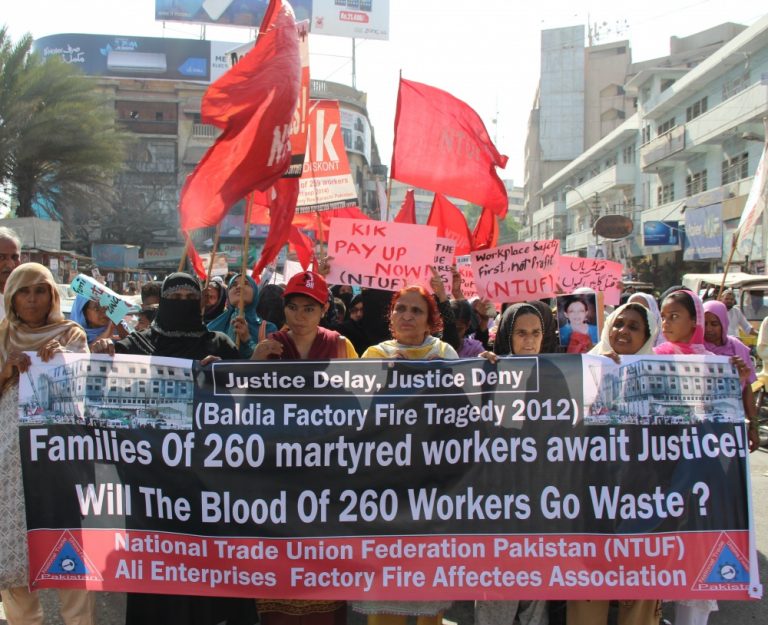 With the help of the Pakistan Institute of Labour Education, Reserach (Piler) and the National Trade Union Federation (NTUF), foreign rights groups and legislators, the families filed a case against the international brands that gave orders to Ali Entreprises. KiK, the company whose clothes were being produced at the ill-fated factory, has already paid around $6 million in compensation, according to The News. The agreement was reached four years after the tragedy with the help of the International Labor Organisation.
"The affectees have been given money that was owed to them for 20 months and now the government will start paying them monthly from the amount we received from KiK," says Zehra Khan of NTUF. "The families and other organisations are now filing the case with Organisation for Economic Justice against RINA which gave a fake certificate to the factory," she adds.
This is, indeed, a victory but the labour organisation and survivors believe they have a long way to go.
They are also planning on moving court against against a certifying firm, RINA, which provided Ali Enterprises safety certificates without allegedly setting foot on its premises.
Baldia factory fire in numbers
Documenting the tragedy and what has followed since, in numbers, as taken from Labour Watch Pakistan and The Express Tribune.
259
is the number of people who lost their lives in the fire
1,500
at least is the number of people that were present inside the factory when the fire erupted
3
was the number of floors in the factory
15
minutes is the time it took for the fire brigade to reach the site
30
is the number of hours after which the fire was completely extinguished
$6million
is the total amount that has been paid to the survivors as compensation