KARACHI: If you were thinking that the ever-popular TV personality Aamir Liaquat, now a member of the National Assembly, would be extremely loyal to the party he joined before the general elections this year, you were wrong, my friends.
Liaquat joined the ruling Pakistan Tehreek-e-Insaf (PTI) earlier this year and was awarded a party ticket. This came after he claimed he had bid farewell to politics. Lately, the politician is in the spotlight over his contradicting statements and shaky relationship with the PTI and Prime Minister Imran Khan.
To keep a track of all his many sides, we look at all the times Liaquat has changed his views vis-a-vis politics:
1.  Aamir Liaquat, the Altafist
Liaquat started out his political career with the Muttahida Qaumi Movement (MQM) and was a seemingly staunch follower of party founder Altaf Hussain. He was also given the Ministry of Religious Affairs when the MQM was in power. However, he was removed from the party after he was found fanning sectarian differences. Here is his speech in praise of the then all powerful Altaf:
2. Aamir Liaquat, the anti-Altafist
Then one fine day, the wind started blowing the other way. Liaquat started calling Altaf a traitor. This came after Liaquat was allegedly briefly detained by a paramilitary forces in Karachi a day after Altaf gave an anti-state speech.
3. Aamir Liaquat, the apolitical
Following the Rangers operation, which turned MQM and Karachi's political landscape upside down, Liaquat swore off politics. "I have erased that phase of my life from my life now," he had said in a show with a famous news anchor. This came after Aamir was briefly detained by paramilitary forces after MQM founder inciting speech, according to Geo News.
4. Aamir Liaquat, the fanboy 
We guess when he said goodbye to politics he meant see ya later and by later we mean soon. Liaquat joined the PTI in 2017 and said during a presser: "Old people used to urge me to take time and decide things. I think the wait was for me to join the PTI. My last destination was destined to be the PTI."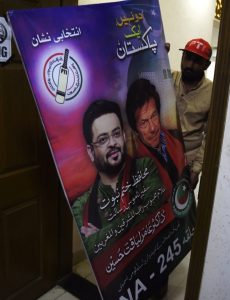 5. Aamir Liaquat, the troublemaker 
Just a few days after PTI won the elections and Imran Khan became prime minister, Liaquat has kicked up some trouble in the ruling party. Liaquat took grievances against the PTI to the public and crticised Khan for not taking Karachi, his city, seriously. Liaquat also went on to say that the PTI lied about not using protocol and said that the prime minister and his party did not play any role in him winning his constituency.