KARACHI: There are certain basics of journalism that should be followed at all times. Reporting events as they happened and verifying information are amongst them. However, the line is often blurred on social media these days when the quest is to report things first, even if it means compromising on quality. Clickbait headlines often get more traction than well-thoughtout pieces. Media platforms might usually get out of misquoting or misrepresenting events and people but once in a while, they get into trouble. The same happened with a local digital platform when it was made to appear that Aima Baig said her first crush was on her brother. As the headline went viral, the singer took notice and addressed the matter on social media.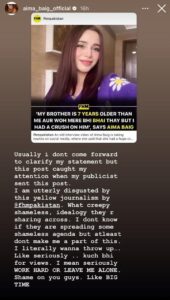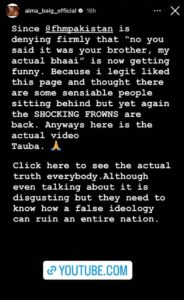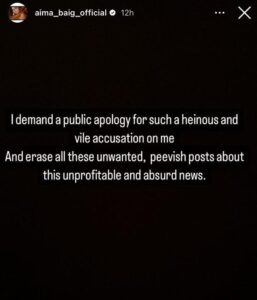 Sharing the original clip from her interview with Sameena Peerzada in which the singer can clearly be heard saying that she had a crush on her brother's friend at the age of 10, Baig demanded a public apology from the platform.
However, when she failed to receive a public apology, Aima Baig decided to go forward with a legal notice. "This is high time when we should stand against yellow journalism and fake reporting (which is only done for the sake of comments and likes). I have had it enough so here i am standing up for myself and many others to become their next prey," wrote the actor while sharing screenshots of the notice sent to the publication.
View this post on Instagram
The defamation suit demanded the publication to pay Rs100 million in and to "tender an unconditional and written apology within 48 hours" of the receipt of the legal notice.
"Although the harm caused to my client by your aforementioned illegal acts cannot be compensated in monetary terms but to deter you in future from committing such illegal acts and making such false and scandalous news having a bearing on lives of people, the damages for my client are quantified as Rs. 100,000,000/- (Rupees One Hundred Million Only)" read the document.