KARACHI: Fashion is known to push boundaries. But what happens when those boundaries are pushed way too far? Well, you end up in the midst of some incredible amounts of backlash like fashion house Balenciaga has had to face over these past few days. Controversy shrouded Balenciaga with their recent advertisement featuring kids and teddy bears in bondage gear which also lead to a second scandal and has ended up as a court case. Here is all that you need to know about the current Balenciaga controversy.
Hey Photographers :
When Balenciaga hires you to shoot their new lookbook & you show up to find a toddler laid across a sofa with wine glasses & bondage gear arranged around them, you walk away. Period. pic.twitter.com/DSoHgQLM6O

— Hoop (@xhoop) November 21, 2022
The luxury fashion house came under scrutiny when pictures from their latest holiday shoot made rounds on the internet. The pictures featured children holding bags shaped like teddy bears. Except that the teddy bears were wearing BDSM gear including a bear with a wrist and ankle restraint with a lock and chain around its neck. Naturally, people were outraged and it did not take long for Balenciaga to pull back the ad and issue an apology which read, "We sincerely apologize for any offense our holiday campaign may have caused. Our plush bear bags should not have been featured with children in this campaign. We have immediately removed the campaign from all platforms."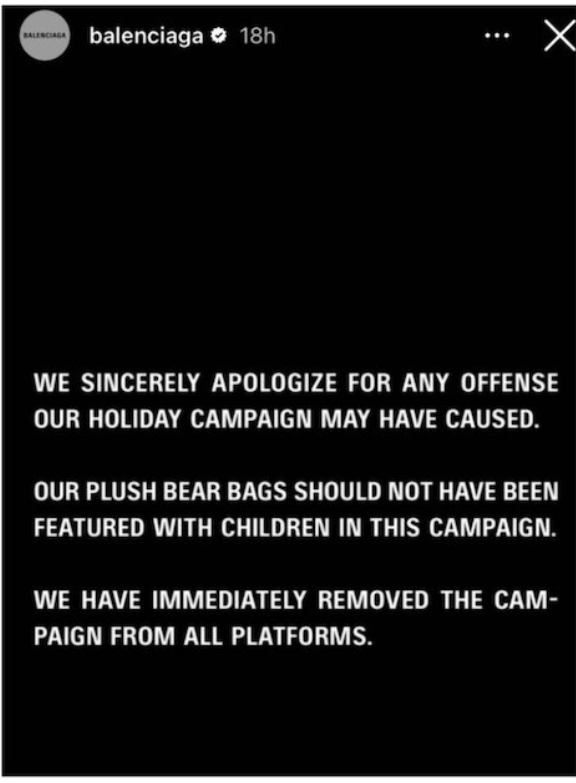 One would think that one controversy was enough for Balenciaga but apparently it wasn't because not long after their apology, they found themselves in hot water over another advertisement. This time, eagle eyed critics spotted a printout of the 2008 United States v. Williams court decision, which ruled on the constitutionality of a law that criminalized advertising, promoting or distributing child pornography even if the underlying material did not constitute child pornography.
I've worked as a set designer before. I know every piece of paper, picture, and pen has a meaning. The fact that multiple props for the Balenciaga campaign included children (abuse) topics is NO coincidence. #BalenciagaGate

— Reine (@Reineclo3) November 25, 2022
Balenciaga was forced to issue a second apology which also shifted the blame to production company North Six, Inc. and set designer Nicholas Des Jardins. The statement explained, "All the items included in this shooting were provided by third parties that confirmed in writing these props were fake office documents."
 

 

View this post on Instagram

 
While Balenciaga has filed a $25 million lawsuit against the production house following the controversy, Twitter has been flooded with posts with the hashtag #BalenciagaGate as people are expressing their disgust with the brand.
I'm deep in the #BalenciagaGate rabbit hole. This is fucking insane.

Are the rich just getting lazier when it comes to hiding shit? Or are they legitimately unstoppable so they stopped caring?

It's crazy because Adidas works with Balenciaga, guilty by association

— 𝕽𝖆𝖌𝖊 (@dentedbrain_) November 24, 2022
At this point, a full investigation needs to be launched into Cédric Charbit, Demna Gvasalia, Martina Tiefenthaler, Ludivine Pont and anyone else at #Balenciaga with any power or influence. There are definitely literal pedophiles working at that company.#BalenciagaGate

— Kassey Dillon (@KasseyDillon) November 24, 2022