KARACHI: Legends never die and that is probably the most relevant statement in regards to Marilyn Monroe. Monroe was considered a sex symbol during the sixties and decades later, she is still the subject of interest. So much so, a new Marilyn Monroe biopic called Blonde is ready to premiere soon, with the trailer out. Here is all that we know about the biopic.
Blonde has been directed by by Andrew Dominik and stars Ana de Armas as the tragic star. It is based on the novel of the same name by Joyce Carol Oates which went on to become a finalist for the Pulitzer prize. As the Netflix description, "Blonde boldly reimagines the complicated life of icon Marilyn Monroe. Blurring the lines of fact and fiction, the film artfully explores the tension between her public and private life." The black and white trailer for the biopic shows the stark contrast between the Marilyn Monroe that the public loved and her internal struggles when she was alone. While we see snippets of her in the iconic white dress blowing up, we also see her breaking down in tears.
But the movie is so much more than her life as a star. Like the novel, the biopic is said to explore the traumatic childhood that Marilyn Monroe had to endure growing up and, "How a childhood trauma shapes an adult who's split between a public and a private self." As per de Armas, the movie is a ways for "The world to experience what it actually felt like to not only be Marilyn, but also Norma Jeane (her birth name). I found that to be the most daring, unapologetic, and feminist take on her story that I had ever seen."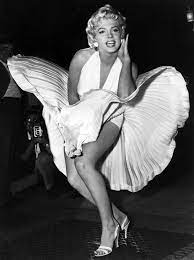 Blonde is expected to hit the screens on September 23rd.