KARACHI: 16th December marked the 50th anniversary of the fall of Dhaka and it seems as though the running theme in the media industry is historical dramas. With movies such as Khel Khel Mein and telefilms such as Hangor making way to our screens, there is one more historical drama that has garnered praised. Maya Ali and Wahaj Ali starrer Jo Bichar Gaye has just kicked off with episode 3 concluding earlier this week, but it has gotten quite a fan base. To be more specific, Wahaj Ali has caught the eye of many of his peers who have sung praises for his performance.
Khel Khel Mein: The perfect curtain-raiser for Lollywood
Wahaj Ali, as we have gathered up to episode 3 of the drama, plays the role of Roomi. The character is based on the real life freedom (for Bangladesh)/ guerilla fighter (for Pakistan) who is a member of Awaami League and is a strong advocate for the rights of the people of East Pakistan. He constantly butts heads with Sonia (Maya Ali) and his portrayal of Roomi is a treat to watch. And as it would turn out, we're not the only people who think so. Since Jo Bichar Gaye aired episode 3, celebrities have been singing praises for Wahaj Ali for his performance.
Maya Ali who plays the headstrong Sonia took to social media to share a clip from the drama where she has a face off with Wahaj Ali as Roomi. She captioned the post, "Acting is all about action and reaction. Wajju @wahaj.official this wasn't possible without your support and your brilliant performance."
View this post on Instagram
Maya Ali wasn't the only co-star who appreciated Wahaj Ali on his acting. Nadia Jamil, who made her acting comeback after a prolonged illness, also took to social media to praise her co-star and shared a story that included a picture of Wahaj Ali with the caption, "An actor growing from strength to strength, and with his politics in the right place!"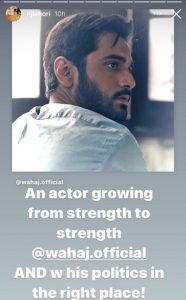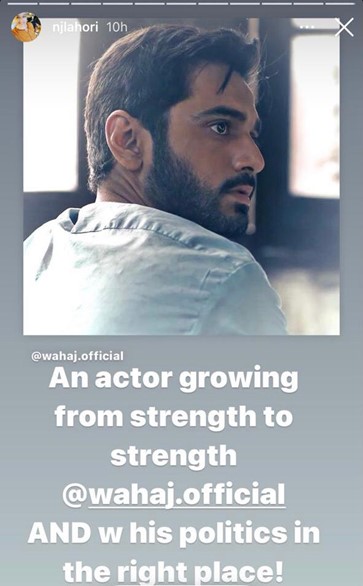 Wahaj Ali and his performance in Jo Bichar Gaye has also been praised by Yumna Zaidi who shared the screen with Ali in Dil Na Umeed Tou Nahi. As a comment on one of his pictures, she wrote, "Totally loving Jo Bichar Gaye, you are a true artist. So happy to see your range in this show as well."
Amar Khan too commented under the same picture and wrote, "This has to be the best drama on TV right now. Performances, direction, edit, cinematography, everything is top notch."
View this post on Instagram
Talha Chahour who plays Captain Farukh in the said drama also expressed appreciation for his co-star and more simply wrote, "Rumiiii ❤️🙌."
With so much appreciation coming for Wahaj Ali, we can't wait to see what his role has in store for us with the upcoming episodes.