KARACHI: Back in 2016, one of the most critically acclaimed dramas to hit the small screen was Sang e Mar Mar. With a unique storyline and exceptional cast, there was no surprise the drama was a hit. Now, five years later fans were treated to the news that the drama is being made into a trilogy starting with Sang e Mah.
View this post on Instagram
The details about the drama began to emerge with the news that Atif Aslam is making his acting debut. Aslam confirmed the news with a video of himself on the set of the drama. Hania Aamir recently revealed that she's also joining the cast which includes Nouman Ijaz and Kubra Khan. Nouman Ijaz's son Zaviyar will also star in the drama.
View this post on Instagram
Speaking about Sang e Mah, director Saife Hassan revealed, "Such project has not been released in Pakistan till date." The cast and crew has been pretty tight lipped about what to expect but Hassan did reveal that the first part of the trilogy will focus on Pakhtoon family issues and will also tackle problematic traditions such as forced marriages. Some behind the scenes pictures have made rounds on social media which has led to quite a bit of excitement around the upcoming drama.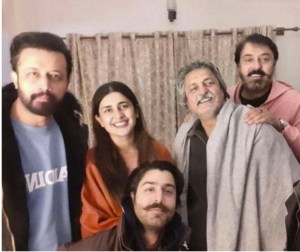 A release date for Sang e Mah is yet to be announced but it is expected that the drama will release sometime in January.