KARACHI: The National Academy of Performing Arts (NAPA) hosted an event on the 12th of October in honor of the works of the great Urdu poet Mirza Asadullah Khan Ghalib where they conducted a presentation on his poetry and writings. Due to COVID-19 restrictions, the event was only limited to the NAPA staff and students. However, the President of Pakistan Arif Alvi, First lady Samina Alvi and members of his family and entourage were invited by NAPA to attend the event.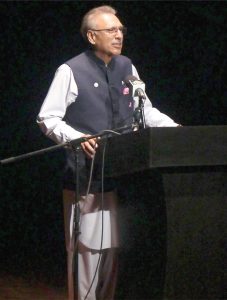 The presentation was conducted by a group of NAPA alumni and was led by the Head of the Music Faculty Ustad Nafees Ahmed, with music composed by Arshad Mahmud and the program had been conducted by Head of the Drama Faculty Khalid Ahmed. Five of Ghalib's ghazals  had been presented on the sitar with incredible talent and skill.
NAPA secures award for contribution in "Heritage & Culture" at KHI Awards 2021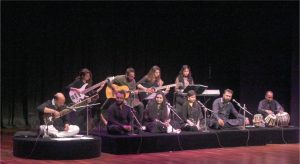 President Arif Alvi, whilst speaking at the conclusion of the NAPA presentation,  took the opportunity to emphasize the formative role of the creative and performing arts, culture and literature in reflecting the rich heritage of the Pakistani nation and in fostering a dynamic national identity. He also called for NAPA to set up similar centers of excellence across Pakistan so that the people at large could have convenient access to the enormous wealth of the country's civilizational heritage which began over 5000 years ago and is marked by contemporary diversity in the 21st century. President Alvi was all praises for the impeccable rendering of some of Ghalib's memorable poetry and writings by Zia Mohyeddin. Dressed immaculately in a black sherwani, Zia Mohyeddin's narration vividly evoked glimpses from the unique life and times of the legendary poet.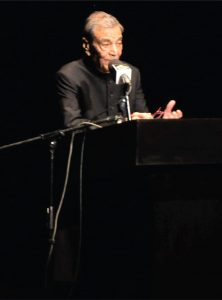 The President, the First Lady and several members of their entourage had been welcomed to the event by the Chairman of NAPA Syed Jawaid Iqbal, President Emeritus Zia Mohyeddin and several members of the board.