KARACHI: After spending Summer 2020 bound inside their homes and scared of contracting the then widely spreading Coronavirus, many people looked forward to enjoying this summer to the fullest. With the season being a popular time for going on vacation, people around the world chose to travel and make up for the time that was spent at home. While travelling during COVID is definitely not as easy as it may sound, a few of our favourite celebrities did manage to escape to some breathtaking sites.
Anoushey Ashraf
The United States seems to be a popular choice amongst our celebrities. While HSY visited the country just last month, Anoushey Ashraf landed in New York City a couple of days ago. Her Instagram hints towards Ashraf visiting her sister and nephew in NYC. From breathtaking shots at the world-famous Times Square to running into Nomi Ansari in the city, we definitely want to stay updated with Ashraf's trip details.
View this post on Instagram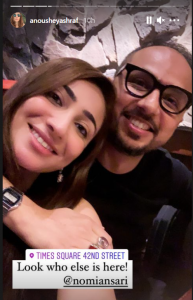 Imran Ashraf
Yet another celebrity visiting the US this summer is Imran Ashraf. From his Instagram feed, Ashraf seems to have started off his journey two weeks ago and has ticked off a few major states since then including New York, Texas and New Jersey.
View this post on Instagram
View this post on Instagram
Hira Mani
Currently one of Pakistan's leading actors, Hira Mani tends to make headlines wherever she goes. Her summer getaway, however, has been a bit of a secret. While Mani has been sharing pictures from her visit, no particular location is mentioned, keeping her followers curious. A few recent Instagram stories and posts have hinted towards her being in the States as well, but even now, no particular city has been mentioned. To her fans' joy, however, the actor did post about hosting a meet and greet in the US!
View this post on Instagram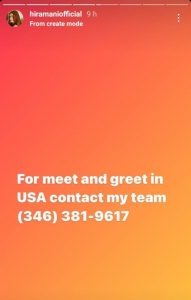 Ayesha Omar
With many celebrities opting to vacation in foreign countries, Ayesha Omar made the most out of the decline in COVID cases in Pakistan and went on a two-day road trip to the North of the country. Hunza, Passu and Nathia Gali are some of the destinations marked on Omar's feed. The actor and model was surrounded by friends on the road trip including Mahira Khan and has been sharing some of the most scenic pictures from her visit!
View this post on Instagram
View this post on Instagram
Ahsan Khan
Yet another actor to explore Northern Pakistan this summer is Ahsan Khan. Sharing pictures for his friends on Facebook, Khan revealed that he was in Nathia Gali with his wife and kids. With nothing shared on his public accounts, Khan's trip seems to have been just the break that one needs from work. And what better way to catch one's breath than in the hills with one's loved ones?