KARACHI: Generation, a revered clothing brand, has found itself in hot waters after a problematic Instagram story was posted from the brand's official page. A head cut out from a picture of an employee, whose farewell was being celebrated amongst the employees of Generation Pakistan, was edited on a picture of a Hindu goddess.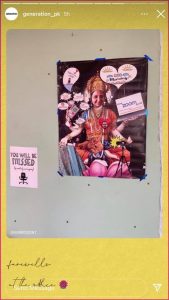 In a country where Hindu citizens live a relatively unsafe life, compared to their Muslim counterparts, Generation Pakistan has been called out for being disrespectful towards their plight as well as religion, some even calling it blasphemy. It is common in Pakistan, particularly in Sindh that minor Hindu and Christian girls are the most frequent victims of forced conversions. Not only this but their temples have been encroached in the past, and their worship places disrespected.
View this post on Instagram
Generation issued an apology soon afterward. The apology read, "We respect our viewers' diverse beliefs. Yesterday an image was posted that was not respectful to the Hindu community, and we had no intention to be disrespectful to anyone's religious sentiments. We wholeheartedly apologize to each and every person whose sentiments that post hurt. It is not representative of us as human beings or as a brand. We are learning to be more respectful and considerate every day."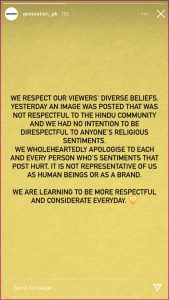 However, many are still not convinced and have pointed out how the situation might have been different if the roles were reversed.
We hope this situation gives everyone, particularly the Muslim majority, a chance to reflect and redeem when it comes to the way we treat our Hindu communities. Morphing the picture of a head of a mortal, who does not even belong to the community, onto the picture of a Hindu goddess may be an extremely disrespectful act by Generation Pakistan, but it is only the tip of the iceberg. The system stands against minorities to an extent that it is okay for corporations to engage in jokes such as these and protects perpetrators when the atrocities against Hindus go far beyond joking.