KARACHI: On International Parents' Day 2021, we're here to celebrate the two most important people in our lives. Our parents have dedicated their lives to raising us, nurturing us, and being our pillars of love and support. But in celebrating our parents, we also acknowledge that our parents aren't perfect. Raising kids didn't come with an instruction manual and they were bound to make mistakes along the way. And that's okay.
So, on International Parents' Day 2021, we decided to open up a conversation on things kids wish their parents understood. Things, which if understood, would make our lives easier and make them more loveable.
Comparisons do NOT help
Comparing us to our friends or cousins is the worst thing you can do. If you knew half the things that they did, you'd realize that they aren't the perfect kids you think they are. And we're pretty sure you wouldn't like it if we compared you to other parents either.
Also, comparing us to our siblings is unnecessary. It causes resentment and competition between us and in that moment we hate our siblings for existing. Comparisons are counterproductive.
View this post on Instagram
Disagreeing isn't the same as arguing
Parents, you have to understand that as we grow up we develop our own personalities and our own views and sometimes those differ from yours.
View this post on Instagram
So if we disagree on a matter, we aren't arguing with you or disrespecting you. We're being our own selves and you should give us the space to voice our opinions and thoughts.
My Mom's masterstroke to win any argument with me:
"Jab tumhare bachche honge tab tumhe pata chalega"

— Aladdin (@Alllahdin) February 6, 2014
Tell us it'll be okay
We get that you push us to be our best and we don't want to disappoint you. But there are times when we give our best and it isn't enough. It's then when we really need you to be supportive and tell us that it's okay. Every failure doesn't need to be a lesson for us. Sometimes all you have to say is "it's okay, you'll do better next time."
Times are changing, so should you
One of the most frustrating hurdles in a child and parent's relationship is the generation gap. Parents often forget that what applied to them decades ago, doesn't apply to us.
Sindh MPA proposes bill making marriage compulsory at 18
Our phones aren't the root cause of all our problems and there are more "respectable" job options other than being a doctor or engineer.
*Reads instructions for Advil dosage and acts accordingly*
Desi parents: I knew you were destined to become a doctor.

— Imaan Fathima (@imaanster) October 11, 2017
Celebrate our achievements, even if they don't align with your wishes
Parents, you'll be shocked to learn that just because we didn't check the boxes you set out for us to be the perfect child, it doesn't mean that we're complete failures.
I might not get straight As in all subjects but being the captain of the winning sports team is also a big deal. I might not be working the corporate job that you wanted, but my boss can't stop praising me for the effort I put in. I might not be married yet but I've achieved so much more in the meantime.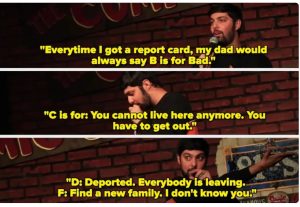 Here's to using International Parents' Day 2021 as an opportunity to have much-needed conversations with our parents.