KARACHI: When the pandemic initially hit the world, one particular phrase was constantly used to describe brown people and their attitude towards the virus. "We are fighting two wars: the virus and stupidity." One year later, some countries like ours are battling the third wave while countries like India are deeply engulfed by the second wave. However, our entertainment industry still seems to be losing the war against stupidity. Day after day, Pakistani celebrities have been giving us reasons to report news about them, and not in the best way. Amidst the pandemic and the physical exams which students are being made to sit for in Pakistan, our celebrities have been particularly active on social media. Our favourites, however, have been under the spotlight for different reasons.
Frieha Altaf and the invisible mask
On 25th April, videos of Fahad Mirza and Sarwat Gilani hosting a Qawwali night to celebrate the former's 40th birthday were seen on social media. To no one's surprise, masks were clearly not invited to the party. In the pictures shared by celebrities, only Mansha Pasha and Tapu Javeri could be seen wearing masks (even while posing for the camera) while Zeba Bakhtiar's mask sat on her chin. Social media was quick to call our celebrities out on their reckless behaviour. Frieha Altaf, however, who was one of the attendees at the birthday party, was later reported to have said, "All SOPs were followed…The only time anyone took off the mask was to take a picture."
Why then can we not see Altaf (and others) wearing a mask in the videos that have been shared by celebrities? In a particular candid clip recorded by Tapu javeri, Altaf can be seen enjoying the evening sitting on the floor clapping away, without a mask. The birthday boy, too, shared a clip from his celebration in which less than 50% of the guests could be seen wearing masks. Of course, the rest of the nation isn't any better and we all tend to be careless at times, but why does one have to lie about their carelessness instead of admitting their mistake and apologizing? In fact, why could Altaf not have chosen to stay quiet on the matter entirely? Also, who's going to tell her that one can still be a carrier of the virus even if they have been vaccinated? Or are we only supposed to care about our own health?
View this post on Instagram
Nida Yasir and the magical vaccine
Perhaps the only celebrity who could have potentially topped the mask-less behaviour displayed by Frieha Altaf and crew is Nida Yasir. Only a few days ago, Yasir shared a picture of her receiving the first dose of the COVID-19 vaccine at South City Hospital. But she wasn't wearing a mask. So Nida Yasir went to a hospital to get vaccinated but chose not to wear a mask. Instead, Yasir posed with her perfectly painted nails and full-face makeup. Maybe she took off the mask just for the picture? Umm…we would have known it was her even if she had half of her face covered, trust me. Did she take a mask with her at all? Watching her midnight show everyday during Ramzan, the real question is, does Nida Yasir even own a mask? The least that she could have done while at a hospital was keep her mask on, for that's where most of the patients are at the moment? Or have frontline workers just been suffocating under their PPEs for no reason? Or did she receive a special vaccine that acts immediately and liberates its recipient of all basic SOPs?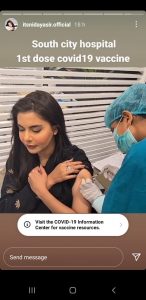 Feroze Khan and the inhumane tweet
All hell broke lose in India over the last few days as COVID-19 cases increased massively and the country ran out of oxygen. While people across the world prayed for the country and its people, Pakistani actor Feroze Khan chose to tweet a rather ridiculous opinion. "I am sure it's a tough time in India…But just imagine what Kashmir has been going through and why," he wrote while allegedly praying for 'humanity everywhere'. He didn't just stop there but went on to write how Kashmir has been living without oxygen 'since God knows when,' followed by a laughing emoji. Clearly Khan is the only one who found the whole situation funny for since when is one country's plight justified by another's? What do the people who have been dying in India minute after minute have to do with the ongoing Kashmir issue? What is the relationship between the pandemic and a political dispute anyway? Why can't we be praying for the world as a whole, rather than finding more reasons to blame a particular country?
Shahroz Sabzwari and the shirtless clan
It's almost impossible to report ridiculous incidents featuring Pakistani celebrities without mentioning Shahroz Sabzwari. Quite fond of making headlines, the actor recently started a series of Instagram stories where he shares videos of him running with his friends. Shirtless. Day after day, viewers enjoy the privilege of seeing Sabzwari half-naked. The only question left for him is, why? Is pardah only for women? Even if we keep religious reasons aside, why do we need to see him shirtless on the streets of Pakistan? More importantly, why does he feel the need to share these videos on a regular basis? Do we have a law that forbids anyone from roaming shirtless in public spaces? Might be time to make one if it doesn't already exist.