KARACHI: Our society has unrealistic expectations of beauty, specially from women, and those in the entertainment industry are held to even higher standards of beauty. Public figures often invite many unwanted and unnecessary comments about their physical appearance. Actor Ushna Shah recently became a target of online trolls which tried to fat-shame her. As Shah flaunted her physique in athletic wear, a fan chose to comment on her weight and how she seemed to have gain some over the years.
View this post on Instagram
The comment called Shah 'slightly overweight' and was apparently not meant to criticize the actor, but Shah is not one to ignore comments made about her and her body. In response, Shah reminded her followers how she maintains her physique the way that she wants to.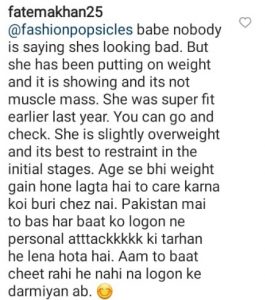 "That fitness level was by choice and so is this. I get athletic fit when I need to," wrote Shah as she addressed the bit where her current physique had been compared to what she looked like a year ago. "I am strong, I lift and am still muscular as you can see, when I want to shred and drop some weight, I will drop some calories and up my cardio but that will probably be for a role," revealed Shah.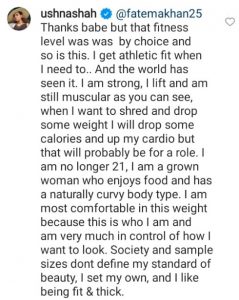 "I am no longer 21, I am a grown woman who enjoys food and has a naturally curvy body type," wrote Shah challenging the beliefs that a woman should look a certain way all her life. "I am most comfortable in this weight because this is who I am very much in control of how I look. Society and sample sizes don't define my standard of beauty, I set my own and I like being thick and fit."
Here is to hoping that more women (and men) learnt to accept themselves for who they are and be confident in their own skin!