KARACHI: Make up is highly gendered, specially in Pakistan. The assumption is that make up is only supposed to be worn by girls and if any man dare apply make up, he is automatically labeled as 'gay', a term that is considered derogatory in Pakistan. Girls, on the other hand, are constantly taught by patriarchy to always look beautiful and hide their physical flaws. India, too, shares most of these conservative beliefs which is why Indian content creator Ankush Bahugana shared a video on making make up acceptable for all. Echoing his beliefs that make up has nothing to do with gender, Hania Aamir shared the video on her Instagram.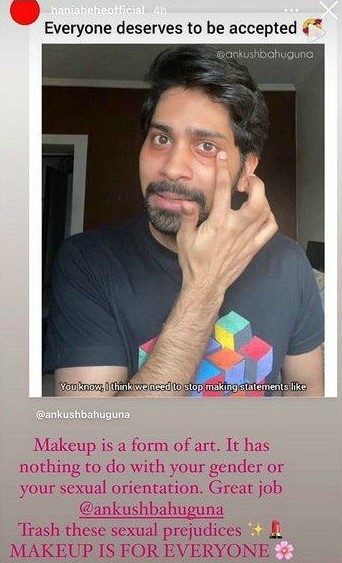 "Make up is a form of art. It has nothing to do with your gender, or your sexual orientation. Great job Ankush, trash these sexual prejudices. Make up is for everyone" wrote Hania Aamir.
Ankush Bahugana's video featured him (a cisgender man), a trans male model, a gender fluid person, and a cisgendered make up artist. Speaking while doing their make up, they questioned why the statement 'not all men who wear make up are gay' exists as the art form should not be paired with a particular gender identity. One person in the video asks the viewers why someone being gay or straight matters at all, or how it affects anyone but themselves. The video emphasized on the need to accept everyone in every form and stop putting labels on everything. Bahugana also shed light on how we need to stop considering things as acceptable only when a cisgender heterosexual man does it.
View this post on Instagram
"I'm truly grateful for the love you give me for wearing makeup but everyone deserves that acceptance, to be honest. When I say everyone, I mean also people other than cisgender men. For those who don't understand the term, a cisgender man is anyone who is assigned male at birth and also identifies as a man. Like me. But this world is full of a lot of other people too, and a lot of gender identities and sexualities we aren't taught about in school" he wrote in the caption.