KARACHI: Mohatta palace opens its arms to art and craft yet again, and this time it is home to an exhibit of Gaj, a distinct style of embroidery that is primarily found in Sindhi societies but has its counterparts in various other provinces of Pakistan. It is called Jeegh in Balochistan, gala in Punjab, iraghi in Gilgit Baltistan, and gulkari in Khyber Pakhtunkhwa. Drenched in both beauty and antiquity, the exhibit comprised some shirts that even date back to a couple of hundred years.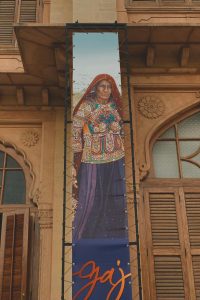 A sneak-peek into Pakistan's most intricate reflection of craft, the display curated in Mohatta Palace comprised many shirts with each of them having their own distinct patterns of Gaj. The embroidery is a common feature of a festival in Dadu where people from different parts of Sindh come together to revisit their heritage, the individualism within each peace that still shares the same roots.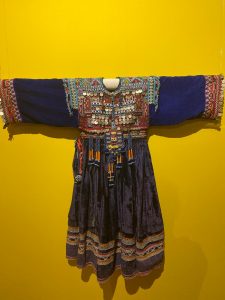 While it is usually not in the common knowledge of non-Sindhi folks, Gaj isn't just beautified embroidery. Women from Sindh take immense pride in adorning it, for it is also a non-verbal form of communication and in a lot of cases, "a protective talisman". The motifs, compositions and colours that form the Gaj narrate a woman's status in the society, which includes her marital and social status. It symbolises what she takes pride in, her joys, dreams, aspirations and the tribe she associates herself to. Often embroidered together by mothers and daughters, Gaj is an important heirloom for the Sindhi communities that bond over its embroidery sessions.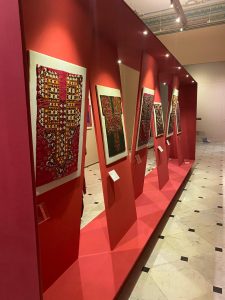 Gaj is not specifically practised in Pakistan's Sindh but also in different regions of neighbouring India. Two such regions are Kutch and Kathiawar. The embroidery is also widely known as interlacing embroidery in common language. comprising of mostly chevrons and checks, Gaj preserves its classic essence as the flowers (and often even birds) are formed using the glaringly rich in colour threads.
Read: Film, TV creatives discuss the role of theatre in bringing constructive change
The patterns on the Gaj depict the essence of the groups that embroider it, each having their own elaborate depiction of harvests, cultivation, festivals – the patterns often mirroring the cycle of seasons and the rhythms that define that particular group.
The Gaj is not only culture-centric wear that sings praises to one's identity, but it is also a pleasant sight to sore eyes. The vibrant colours on the Gaj are a depiction of the Satrangi (rainbow) and radiate positive energy to their surroundings.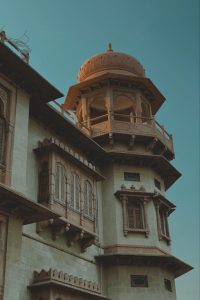 Exhibits like these help bring forth those essences of our civilization that are often either cast aside or simply taken for granted because the majority is not aware of the story that unfolds behind what appears on the surface. It not only helps inculcate art and history back into modern fashion but also brings to attention local artisans who have been gifted with the skill but are often ignored by the masses who follow fashion as not something of a statement, but something that is followed as a herd. The era of Gaj may be seen as history, but exhibits such as these are a key in encouraging people to renew the art and keep it flowing through generations.