KARACHI: Saheefa Jabbar's name is nothing new for people who are ardent fans of strongly opinionated celebrities who break stereotypes and challenge old traditions with their own newer and healthier trends.
While a number of couples tied a knot during the recent lockdown with heartwarming photoshoots to capture the memory, Saheefa Jabbar Khattak took to Instagram to post pictures from a recent wedding photoshoot she did with her husband, Khizr. Unlike most conventional wedding photoshoots, this one defies norms as the couple did the shoot after two and half years of their marriage.
The actress wrote, "We got married in December 2017, it was a humble happy event but for some reason, we didn't get our photoshoot done. 2.5 down the lane and we decided to jump into our shaadi ke joray one fine morning and get our shoot done, at home. It felt natural, it felt comfortable, it felt nice making my own deadlines and not doing what's conventional. Meri shaadi, mera shoot, meri marzi."

The actress' actual marriage ceremony was a rather simple one. Intimate, and free of complications that make marriages difficult. Saheefa was seen in minimal makeup, sporting her short hair which was her signature back in 2017.
The photoshoot done recently was by Maham Haseeb Bosan who beautifully captured the couple's companionship. The pictures not only exhibit affection but also a deep sense of comfort between the two.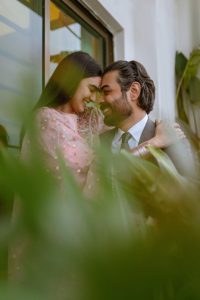 She made a post on her Instagram page titled *teaser teaser teaser*. These pictures did not fully reveal the shoot, but one could tell Saheefa was starring in it. She had worn the outfit from her reception designed by Fahad Husayn in her photoshoot and was carrying it beautifully.
With minimal makeup and chemistry that now translates into familiarity, Saheefa Jabbar's recent shoot not only questions traditional ways of photographing the bride and groom i.e., when they are at their most anxious perhaps, it also renews them into the concept of spending half your year's income on your wedding photography. The recent shoot was effortlessly done in her balcony and without requiring much, it easy for the couple to carry out as well with simple makeup and reused wedding clothes.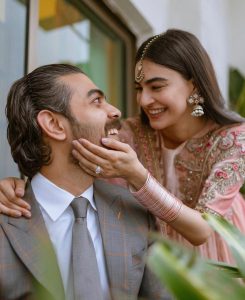 Around the time of her wedding, Saheefa praised the way Khizr, her then-fiance, has always had immense faith in her. He has been appreciative of who she is as a person without ever trying to change her. She was never doubted or questioned her or asked to leave her career in the media. (Men: take notes!)
Although the couple got married within the first two years of their relationship according to Khattak, the two have always been best friends since their time at Beaconhouse National University, and heartwarmingly remain so.