KARACHI: Lahore Grammar School has fired a teacher for violation of its code of conduct. The dismissal comes on the heels of a claim that a member of the LGS faculty allegedly sent pornographic pictures and messages to at least eight students, BBC Urdu reported.
Several women came forward with the allegations against Aitzaz Sheikh, an A-levels teacher who taught debate and politics and was also a coach for Model United Nations (MUN), on various social networking sites.
BBC Urdu reported that the LGS school management confirmed that Sheikh and two others had been sacked as a result of all the allegations. Sheikh also did not respond to questions and phone calls from the BBC.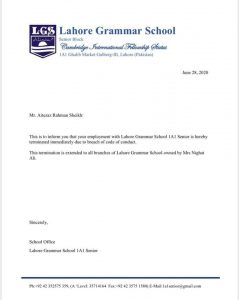 A student told the BBC that Sheikh had been sending inappropriate pictures and text messages to underage girls for almost four years.
According to the student, Sheikh, who taught her between 2016 and 2018, would send her texts even after she graduated. 
"One day Sir told me he wanted to have sex with me, after which I blocked him," the student said, as reported by the BBC. 
The student further said she had informed the administration but no action was taken.
In this regard, the school administration was criticized by several users on social media for not taking action first and these students were also encouraged.
One user wrote that how can a school tolerate such people roaming around there.
Many have taken to social media expressing outrage at the teachers as well as the school administration.