KARACHI: The show always closes with a bang and Maheen Khan's finale for Fashion Pakistan Week 2019 Day two did exactly that. While the designer always captures attention with her well-structured and cohesive collections, this time round, Maheen's line-up did all the talking.
Instead of the usual models strutting down the runway, one saw real women gliding down gracefully, showcasing Maheen's collection titled 'Something Old, Something New, Something Borrowed, Something Not So Blue'. Women such as Nida Khan, hairstylist, Sitwat Rizvi, photographer, Salima Fareesta, fashion blogger and journalist, Fuzzy Faruque, nutritionist and fitness trainer and Amal Qadri, celebrity stylist exhibited Maheen Khan's beautifully crafted garments. The collection was a collaboration with Indoi, a conscious clothing brand based in London using handwoven fabrics and traditional craft from Pakistan and it aimed to celebrate strong women.
Speaking to Cutacut, Maheen Khan revealed that she didn't have a particular reason for her decision to feature these women on the ramp. She came across the Yummy Mummy Network online and found all these incredible women there. "I didn't know any of these girls beforehand, I just asked if they would like to model the collection," she explained. Maheen further reiterated that the 17 women who walked the ramp impressed her with their contagious energy. "Models usually look so bored. But these women had such great energy!"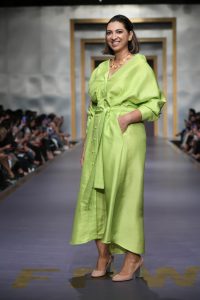 Sitwat Rizvi, a very well known photographer, shared her experience with Cutacut. "As a working woman and mom in her thirties, opportunities that make you feel beautiful, excited and sexy are few and far in-between. With the daily grind and as mothers, we women often forget that side of us. Which is why this moment of walking the ramp for Maheen Khan felt even more important. It was not only fun and exhilarating but it was also a realization that I am beautiful and confident and I can still do amazing new things, a fact that I had forgotten over the last couple of years. What made it all the more special were all the women who I walked with, each wonderful in her own right, each with her own story yet all still the same."
Nutritionist and fitness trainer, Fuzzy Faruque never thought she would ever walk the ramp at a fashion show. "If you ever asked me, would I ever see myself walk the ramp at Fashion Week, I'd say, "what, you crazy. Me?" But life really knows how to take you out of your comfort zone and experience the most amazing opportunities. Got to walk the ramp for Maheen Khan with the most amazing and inspiring women. Thank you Maheen for trusting me with your clothes and being so confident that I wouldn't trip or fall flat on my face. The confidence to walk came from being inspired and supported by a team of women (some who I'd never met before) who were there for each other.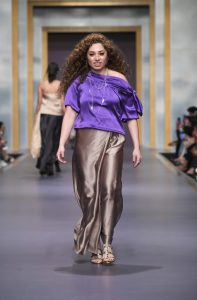 Jewellery designer Sundus Talpur, who provided her jewellery for the show, also spoke about the freedom each woman in styling her look. "This was one of the most beautifully conceptualised projects I've worked on. Coordinating with 16 girls and setting their looks individually was a task, but that was the beauty of it too! I loved the freedom Maheen gave her girls, each one chose their own jewellery from my collection, styled and made it her own, how real women would!"
It helps Maheen's cause that her clothes were the most fashionable of the entire night and it was an absolute treat looking at how flattering the garments looked on real bodies and not just size zero models. "Fashion has always been an illusion. Every woman aspires to be the model they see dressed beautifully. We can't forget that. But every now and then, a designer decides to break out of that mould and do something different," she concluded.