KARACHI: Online shopping is becoming popular in Pakistan – one only needs to see the Black Friday sales done by online shopping portals such as Daraz and Yayvo to get an idea of that. But a recent study done by Google shows that the nature of online shopping is changing in Pakistan.
The study used 2,500 Pakistani shoppers between the ages of 18 and 55, where one third of them were from rural areas, and noted some interesting results. Firstly, the study found that more and more Pakistanis are using Google to get more information about a product before they go to actual stores. The study focused on three categories: Skin case, smartphones and women's wear. According to the study, for skin care products, shoppers are 1.6 times more likely to seek information about a skin care product online, 2.1 times for smartphones and three times more for women's fashion wear. Therefore, it is extremely important for brands to work on their online presence: i.e, their websites should be user friendly and should display the product and all its details clearly.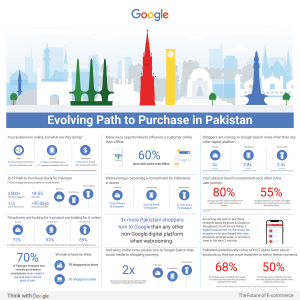 The report also further noted that people are now in the habit of Googling a product while they're already in it's physical store. What that means is that before people purchase a product, they do a quick google search to read reviews or other related information of that product. They identified the trend to be known as 'webrooming'.
If one wishes to go into more details, they'll see that when it comes to skin care products and smartphone, shoppers are more interested in reviews. However, for women's wear, shoppers are searching 'how-to' articles instead.