KARACHI: Mubashir Saddique of Shahpur in Punjab runs a YouTube channel by the name of Village Food Secrets that has received a lot of attention over the past two years when he uploaded his first video. The 34-year old star has won the hearts of his audience by using earthenware crockery and scenic natural backdrops.
The simplicity in his videos have proven to be the aesthetic that his audience seems to prefer as people have often left comments detailing their deep appreciation for the videos resonating ones closeness with nature. He has made over 487 videos since 2017 and each video is more interesting than the previous! The first ever video he made in 2017 was titled "Stuffed Mooli Paratha Recipe" that received 121,096 views proved to be a successful start for him as, according to his interview last year with Dawn Images, he stated that he could not have imagined that he would become somewhat of a celebrity making money doing something that he loves doing.
His most viewed video has received over six million views titled "Homemade Seekh Kabab in Tandoor Oven"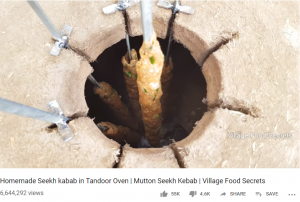 What intrigues most people is the culinary variety that the Punjabi chef displays in his videos. From Pakistani bbq to recipes that have been passed down from centuries by his ancestors, Mubashir makes Western food in the most interesting ways. For instance, in one of his videos in order to make pizza, he is seen building a "Primitive Technology Clay Mud Oven" in his village to bake the pizza in.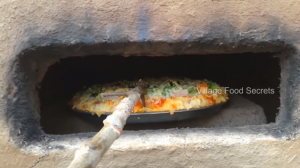 Other food (besides the hundreds of amazing Pakistani dishes)  he's prepared, include Russian salad, tomato ketchup, Chocobar icecream, potato chips, chicken wings, fruit cake, sponge cake, roasted chicken, Oreo milkshake, fruit custard, burgers, egg rolls..the list is endless. In every video he is seen calling his family to share the meals that he has prepared for them.
We love the way Mubashir incorporates his love of food with his love for his village and family. The calming scenes of nature combined with the traditional styles of cooking will transport any people living away from home back to it through the brilliantly articulated sensory elements of this channel.
Check Mubashir's channel at: http://bit.do/eWkwk