KARACHI: Picture a world where human rights are suspended, a society where a woman's body is not her own, love is forbidden, families are separated and religion is used as a political tool to control human lives. Such is the world that author Margaret Atwood creates in her novel The Handmaid's Tale. Writing in the 1980s, Atwood took inspiration from past events to create a dark, brutal and militarised future.
But this world we speak of doesn't sound bookish at all, does it? It's happening around us. This is everyday life for people all over the world.
The Golden Globe-winning series wrapped up season two in July earlier this year where it went a step farther than the book. It depicted the power of womankind coming together to fight years of patriarchy and misogyny. When I watched the final episode of season two, I couldn't help but draw parallels, with what was unfolding onscreen, to the ongoing #MeToo and #TimesUp movement.
Read: What it's like growing up with a mentally unstable parent
"One of the saddest things about season one for me was Serena [the Commander's wife, for whom Offred is meant to be bearing a child] not having any solidarity with Offred, or with any of the handmaids," Elisabeth Moss, who plays the protagonist in the show, revealed in an interview with The Guardian. "In season two, we start to think about the fact that if these women actually banded together, they could overthrow Gilead. That's a very powerful idea," she went on to say.
And powerful was what it exactly was.
No wonder the different elements of the show have now turned into new resistance symbols. Protesters at US courthouses, on marches, and in Hollywood itself are seen donning the red habit and white bonnet (the uniform worn by handmaids in Gilead on the show) when protesting against issues such as the confirmation of new Supreme Court Justice Brett Kavanaugh amid sexual assault allegations in Washington. Others wore it at abortion rallies in Buenos Aires and Dublin, or at anti-Trump rallies in Warsaw.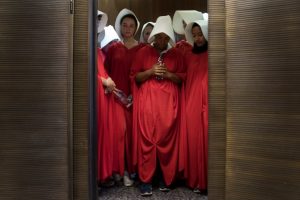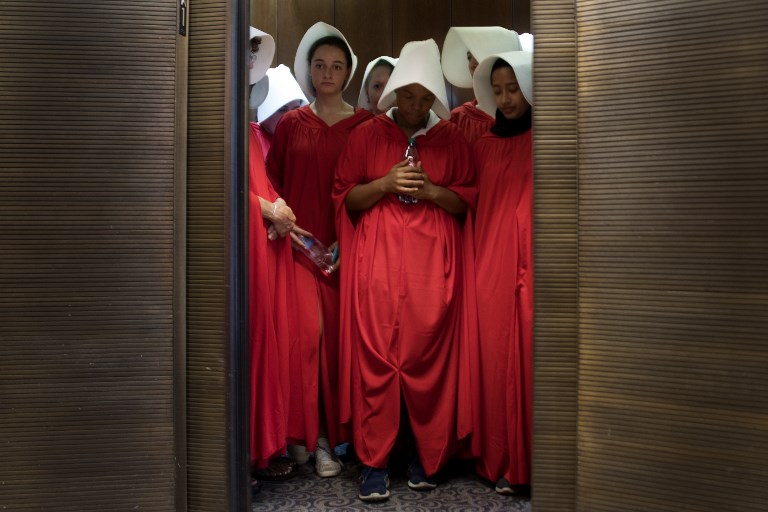 Read: Here's what we know about Mohammed Hanif's new book 'Red Birds' so far
This has, however, come as a surprise to costume designer costume designer Ane Crabtree who is the creator of the iconic outfit of the handmaids.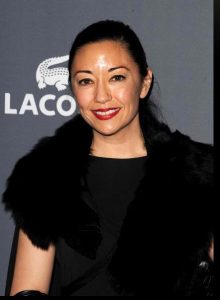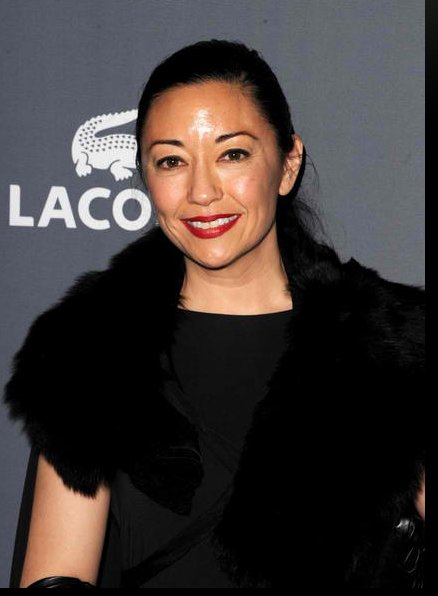 "It's a very big thing. It's grown bigger than the purpose I designed it for," the designer said during Comic Con. Crabtree also went on to recall the hard time she had creating the look as it brought back memories that she had been keen to forget. "This show triggers too much of my own personal life and I didn't realise this until this month," she said. US President Donald Trump's election victory, for instance, had left her "so angry" that she threw her range into work but the experience caused the trauma of sexual abuse she suffered as a child to resurface. "It was not at the forefront when I began this journey with The Handmaid's Tale but it has absolutely highlighted everything," the designer explained.
Read: How to buy books on a budget in Karachi
But she was so overwhelmed after having worked on two seasons of the show that despite its enormous success she decided to walk away from it. "It's so healing in the long run, it's both very painful and beautiful at the same time… how it keeps coinciding with real life," she maintained.