They met at a small Japanese restaurant on an unassuming street in New York City.
It was her choice. It was her favorite cuisine, which happened to be associated with the only brief, fond memories of her father she had. It was also her preferred place to find Japanese cuisine. What she appreciated the most was that it wasn't sushi focused, or even ramen centered. It featured the lesser known delights; hand crafted by a single chef who worked tirelessly to ensure it was an authentic experience.
She got to the restaurant early. Always a few minutes early to everything, she used to consider putting her watch forward to prevent this. But the advent of smartphones broke the idea. Sitting on her usual table, tucked away in the corner, she admired the chef behind the counter. This was also her favorite table as it always had an unobstructed view of the chef preparing his food.
Meticulously he brushed a piece of salmon with what looked like a light miso paste, broiling the top with a small blow torch. Ever so carefully he turned the plate around to broil each side perfectly, finishing it off with a light topping of sesame seeds and scallions. It seemed so simple. The process of what he would do.  She had attempted to do the same at home, on multiple occasions, but she never got it right.
He moved on quick from one dish to the next. His hands moving faster than her mind could process what he had done. Before she knew it, he had served the salmon, alongside a bowl of miso soup and then turned his back to the restaurant. To most, they wouldn't be able to see what he was doing, but she could from her special seat, this most fortunate angle.
He was pouring batter into the takoyaki pan. Her absolute favorite. Small batter balls filled with octopus pieces. The perfect snack food.  Crispy on the outside, soft and full of flavour on the inside.  It had been her favorite ever since she could remember. Once she moved to the USA, her friends did not understand and found it disgusting that she would prefer fried octopus balls over items like chips and salsa.
She called the waitress over and ordered herself a plate of takoyaki. Her guest was late, and in fact, she wasn't even sure if he was going to show up. The dish came, and she slowly started eating.  Resigned to the idea that she was eating alone tonight, she began ordering her usual's.  In the middle of the order, the restaurant door opened and there he was. "Actually, just give me a minute please."
It was her father. She hadn't seen or heard from him in over 20 years until last week. Last time she saw him, she was 8. He said goodbye and that was that.
"I'm sorry I'm late, I got lost on the way here." He apologized, barely able to look her in the eye. "I'm glad you ordered some food while you waited."
"It's okay, I often eat at this restaurant alone. The staff seemed surprise that I was even expecting anyone." She wasn't sure how to continue, what to say. There were a lot of questions, but no easy way to dive right in and ask. "Please, eat something.  I'll get another menu for you to look at."
He chuckled to himself, "Takoyaki.  I see you still enjoy eating these. You would eat them by the dozens when you were a little girl. Couldn't understand why a little girl would enjoy eating deep fried octopus, topped with dried fish shavings. Peculiar, but amazing."
Suddenly the uneasiness floated away. He recalled something so specific about her childhood, and seemed to genuinely care that she still ate this particular food. She wasn't angry, sad or confused. Just curious.
"Why did you get in touch with me?"
Sighing heavily, he leaned over, popped one takoyaki in his mouth, look her straight in the eye and began.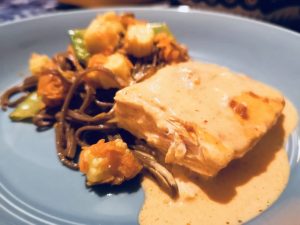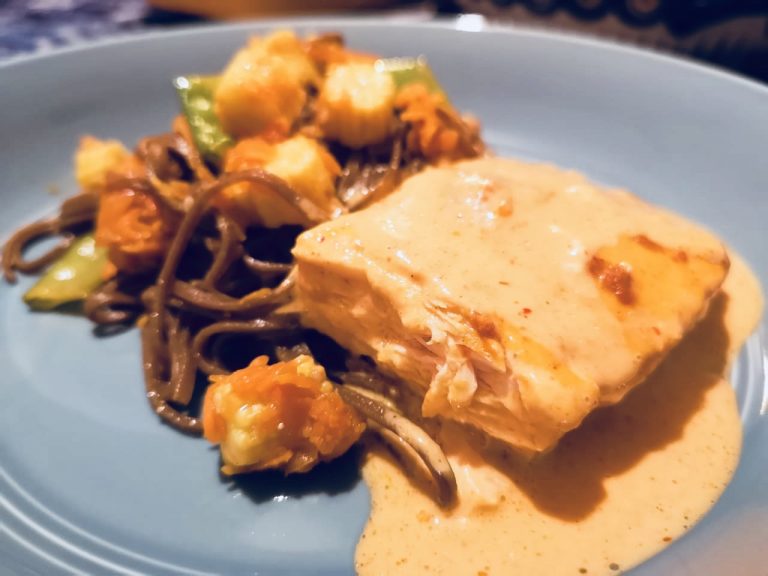 Coconut Salmon with Soba Noodles 
I'm much more of a seafood person compared to meat – I love seafood in all forms and could have it every day.  Besides preferring the taste, seafood is very quick and easy to cook, which is why I love using salmon for a weeknight meal when I don't have much time.  This recipe is super easy and makes for a very delicious meal.  It's Thai meets Japanese with the use of Thai curry paste and Japanese soba noodles (two of my very favorite cuisines). You can substitute the vegetables in the soba noodles for whatever you have around, and add in other flavors if you want as well.


1. 2 pieces of salmon
2. 2-3 tsps of either red curry or penang curry paste
3.1 small can of coconut milk (around 165 ml)
4.Soba noodles – estimate around 60-80 grams per person
5.Vegetables for the noodles (I usually use 1 shredded carrot, some baby corn and snow peas) – chopped up
6.1 tsp garlic paste
7.1 tsp ginger paste
8.1 tablespoon sesame oil
9.2-3 tablespoons soy sauce
10.2 tablespoons chili garlic sauce or sriracha


1.In a baking dish, combine the coconut milk with the curry paste and add the salmon. With the oven around 190 celsius, put this in for 15-17 minutes.
2.While the salmon is in the oven, get started on chopping up your vegetables for the noodles. Once chopped, in a big frying pan, add the sesame oil and the garlic/ginger paste on medium heat.  Cook for about a minute, then add the vegetables and the soy sauce and chili sauce.  Stir this around for a few minutes.
3.While the vegetables are cooking, heat up a pot with water. Once boiling, add in the soba noodles.  These cook very quickly – takes around 4-5 minutes and you don't want to over cook them.
4.Once the noodles are cooked add them to the vegetables and give everything a stir. You can adjust the taste and add more chili or soy if you want, but the curry from the salmon is a great flavor, so once you eat them together, everything is well balanced.
5.By the time the salmon is done, so should the noodles – serve and eat immediately.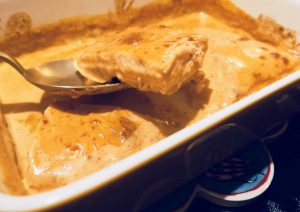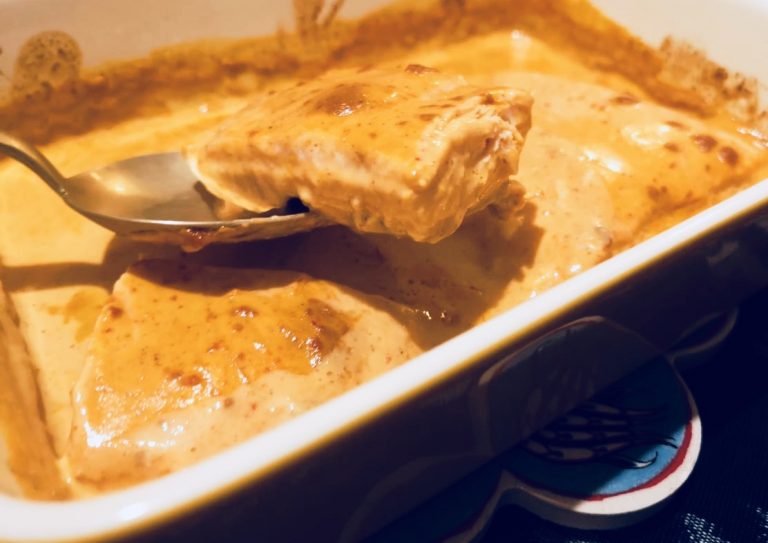 This is part of a series that is updated weekly.
For the full story, you can visit the author's personal website here