Part 5 –  Candied Walnut Chocolate Tart
After leaving their father dejected and embarrassed with their childish behavior as fully independent and adult women, Sybil and Sydney remained quiet on the ride back home. Making sure not to provoke them, Sasha also drove in silence back to their house. Once they walked into the house, they both marched straight into their rooms where they remained for the rest of the day.
Finally in the morning as they descended down the stairs and met in the living room, they started.
"This is all your fault," Sydney began, "you can never let me just have something without taking it away out of spite. This isn't even what you want."
"How do you know what I want?" Sybil responded. "You don't know me and what I want to do."
"I know you're based in LA and why would you want to return to our small town when you have your so called big high flying clients out on the west coast? Doesn't exactly fit into your image, does it?"
Sybil snorted, "Ha, once again you have no idea what you're talking about. And you never will, because you don't listen. You never have, and you never will. You think I'm the one who takes things away from you? Maybe it's because you never share or even fucking care."
Going back and forth in this similar fashion for over an hour, Sasha and Sam entered the room and shut them both up. They had a solution, which in their eyes was the only solution to both of them getting what they want and their dad's space not being sold to a random stranger. It was simple. Sydney gets the store on the street for her cafe and Sybil gets the office upstairs for her own office/store.
Immediately Sybil responded, "But why does she get the street store?"
Sydney raised her arms and was about to start before Sasha put her hand up and said, "Honestly, it doesn't matter who gets what. It just makes sense for the cafe to be on the street so people can eat outside when the weather is nice. I would leave it up to the both of you to decide but I would rather not so I'm going to make the decision. Cafe on the street, Sybil's store on top."
"Thank you Sasha for making the right choice." Sydney said haughtily.
"This isn't about choosing you over Sybil, so don't start with that attitude. I expect to be given a stake in the cafe, and I'm just doing this for the ultimate benefit of making more money. Harsh, but this is what you've led us to now."
With that decided and set in stone, they both set to work on opening their respective stores while also helping Sasha with her wedding and getting their father situated back at home after his surgeries. A few months passed by without any incidents as they worked separately to get their funding, and work on their plans.
The time quickly approached for Sasha's wedding and with their father feeling better day by day, the mood was light and happy. Sydney prepared all the food for the event and had specially organized a dessert table with treats ranging from a luscious chocolate tart to mini cupcakes and of course the gorgeous wedding cake itself. Sybil did the decor exactly to Sasha's liking, rustic with a tinge of mystical. She had transformed a barn that was falling apart to the most beautiful setting. The guests were salivating over both of their creations.
While they were helping Sasha get ready, Sydney decided to take the first step and approach Sybil. Ever so cautiously she went up and complimented her work on the decor. Sybil was suspicious but accepted the compliment well. Later that night, she reciprocated the compliment with the food. She really was impressed as she had never tasted anything by her before and suddenly understood why she should open her own cafe.
A few weeks went by and Sydney was getting increasingly frustrated with the plans for the cafe. The costs were escalating and she was trying to cut costs by doing things herself, but barely managing. She stored away every single inch of her pride and went to Sybil. Explaining her dilemma, budget and what she envisioned, Sybil agreed to take a quick look. She understood it must have taken a lot for Sydney to ask so she suppressed the natural urge to mock her.
Looking at the drawn up plans, she instantly knew that Sydney had been taken for a ride and she was surprised to feel anger on her behalf. She stormed into the contractors office, fed him an earful and fired him without consulting Sydney. Before the news could reach her, she drove over and offered her services for free. She even had a new idea about their respective stores.
They talked it through and within a week all the old plans were scraped and new ones were drawn up. Finally realizing they did not need to compete with each other, but work together to achieve greater success, they combined both their ideas. An inner staircase would be built, leading from the casual cafe, that also played home to the interior goods store to the upstairs office for Sybil, as well as a special dining area for bespoke dinners hosted by Sydney once a month.
They were finally getting along. But that's not to say they still didn't have an argument every now and then. —————————————————————————————————————————————
Candied Walnut Chocolate Tart
I love my desserts chocolate-ly. Whenever I go out to eat and it's time to choose a dessert, I'm always attracted to the chocolate option. However, I also don't like my chocolate desserts TOO chocolate-ly (if that makes any sense at all). This chocolate tart is heavy and rich, but with the addition of the walnut topping, becomes perfectly balanced between sweet and salty. The walnuts are made with both sugar and sea salt, and cuts through the decadence of the tart perfectly. On top of the great flavour combo, it is a show stopper because it looks damn good. It's three simple steps to assemble, which seems difficult, but it really isn't. Just a tad time consuming.
Ingredients
250 digestive biscuit package
110 grams of melted butter
400 grams of dark chocolate
1 can of condensed milk
150 ml of cream
1 teaspoon vanilla extract
125 grams of walnut halves
1 white egg
50 grams caster sugar
1 tablespoon sea salt flakes
Instructions
First step is to make the candied walnuts. Whisk the egg white in a bowl for a minute or so until it is light and airy. Add in the sugar and nuts and stir until coated. Spread this on a baking sheet, and sprinkle with salt. Bake in the oven at 180 celsius for 12-15 minutes until lightly golden and crisp. Cool them off and then roughly chop them up.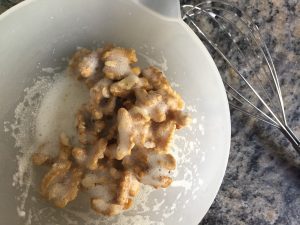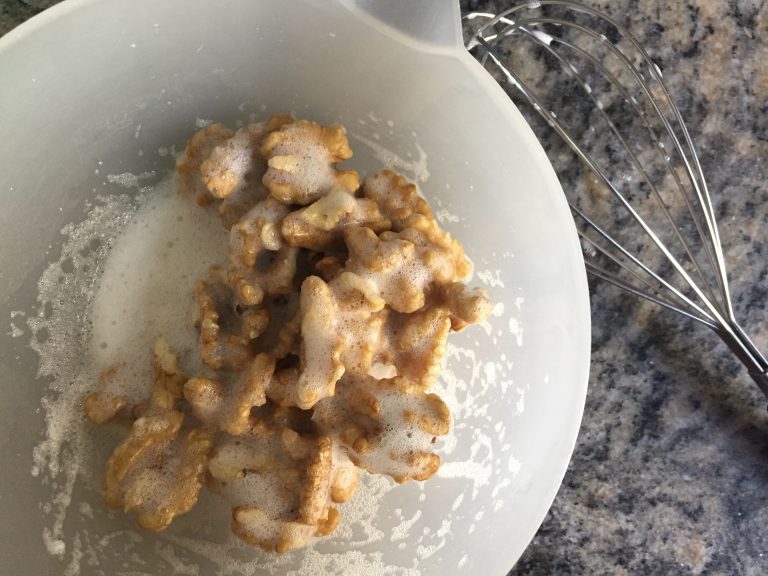 Second step is to melt the butter and crush the digestive biscuits, and keeping the oven to 180 celsius. If you have a food processor, it's an easy process to dump the biscuits in and press a button. If you don't have a food processor, it's still pretty easy. I would suggest putting all the biscuits in a big ziplock bag, taking a rolling pin (or hammer!) and banging the biscuits out until they are loose crumbs.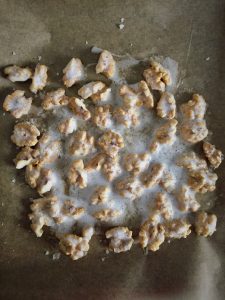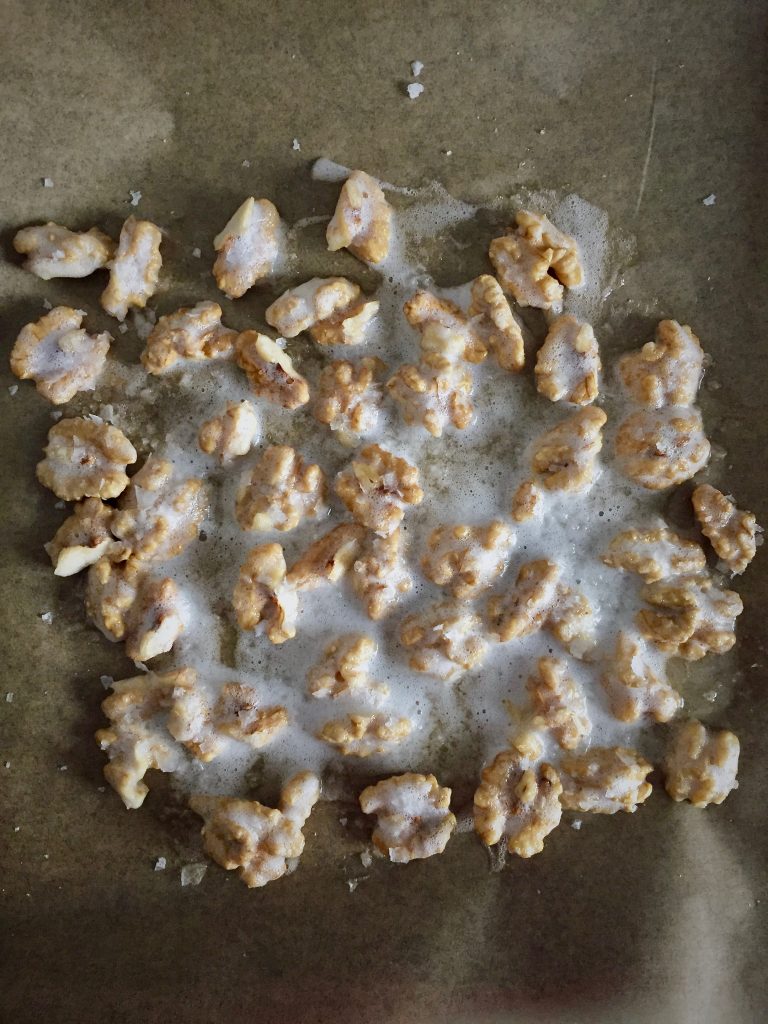 Combine the butter and crumbled biscuits, and pat them down in an 11 inch round tart pan. Put this in the oven for 15 minutes and remove.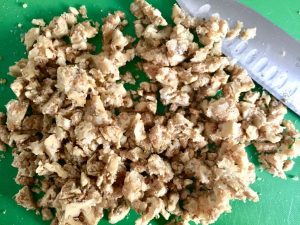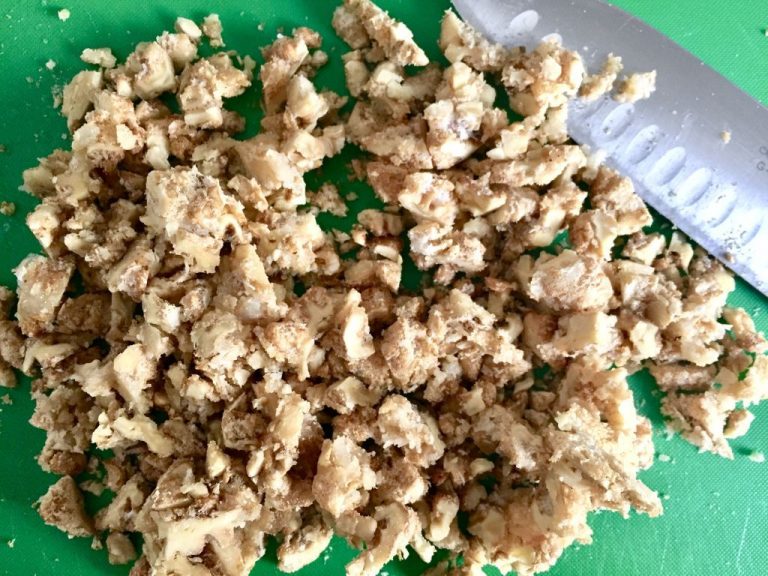 While the base of the tart is in the oven, work on the chocolate filling. In a saucepan on the stove, combine the cream and the condensed milk, and vanilla extract and heat this until it is a smooth and light consistency. At the same time, chop up the chocolate and put in a heatproof bowl. Once the cream and condensed milk is hot, pour on top of the chocolate and leave for a couple of minutes. Then give it a stir until all the chocolate is melted, and it is all combined to have the gorgeous filling.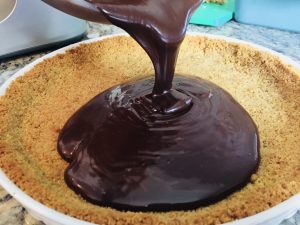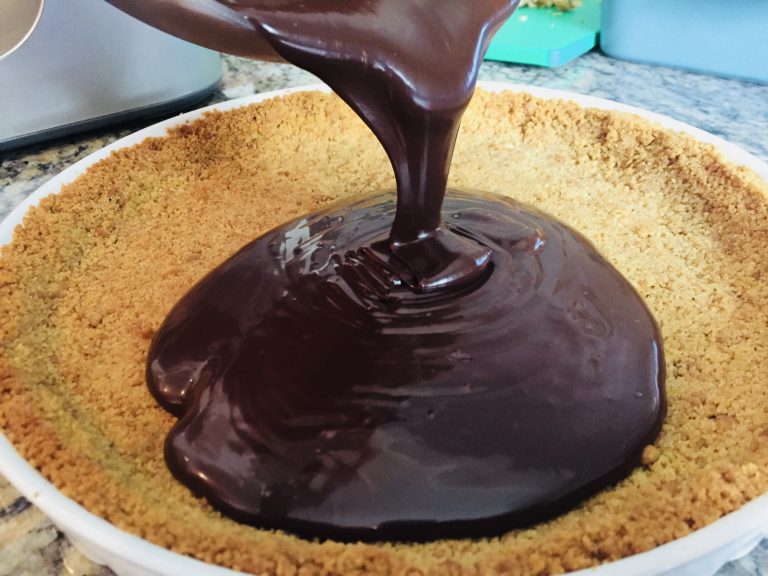 Fill in the biscuit base with the chocolate filling, then sprinkle on the chopped walnuts, filling in the middle (or however you would like them placed). Put in the fridge for a few hours to cool. Then serve whenever the tart has hardened.