KARACHI: There is no denying that the Pakistani drama industry is flawed, to say the least. From over used plots, to glorifying domestic abuse, to sub-par acting, Pakistani dramas are a goldmine for critics. But what happens when your criticism goes beyond just the drama and comes off as a personal attack? That's what Zoya Nasir has called Lubna Faryad out for doing while criticizing her new drama, Badzaat.
 

 

View this post on Instagram

 
Zoya Nasir took to her Instagram stories and expressed her disappointment and wrote, "I'm sorry amma you've disappointed me so badly." She explained that she was a fan of Lubna Faryad, who is often referred to as Amma, as a critics who, "appreciates or calls out whatever when the industry does something wrong." However, Nasir's anger stems at the fact that Faryad felt the need to, "disrespect the entertainers like that and to use such condescending tone for a career."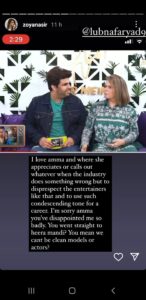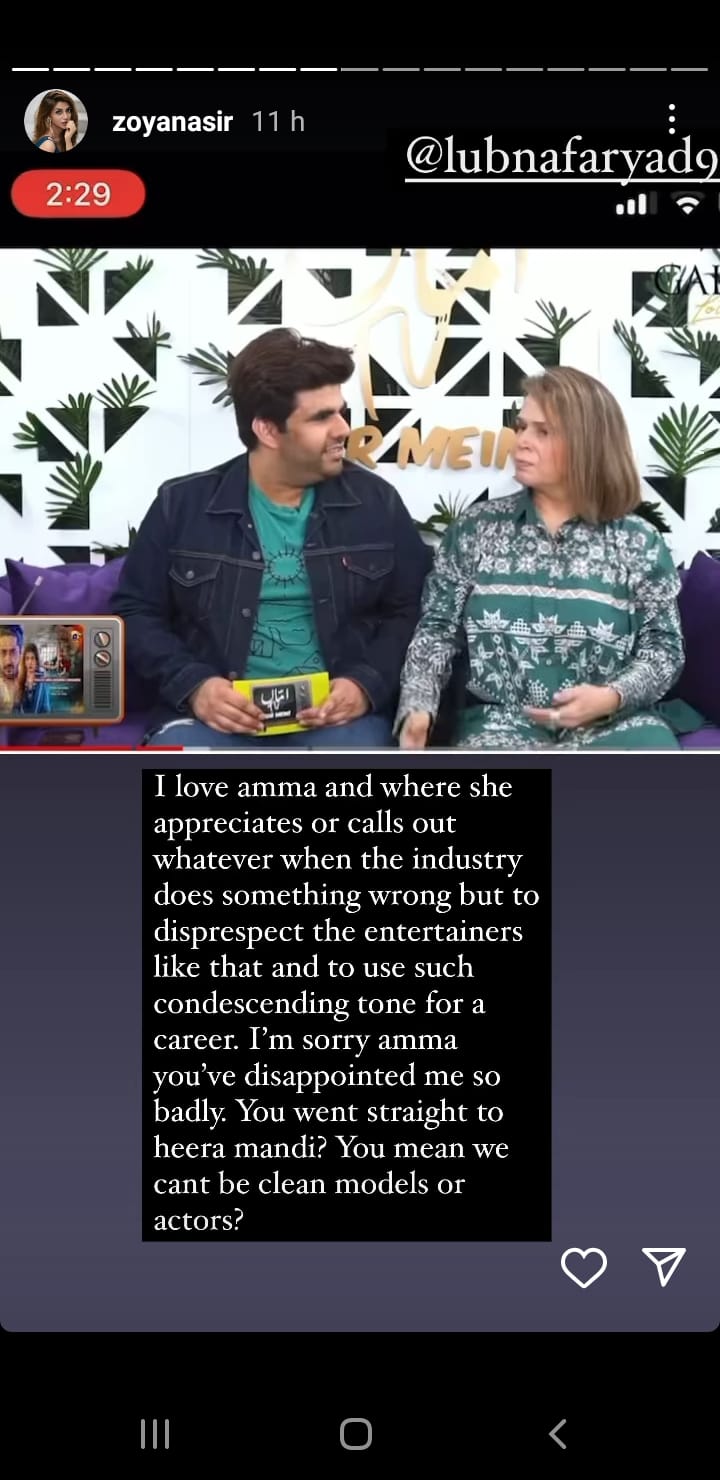 Zoya Nasir was referring to a clip where Lubna Faryad was reviewing her drama, Badzaat. For context, Nasir plays the role of Ainee, the daughter of a dancer who now wants to become a model and actor. Faryad all but says that if parents are from a "respectable profession" their children will join suit and vice versa. Which goes on to imply that being a model does not fall into a respectable profession, for Lubna Faryad, at least. When Faryad's son emphasized that Zoya is nothing more than a model, Faryad implies that Heera Mandi (an area famous for the prostitutes who live there) has transitioned into a new place.
Zoya Nasir questioned why Lubna Faryad, "Went straight to heera mandi? You mean we cant be clean models or actors?" Nasir called out Faryad for how she, "Collectively hurt the feelings of a lot of hard working shareef families including my mom and day, who by the way instead of being a movie writer has written countless books on Islam."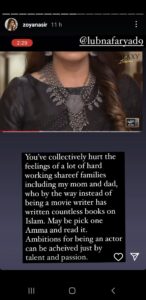 Nasir defended her character in Badzaat and wrote, "Nowhere it's suggested, hinted or implied that Ainee is doing things that are morally wrong to be an actor or a model." She questioned Faryad for dragging Heera Mandi into the conversation in an "ignorant, breezy way" and asked if this was really her "opinion about all the artists?" Nasir answers her own questions by saying, "Seems like it. Because that comment was not limited to one character. You broke a lot of hearts of a lot of respectable families of artists."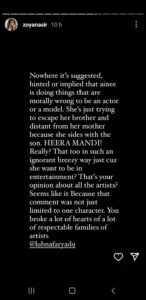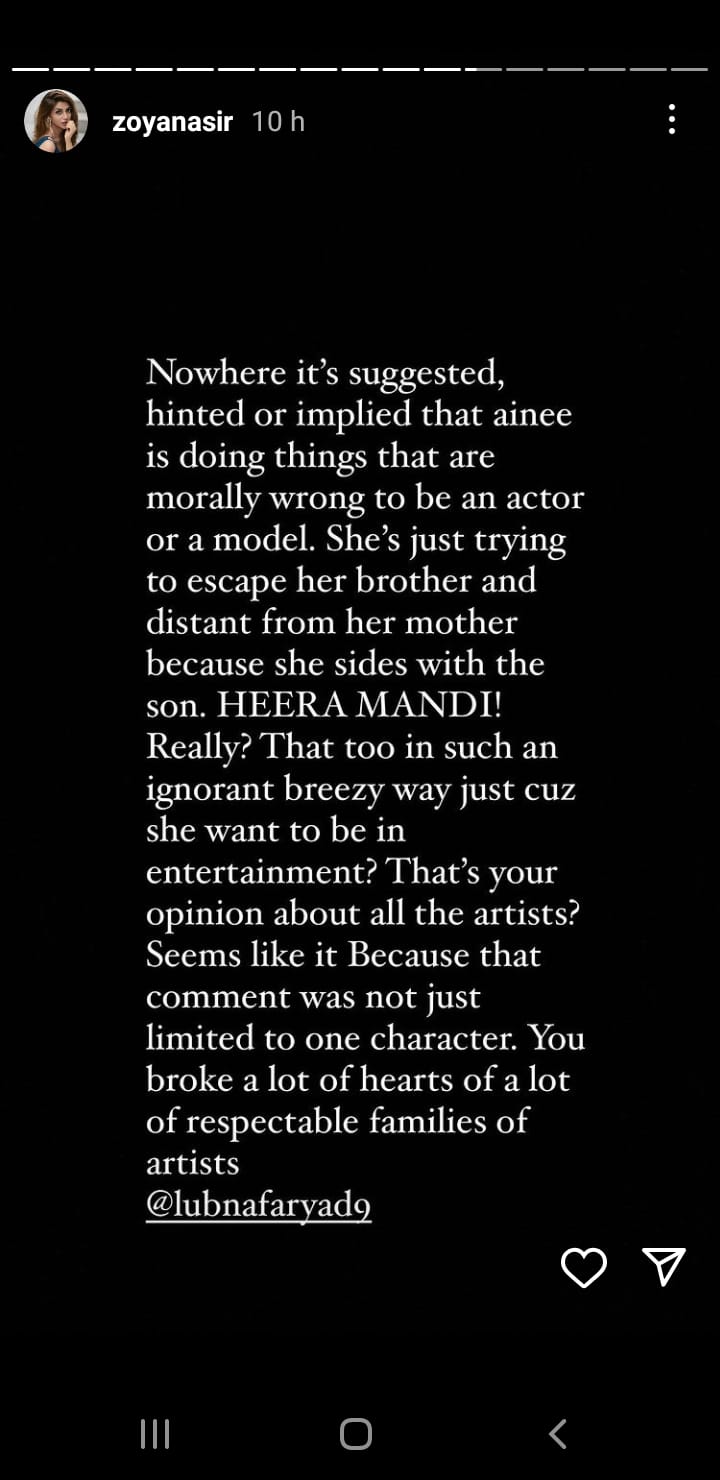 Turns out that it is not just families that have been disrespected but that many people in the industry have been offended as well, "And please don't think this is personal. It's not just me. I'm the only one who came forward."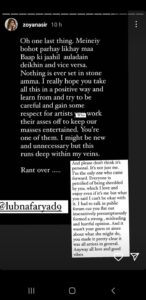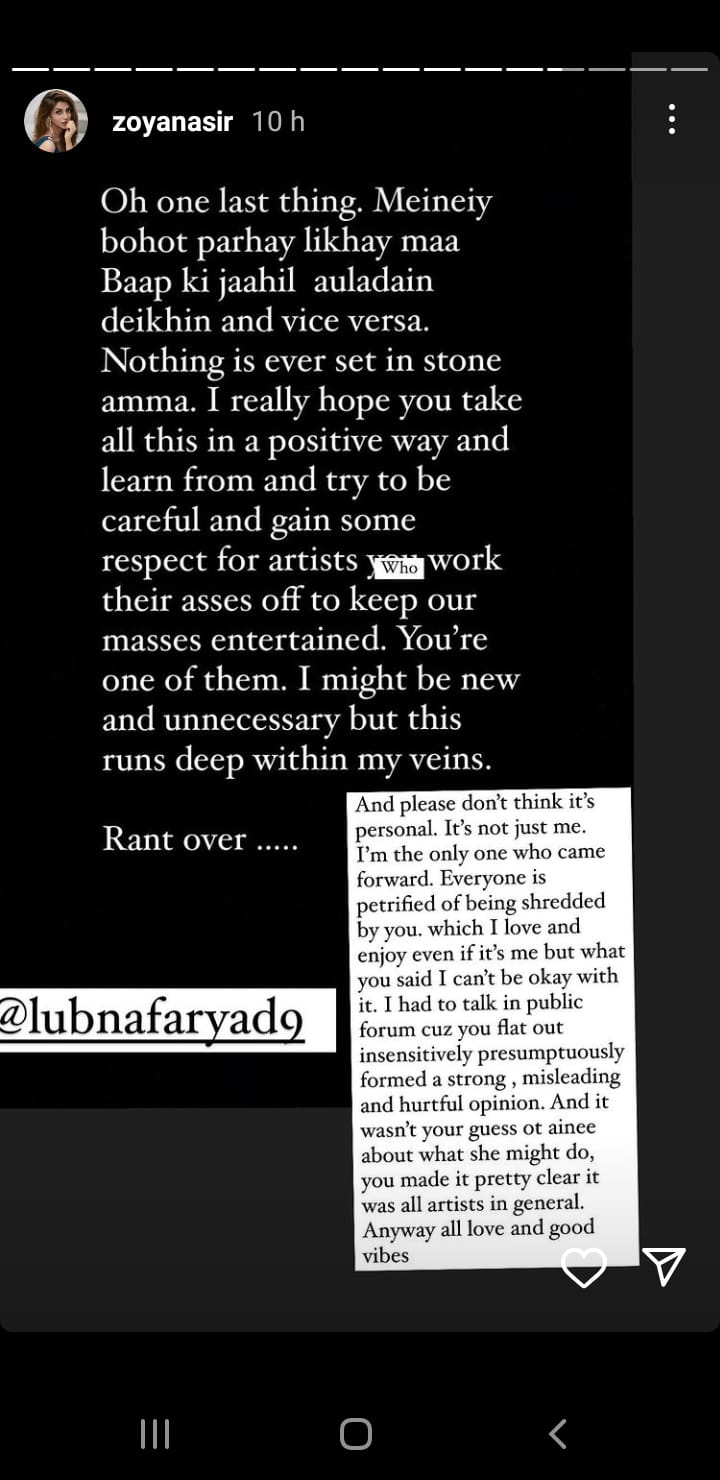 Zoya Nasir pointed out that the profession that Lubna Faryad was humiliating is the one where she makes a living from, "Diss our acting and bad content but to insult a profession from which you've made your fame? Don't get carried away," and continued, "Your review is one thing but to disrespect a profession in such an ignorant way was such a low blow. I hope you're careful in the future."
She schooled the critic on how "Artistry runs in families," and pointed out, "Just like you adapted your son's profession cuz I'm sure it runs in the family?"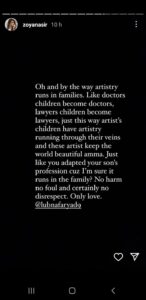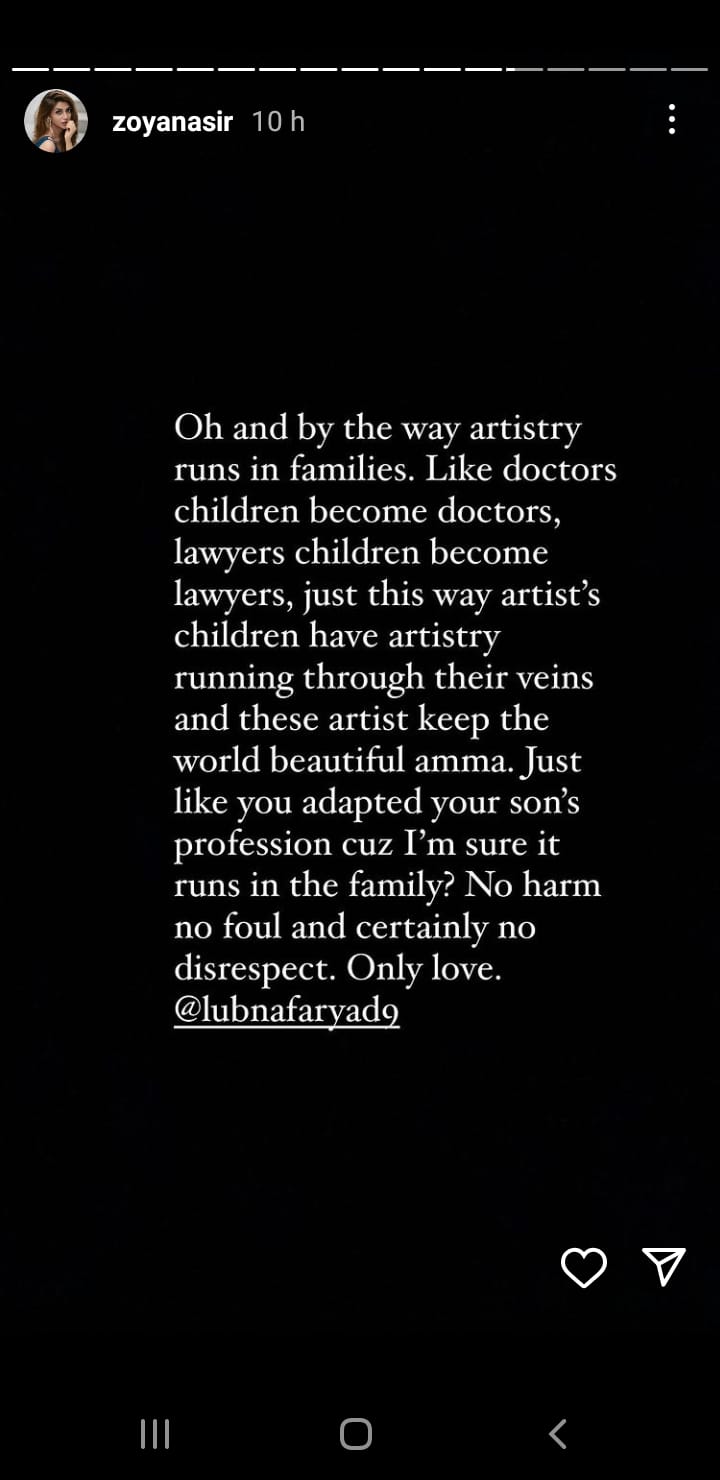 Zoya Nasir ended her rant with a message for Lubna Faryad, "I really hope you take this in a positive way and learn from and try to be careful and gain some respect for artists who work their asses off to keep our masses entertained. You're one of them."