KARACHI: Twitter quite often becomes a source of pure fun as one trend after another is started. The latest #USvsPak trend has been entertaining audiences across the globe specially since Indians soon picked up on the concept as well and began a chain of #USvsIndia memes. Let us look at some of the most hilarious memes from the #USvsPak hashtag as they compare the cultures of the two countries.
Of course, the theme of love, marriage and heartbreak had to be incorporated in the jokes as well. While some joked about the excuses Pakistanis use to reject proposals, others used cliched breakup lines to join in on the trend.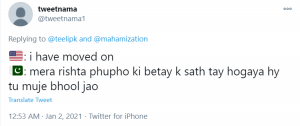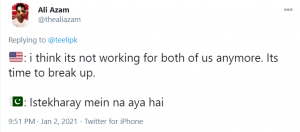 At some point in their lives, all Pakistanis have used a relative's (fake) death as an excuse to sit out of an exam, test, or not go to work. The tradition was highlighted in the recent Twitter trend as well.
Pakistani brands were quick to pick up on the marketing opportunity and jumped onto the bandwagon with taglines of their own. Careem Pakistan was one of the first to join in.
Some of the other brands to follow the trend were Dawn Bread, Bykea and Burger Lab.
View this post on Instagram
View this post on Instagram
View this post on Instagram