KARACHI: "Alive or just breathing?" Anoushey Ashraf asked her followers yesterday. Holding a placard in her hands, the RJ took to her Instagram to reach out to the people who may be struggling and haven't been heard yet.
"Since so many of you are barely breathing, I'd like you, only if you're comfortable, to inbox me on @tailsofhopeandjoy," she wrote in the caption. "I'm looking to build a safe, confidential community for people who may genuinely be struggling. It may be in the shape of a Facebook page or even a WhatsApp group of just 20 peeps. A sort of group that supports one another. You're not alone. Just checking in. Hope you're alive and kicking! But even if you're just breathing, know that it's okay and in this moment, it's enough. Just be. Sending random love to anyone who needs it today."
Tales of Hope and Joy is another Instagram account owned by Anoushey Ashraf which encourages conversations on animal rights, mental health, travel and positivity. On her Instagram story, Anoushey Ashraf ensured her followers that their stories will be shared anonymously if they choose to not reveal their identity.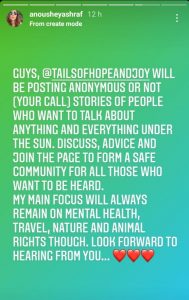 Anoushey has time and again encouraged dialogue around mental health. Featuring Asim Azhar and Syra Yousuf as part of her #Igotyou series, she spoke to the artists about their own mental health struggles and how they deal with them. Reaching out to the general public to have their voices heard, Anoushey has already received the first anonymous post from a single parent.
View this post on Instagram
"The first step in the right direction is to perhaps acknowledge you need help. And it's absolutely okay to do so. I can't begin to imagine how it must be for you, please know that you're a hero," replied Anoushey followed by words of encouragement and love by many others.