KARACHI: Some of the biggest masterpieces produced by Bollywood lately turn out to be remakes, unfortunately. However, none of these were even remotely as disappointing for Junoon fans from both sides of the border, who recently saw T-series replicating and then "Bollywoodising" the most beloved song the band ever produced, Sayonee.
The Sayonee remake started an online debate as comments started flooding in. People from both India and Pakistan highlighted how Sayonee should not have been touched by anyone.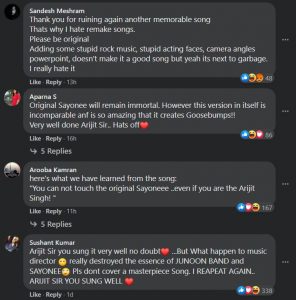 As the song received mostly negative comments on Facebook, Twitteratis were not that far behind in taking a dig at the remake.
Several users have also pointed out how the Indian industry has banned Pakistani artists, but continue to copy Pakistani content where they deem fit.
Aside from the fact that the "theft" of this particular classic causes greater disappointment due to the politically charged atmosphere between both the countries, the remake of Sayonee seems appalling only if one is not aware of the history of some of the greatest Bollywood hit songs. Here are a few songs that have been copied from several cult classics in the past.
Jab Koi Baat Bigarh Jaye – 1990
This beloved song is a remake of 500 Miles, a renowned classic.
Dil Ney Dil Ko Pukara – 2000
The song we have all danced to without knowing it was a remake. Dil ney dil ko pukara from Kaho Na Pyar Hai takes its melody from Voices by Vangelis.
Soldier – 1998
The title song of the film Soldier, starring Bobby Deol and Preity Zinta copies its music from Modern Talking – Cheri Cheri Lady.
Jab Bhi Koi… Haseena – 2000
This song introduces Akshay Kumar, one of the male-leads in Hera Pheri, as he daydreams of being rich in a laundry shop. Its melody shows striking similarities to Mark Morrison's Return of the Mack with released four years prior to the Akshay Kumar starrer.
Hum Tou Dil Say Haray – 2000
Released as one of the most celebrated tracks of the film Josh which stars Aishwariya Rai, Chandrachur Singh, and Shah Rukh Khan, is very similar to Conquest of Paradise by Vangelis.
The song has, however, been plagiarised for another Shahrukh Khan starrer. Yes, you guessed it. The theme from Koyla straight up copy-pasted the track as its OTS without changing much at all.
Music being an expression of the artist's state can often be extremely personal. While it is not only lazy to plagiarise music, it can also be invasive if the artist's permission has not been sought. The issue then translates itself further on as a growing fear among newcomers who wish to publicize their music, but often fear their work getting copied or stolen without them rightfully earning for it.